Everything Brownie Cookies is the snappy new name I gave to this old recipe from years ago.  They were originally called Brownie Mounds, which is a good name since they are so thick. Also, they're made with melted unsweetened chocolate rather than cocoa, so I suppose that makes them more like brownies as well. But I renamed them Everything Brownie Cookies because I've been stuffing the dough with everything I can think of.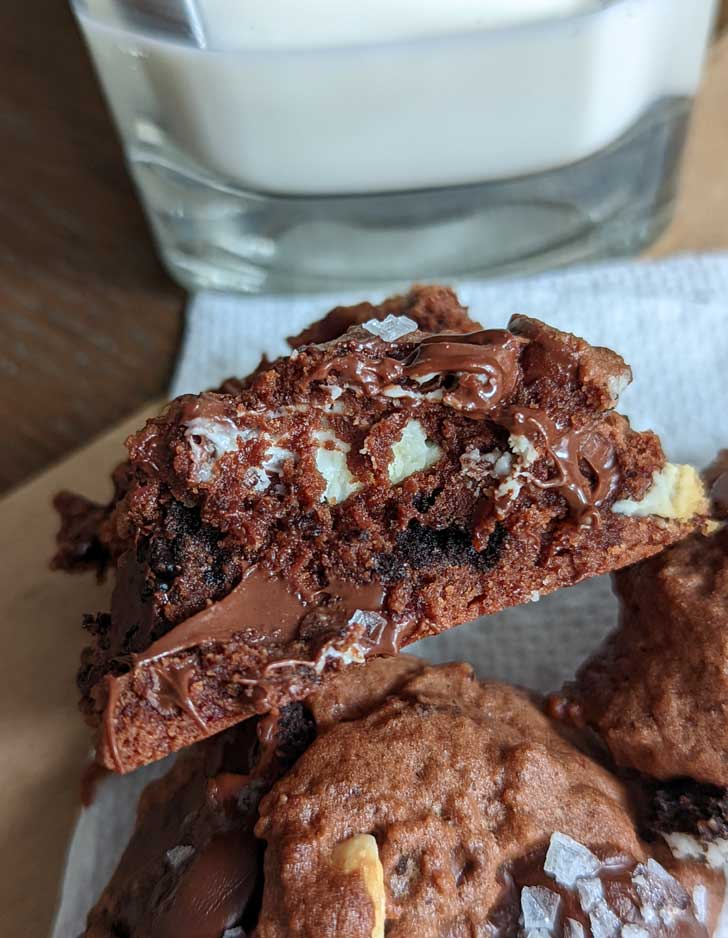 An Interesting Ingredient -- Corn Syrup
One of the things that makes this recipe a little different from other brownie themed double chocolate cookie recipes is that it calls for ⅓ cup of corn syrup. The corn syrup stands in for what would probably be butter, so it makes the cookies a little less rich. The dough is sweet and chocolaty, but it needs the rich add-ins to balance it out.
Unsweetened Chocolate
This recipe calls for unsweetened melted chocolate. You can use any brand unsweetened chocolate, but I admit I've been using Guittard so maybe that's why the cookies have been so good lately! I don't recommend using 70% instead of the unsweetened, because I accidentally did that in one batch and the cookies were okay, but spread more. I also do not recommend substituting cocoa powder. I tried that too (9 tablespoons plus 3 T. oil) and it changed the texture for the worse. If you have cocoa powder and just want a good double chocolate cookie rather than a brownie cookie, I recommend the Subway copycat or Chocolate Dream Cookies.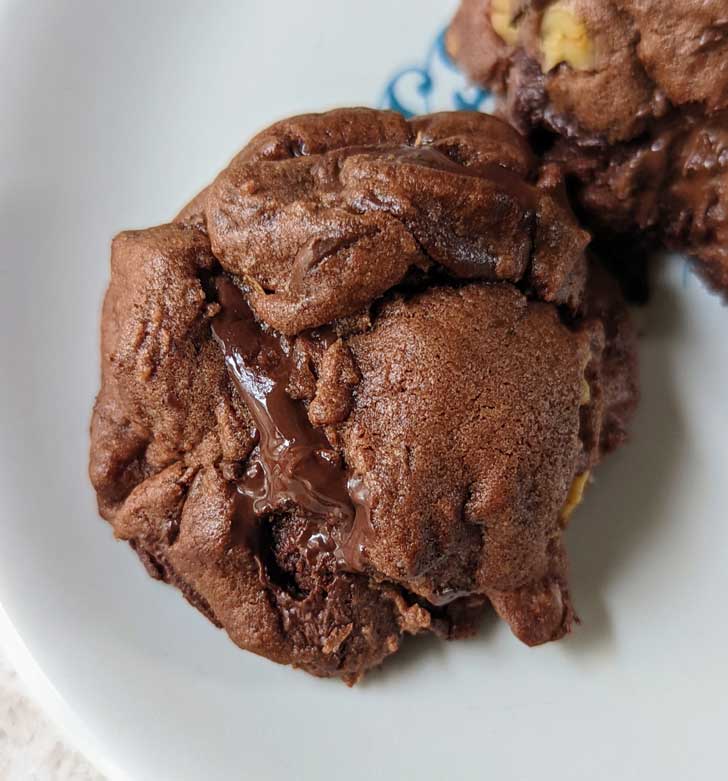 Everything Brownie Cookies Add-Ins
So again -- I wouldn't recommend making these unless you can commit to stuffing them with lots of chocolate, nuts and maybe some broken Oreos. Can you do that ? Yay! I thought so.
For the chocolate chips and chunks I've been using whatever I can get my hands on which lately is a mixture of Costco's Kirkland semisweet chips, Guittard milk chocolate and Ghirardelli white chips. And then there are the broken Oreos. You may want to go with something more elegant like toasted nuts, but I love putting cookies in other cookies and think the Oreo version is good.
Small Batch Version
If you just want to try a small batch, here are the half batch measurements. I measure everything except leavening agents and vanilla with a scale, so the volume amounts are approximate.
42 grams melted unsweetened chocolate
105 grams flour (½ cup plus ⅓ cup, measured by spooning into the cup)
¼ teaspoon baking powder
⅛ teaspoon salt
50 grams granulated sugar (¼ cup)
25 grams light brown sugar (2 tablespoons)
42 grams unsalted or salted butter (3 tablespoons)
25 grams beaten egg (2 tablespoons)
53 grams corn syrup (2 ½ teaspoons is fine)
1 cup or more of a mix of chocolate chips, white chips and Oreos
More Recipes
Recipe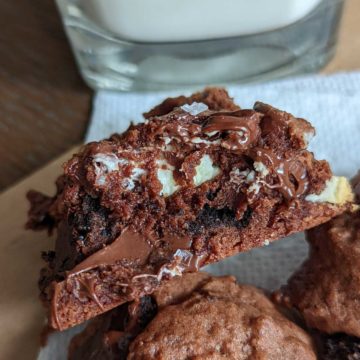 Everything Brownie Cookies
Double chocolate cookies stuffed with Oreos, white and dark chocolate chips. Feel free to add some milk chocolate as well!
Ingredients 
3

ounces

unsweetened chocolate, chopped

(84 grams)

1 ⅔

cup

all-purpose flour -- if you don't have a scale, stir the flour to aerate before measuring**

(210 grams)

½

teaspoon

baking powder

¼

teaspoon

salt plus a pinch

6

tablespoons

unsalted butter, softened

(85 grams)

½

cup

granulated sugar

(100 grams)

¼

cup

brown sugar

(50 grams)

1

teaspoon

vanilla extract

1

large

egg

(50 grams)

⅓

cup

light corn syrup

(110 grams)

5

broken

Oreos, broken into chunks

1 ½

cups

mix of dark chocolate and white chips

Any other chocolate you like -- maybe Oreo Cookies & Cream bar, broken up?
Instructions 
Preheat oven to 350ºF. Line two baking sheets with parchment paper or a Silpat. Do not use butter or cooking spray, as this may cause the cookies to spread a bit.

Melt the unsweetened chocolate in the microwave using 50% power and stirring every 30 seconds. Let it cool.

Mix the flour, baking powder and salt together in a separate bowl and set aside.

With an electric mixer, beat the butter and both sugars until light and creamy. Beat in the corn syrup and vanilla, scraping the sides of the bowl often.

Add the egg and beat for another 30 seconds. With a heavy duty scraper, fold in the flour mixture and stir until blended.

Stir in the chocolates and the broken cookies.

Using a medium size cookie scoop, scoop dough onto the trays (or scoop onto plastic wrap lined plates and cover if you wish to bake later) spacing 2 inches apart. You should get about 20 large balls of dough using the medium scooper.

Bake on center rack, one sheet at a time, at 350 degrees for 10 to 12 minutes or until they appear set and are less shiny. You can also use convection, in which case it will probably take around 10 minutes. Ovens vary.

Let cool on the baking sheets for about 10 minutes, then transfer to a wire rack and let cool completely or transfer to the refrigerator and chill if you like a firmer, colder, cookie.
Notes
Tip: If you don't have a scale and can't weigh the flour, use a light hand when measuring by volume.  That is, spoon the flour into the cup and level off.  Also, you may want to make one or two test cookies just to nail down the proper baking times.  I've been baking them for 10 minutes at 350F using convection.