As promised, here is one recipe from Cookie Swap! by Lauren Chattman. I was given permission to type it up almost verbatim, but I did make some changes while making the recipe which is my bars look a little different than the ones on the previous post. The Cookie Swap! recipe, which is better than the typical Hello Dolly or Magic Cookie Bar thanks to the almonds, also includes copious amounts of coconut. Okay, maybe not "copious" but a lot – -a full 3 cups. It's the top layer of coconut, which you press down into the chips before drizzling with condensed milk, that gives the bars and almost macaroon like top. Because I held back on the coconut, my bars appear more like Magic Cookie bars with almonds. Either way, the recipe makes a great cookie.
Lauren includes a few tips with the recipe. One tip is that you can crush the graham crackers in a sealed ziplock bag with a rolling pin. This is always a good way to crush graham crackers, but in this recipe you use the food processor to chop the almonds, so you might as well use the food processor for the graham crackers. I crushed my graham crackers in the food processor and mixed the butter in with the graham crackers in the bowl of the food processor.
About freezing, Lauren says you can freeze these for up to two weeks. Freeze before slicing. Defrost on the countertop for several hours and then cut.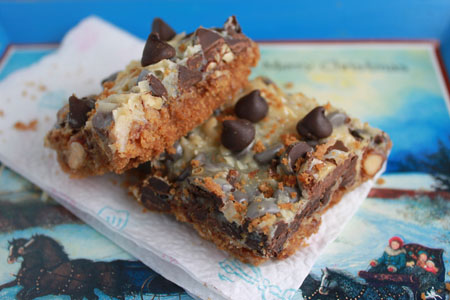 Midsummer Night's Dream Bars

8 tablespoons (1 stick) unsalted butter, melted
16 whole graham crackers, crushed
2 cups whole almonds (I used roasted, unsalted)
1 cup semi-sweet chocolate chips
1 cup milk chocolate chips
3 cups sweetened flaked coconut
14 ounces condensed milk

Preheat the oven to 325 degrees F. Line a 13×9 inch baking pan with foil making sure the foil is tucked into all the corners and that there is at least 1 inch overhanging the top of the pan on all sides.

Combine the melted butter and graham crackers in a medium bowl and stir until all the crumbs are moistened. Sprinkle the mixture across the bottom of the pan and press with your fingertips into and even layer.

Place the almonds in a food processor and pulse 3-5 times to coarsely chop.

Scatter the almonds evenly over the crumbs. Layer both kinds of chocolate chips over the almonds. Sprinkle the coconut over the chocolate chips and press with the back of a large spoon to compact the ingredients. Drizzle the sweetened condensed milk over the coconut.

Bake until the coconut is golden, 25-30 minutes. Let the bars cool completely in the pan on a wire rack. Bars can also be frozen at this point.

Makes 36 Bars
Related posts: