These "Slice and Bake Peanut Butter Cookies" were a side step from some vegan and gluten free cookie baking experiments. I liked the sandy texture of those special diet cookies so much that I did a search for a traditional recipe using regular all-purpose flour and butter. So while these aren't gluten-free or vegan, they are egg-free and they have that sandy texture and flattened appearance of the old school lunch room cookies.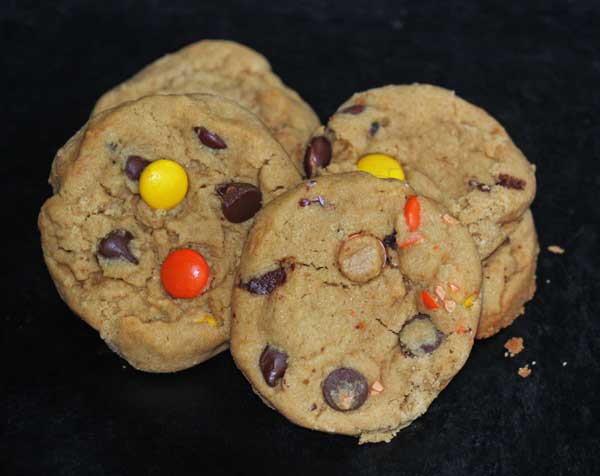 Another bonus is that they are sliced off a log of dough, and the log of dough freezes well. Plus you can make them in one bowl. Putting the candies in the dough makes them hard to slice, so in this recipe I recommend sticking them on after you cut the circles.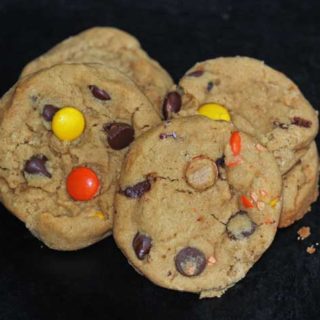 Slice and Bake Peanut Butter Cookies
Slice and Bake Peanut Butter Cookies are made in one bowl. The log of dough may be chilled for a few hours, or frozen until ready to use.
Ingredients 
5

tablespoons

unsalted butter

softened (72 grams)

1/3

cup

smooth peanut butter

90 grams

1/3

cup

packed light brown sugar

1/2

teaspoon

vanilla extract

1/4

teaspoon

baking soda

1/4

teaspoon

salt

1

cup

all-purpose flour

130 grams

1/4

cup

peanut butter chips

1/4

cup

chocolate chips

Small handful Reese's Pieces
Instructions 
In a mixing bowl, combine the softened butter, peanut butter, brown sugar, vanilla, baking soda and salt. Beat until fluffy, scraping sides of bowl often.

Stir in the flour to make a dough, then stir in the peanut butter chips, and chocolate chips.

Shape the dough into a compact 6 inch log and wrap it tightly in plastic wrap. Try to keep the log as round as you can by removing it from the refrigerator every so often and rolling it gently on the counter. Chill the log for at least two hours.

When ready to bake, preheat the oven to 350 degrees F. and line a large rimmed baking sheet with parchment paper.

Slice the log into either 1/4 inch thick or 1/2 inch thick rounds -- your choice. If circles crumbly when you slice, just piece them back together as you arrange on the baking sheet. Keep them about 2 inches apart.

Push a few Reese's Pieces into each round.

Bake on center rack, one sheet at a time, for 10 to 12 minutes or until cookies appear set and edges are just very slightly browned.

Yield will vary. If you make the cookies thin you can get as many as 24. For thick cookies, you'll get about 12.
Notes
The recipe is adapted from one on Food Network called Slice and Bake Peanut Butter Sandies. My changes were to add peanut butter and chocolate chips and embellish the cookies with Reese's Pieces. I also changed the thickness, as they suggested 1/8 of an inch. It would be really difficult to make 1/8 inch thick cookies given the chocolate chips, but both 1/4 and 1/2 inch work great!