If you're craving German Chocolate but don't have time to make a cake, why not make a cookie version?  A few years ago I baked a German Chocolate Brownie Cookie. It was good, but I wanted to try something a little less time consuming (no glaze) and was happy to stumble upon this recipe.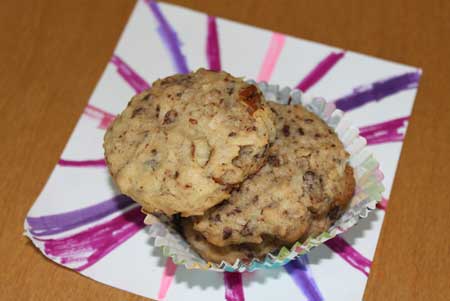 The recipe is Catherine Newman's German Chocolate Cookies, and I chose it because I liked that it called for a full 2 cups of toasted coconut, grated or very finely chopped chocolate, plenty of pecans, and a little corn syrup to keep it chewy. It did call for salted butter, which I didn't' have, but other than the one minor change of using unsalted butter (surprisingly, the cookies had just the right level of saltiness even without the salted butter), I didn't change it enough to justify re-typing.
Incidentally, I was perusing the Disney Family recipe database and found an old one I'd created 7 years ago for Eating Well magazine. I'd like to slap my name on it in big, flashy, proprietary letters, but I lost that privilege by surrendering it over to a magazine. It won nothing more than an honorable mention, but people must like it because I see it all over the place.
Anna's Blueberry White Chunk Cookie from an Eating Well Contest in 2004 .
Related posts: