I've always made German Chocolate Cakes as layer cakes, but a couple of years ago I started baking for a charity and needed a cake that was a little easier to carry and that could be made in a disposable cake pan.  And that's how Potluck German Chocolate Cake came to be.  It's a single layer German Chocolate Cake you can serve right out of the pan. It may not be as stunning as the round version, but nobody seems to mind once it's on their plate.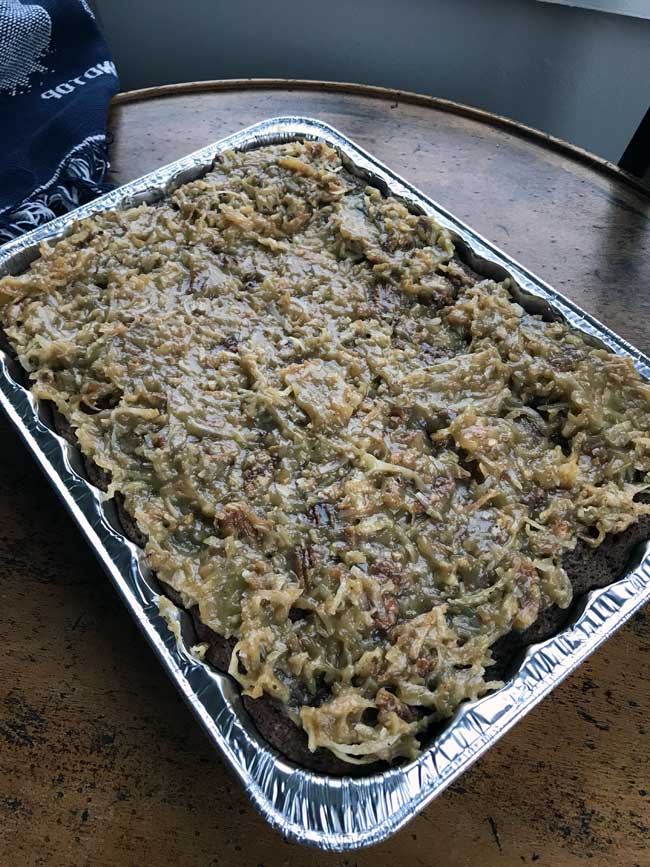 Freezing German Chocolate Cake
You can serve the cake the day it's baked. However, I like to make the cake ahead of time, freeze the whole thing, cut it into portions while frozen, then fit the frozen portions back into the cake pan before serving. This makes it faster and easier to plate, plus the portion sizes are equal. Also, this cake is so moist that cutting while frozen gives you neater slices.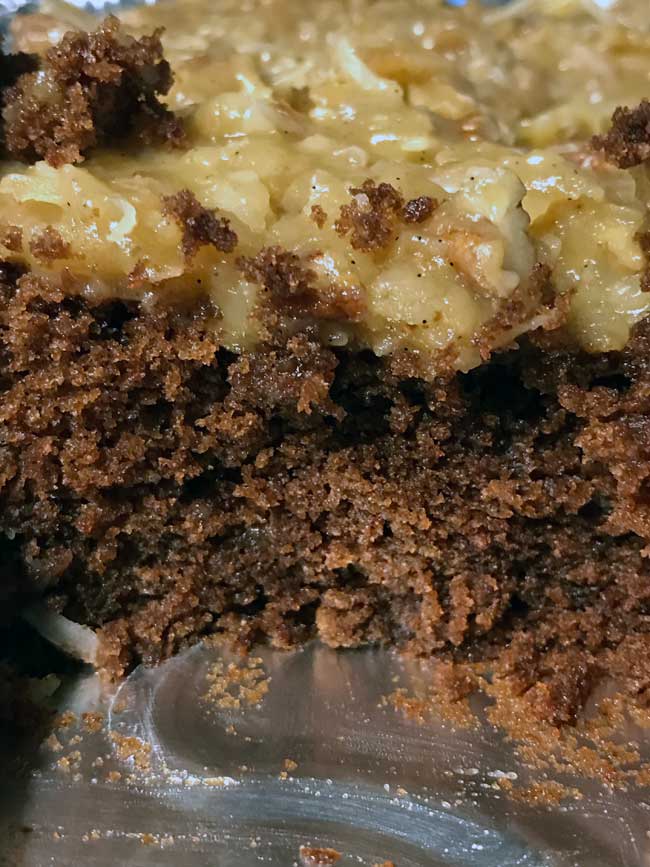 This one was cut while frozen.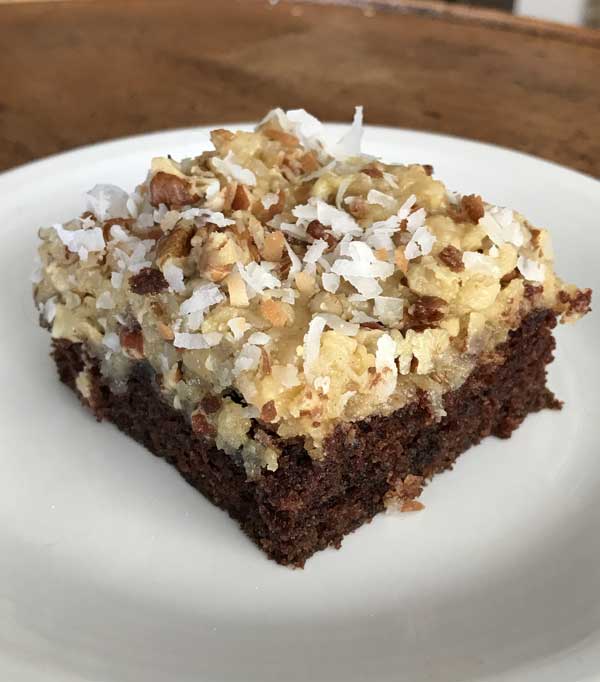 While this one was cut thawed.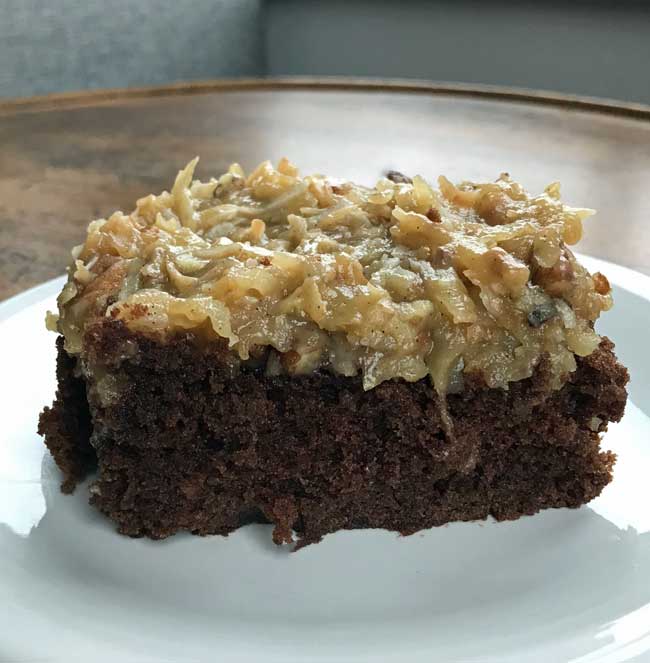 Cutting and Stacking
Another thing you can do is cut the 9x13 inch cake in half, stack the halves, trim the edges and brush the sides with chocolate glaze. Of course it's no longer an easy-to-serve potluck cake at that point, but you get kind of an Inside Out German Chocolate Cake with extra chocolate.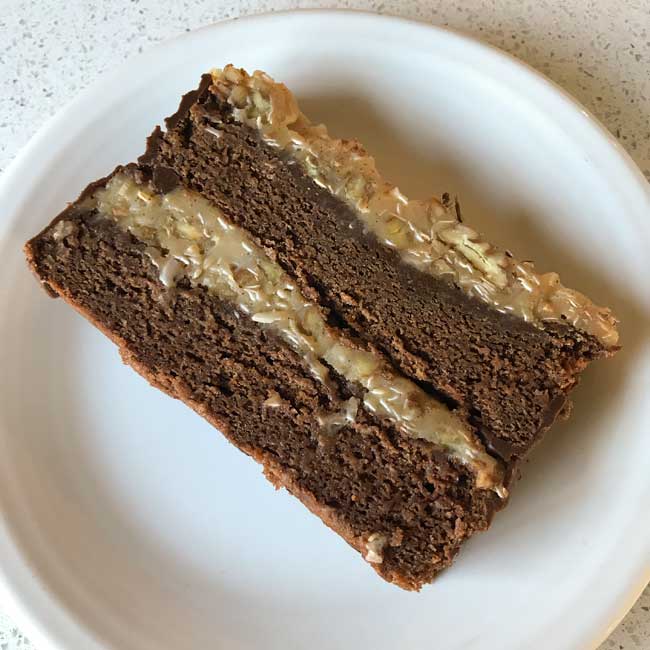 Recipe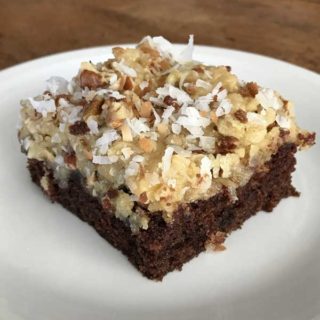 Potluck German Chocolate Cake
This is an easy-to-carry, easy-to-serve 9x13 inch German Chocolate Cake. For a smaller version, cut all the ingredients in half and bake in an 8 inch square pan.
Ingredients 
6

oz

German's Sweet Chocolate Baking Bars

chopped

¼

cup

plus 2 tablespoons water

1 ½

cups

all-purpose flour

(200 grams)

¾

teaspoon

baking soda

½

teaspoon

salt

6

oz

170 grams unsalted butter, softened

1 ½

cups

granulated sugar

(300 grams)

3

large

eggs

separated

¾

teaspoon

vanilla extract

¾

cup

buttermilk
Coconut-Pecan Frosting
3

large

egg yolks

lightly beaten

1

cup

evaporated milk

1

cup

granulated sugar

(190 grams)

½

cup

unsalted butter, softened**

(114 grams)

¼

teaspoon

salt

1

chopped roasted pecans

feel free to use more

1

cup

sweetened flaked coconut

toasted (use more if desired)

1

teaspoon

vanilla extract
Instructions 
Preheat oven to 350°. Have ready a 9x13 inch baking pan.

Chop the chocolate. In a saucepan, bring water to a boil. Turn off heat and add the chocolate. Allow the chocolate to melt in the water and stir until smooth. Set aside to cool slightly.

While chocolate cools, weigh out the flour and mix it with the salt and baking soda. Set aside.

In a large mixing bowl, using an electric mixer, beat the butter and sugar at medium speed until fluffy.Add egg yolks, 1 at a time, beating just until blended after each addition. Add chocolate mixture and vanilla and stir until well mixed, scraping bowl often.

Add flour mixture and buttermilk alternately, stirring until flour is absorbed.

In a separate bowl, beat the egg whites until soft peaks form, then fold them into the batter.

Pour batter into the pan and spread evenly.

Bake at 350° for 30 minutes or until a wooden pick inserted in center comes out clean. Remove from oven and let cool on a wire rack while you make the frosting.

In a large saucepan (I use a 3 quart), whisk together the egg yolks and evaporated milk. Add sugar and softened butter. Place over medium heat and cook, stirring constantly, for 12 minutes.

Mixture will start to boil after about 5 minutes, and from that point you just want to maintain a gentle boil, stirring well, for the next 7 minutes. Mixture will thicken and become more dense and may brown a little around the sides.

Remove from heat and stir in the toasted pecans, coconut and vanilla. Also, taste test and add more salt if needed.

Transfer mixture to a bowl and let stand, stirring occasionally, until you feel it's thick enough to spread on the cake.

Spread mixture over the top of the cake.
Notes
If you'd like to make serving the cake even easier or just need to freeze it, before baking line the cake pan with nonstick foil (parchment would be okay, too). Follow the directions as written, let the cake cool completely, then cover it and freeze for 12 hours. Remove the cake from the pan, peel away foil, and use a chef's knife to cut the cake into 12 to 16 pieces. Set the frozen pieces back in the serving dish, cover it up and carry to your party. For the frosting, you can use salted butter. If you do, you may want to reduce the salt to ⅛ teaspoon or omit it.