These brownies were created in an effort to use up half a box of brownie mix and a partially filled can of condensed milk. And hooray! Because my attempt to get rid of stuff resulted in a really good tasting brownie which I would definitely make again. Next time I'll go with a scratch base, but for jazzing up boxed brownies, this recipe was perfect.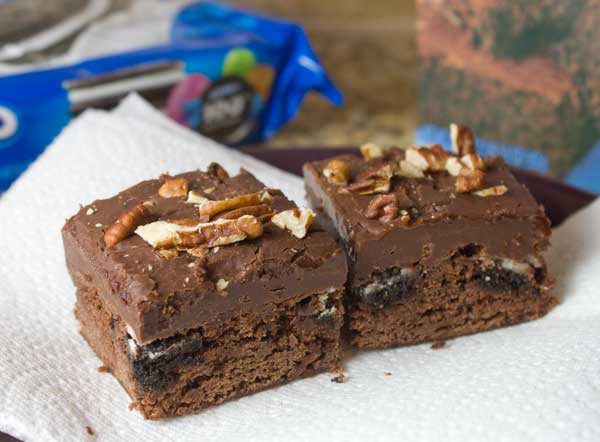 Basically, it's fool-proof fudge poured on top of a batch of brownies, but in this case I finally nailed the right proportions of chocolate to condensed milk to butter. In the past I've made the fudge topping to sweet or too chewy. This one was just right — somewhere between a piece of fudge and icing.
I made a half batch using an 8 inch square pan.  This version is a full batch and calls for a 9×13 inch pan.

Brownies with Oreo chunks topped with fudge
Ingredients
1 box of your favorite brownie mix (for a 9x13 inch pan)plus ingredients needed (oil, water, egg)
8 chocolate sandwich cookies (Oreos)
3 tablespoons butter, room temperature
1 cup condensed milk, not the whole can
2 cups dark, extra dark or bittersweet chocolate chips
¼ teaspoon vanilla extract
Toasted chopped pecans for garnish (optional)
Instructions
Prepare the brownie batter as directed on the package, but add 8 to 10 broken chocolate sandwich cookies to the batter. Spread in a nonstick foil lined 9x13 inch pan. Bake for about 28 minutes or whatever the box of your preferred brand of brownie mix says.
As soon as the brownies are done, combine room temperature butter, 1 cup of condensed milk, and chocolate chips in a saucepan. Turn heat to medium or medium low (low and slow is the way to go – don't overheat the mixture) and stir until chocolate is melted and smooth. Stir in the vanilla. Pour over the brownies. If desired, sprinkle toasted pecans over the top. Let cool and set.
Lift from the pan and cut into 24 or 32 brownies
Notes
Instead of boxed brownie mix, use your favorite scratch recipe.
Related posts: