This is our favorite butterscotch pie recipe, and since the last time I posted a 7 inch version, I decided to re-post the recipe for a more useful size (9 inch) pie. Hopefully some of you will try it, because it's a very good rendition of classic butterscotch pie.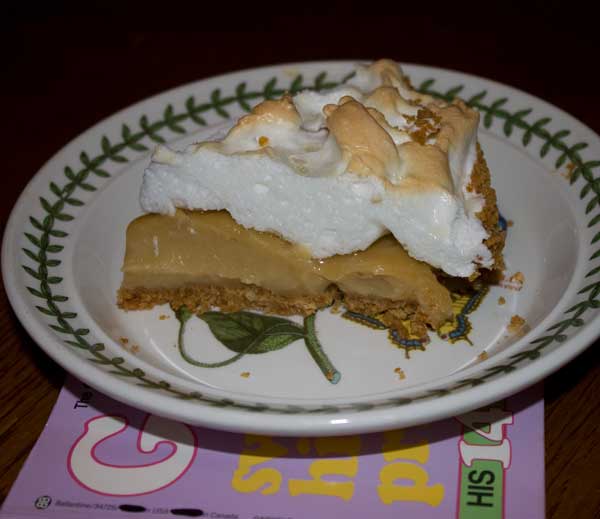 Sue shared this recipe a few years ago, along with a story of its origin. When she was in third grade, she and her classmates put together a book of recipes for Mother's Day. This pie was her contribution to the little book, which her mother returned to her recently. Sue joked that she really liked the book because aside from one chili recipe, it's mostly sweets.
Below is my take on Sue's recipe. I've found that the cinnamon flavor of Nabisco Cinnamon Grahams really complements the deep brown sugar and butterscotch flavor, so I make it a point to use cinnamon flavor grahams instead of regular. I usually just crush them in a zipper bag with a rolling pin rather than use the food processor.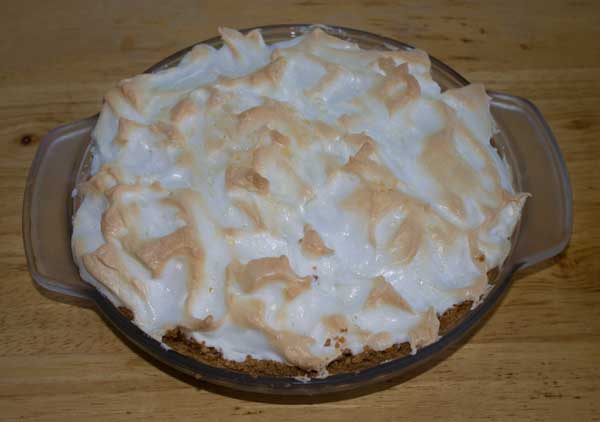 As for the rest of the recipe, it will fly together so long as you assemble everything beforehand. One thing I've learned with meringue pies is that it's important for the filling to be hot when you slather it on. The heat from the filling helps cook the base. So for this recipe, I have everything ready to go, whip up the meringue and let it sit for a few minutes while I cook the hot filling, then put the meringue on filling while it's still piping hot.

Sue's Butterscotch Pie
An easy butterscotch pie recipe topped with meringue.
Ingredients
Crust:
1 1/2 cup crushed graham crackers, 18 squares (1 sleeve)
1/4 cup sugar
6 tablespoons butter, melted
Filling:
4 large egg yolks
1 cup packed brown sugar
2 tablespoons plus 2 teaspoons flour
1/4 teaspoon of salt
1 1/3 cup whole milk
2 tablespoons plus 2 teaspoons butter, room temperature
1 teaspoon vanilla
Meringue:
4 large egg whites, room temperature
1/8 teaspoon salt
8 tablespoons granulated sugar
Instructions
Separate the 4 eggs and bring them to room temperature. Have the whites in a metal mixing bowl (the one you'll use for the meringue) and the yolks in any large mixing bowl. Measure out all of the other ingredients and assemble.
Preheat the oven to 350 degrees F. and grease a 9 inch glass pie dish.
Prepare the crust first. Combine graham crackers and sugar in bowl. Stir in the butter. Press mixture into the pie dish and bake at 350 degrees F. for 8 minutes.
When crust is ready, begin preparing the filling. Whisk the egg yolks together in a bowl and set aside.
In a medium saucepan that is not yet set over heat, stir together the brown sugar, flour, and salt. Now that everything is assembled, stop and prepare the meringue so you'll have it ready to put over the hot filling.
Combine the egg whites (which should already be in the metal bowl) and the salt and mix on high speed with hand mixer until soft peaks form. Add the sugar 2 tablespoons at a time until the sugar is dissolved and stiff peaks form. Set it aside and proceed with the filling.
Warm the milk in the microwave for 1 ½ minutes. Set the saucepan with the brown sugar mixture over medium heat and whisk in the milk. Continue to whisk over medium heat until mixture begins to simmer. Pour about half of the milk mixture into the egg yolks, then add the egg yolk mixture to the saucepan and continue whisking and stirring over medium heat until mixture thickens and bubbles. Whisk and stir for another 2 minutes while the mixture bubbles and cooks. This whole process doesn't take long at all — especially if you use warm milk and a metal saucepan.
Remove from heat and whisk in the butter and vanilla. Pour into the prepared pie crust and quickly top with the meringue, sealing the edges. Bake the pie for 10 minutes at 350 degrees F. Let cool at room temperature for an hour, then transfer to the refrigerator and chill for 4 hours or more.
Related posts: