I made this chocolate bread today after discovering a long forgotten jar of apple butter in the pantry. I guess the apple butter knew it was fall and decided to make its presence known. Or maybe it wanted to come out and play with all the season's apples? I don't know, but I was happy to have a new and interesting ingredient to use in this morning's baking project, and decided to use it as fat replacement for some of the oil in the bread.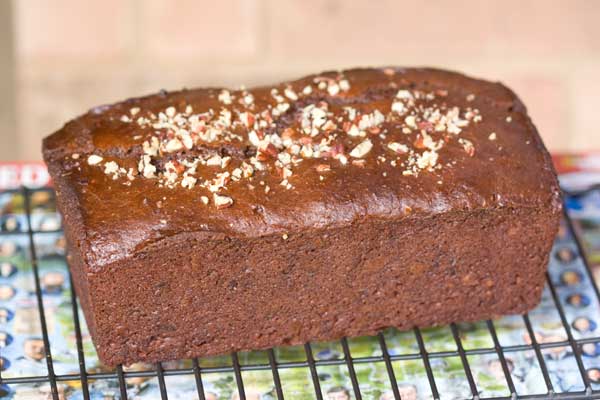 I went back and forth on whether to add cinnamon and allspice to give the bread some true fall flavor, but in the end I left out the spices and hoped the apple butter flavor would just blend in with the chocolate without tasting weirdly apple-ish. It did.  Some added cinnamon might have been good, but I just wasn't in the mood for spices in my chocolate and figured if Fuzz were to try this (which she probably won't), she would appreciate the unadulterated chocolate flavor.  I am glad I added the chocolate chips, though, because the bread needs the extra sweetness. Not that it wasn't sweet, but the chocolate chips added just the right dose of chocolate to an already chocolaty bread. Also, I'd classify it as such. I wasn't sure if it was going to turn out like cake, pound cake or quick bread, but it's definitely in the quick bread category given it's texture.

Double Chocolate Apple Butter Bread
A rich double chocolate bread made with Greek yogurt, chocolate chips and nuts
Ingredients
1 3/4 cup (7.9 ounces) all-purpose flour
1/2 cup unsweetened natural cocoa powder
1/2 teaspoon baking powder
1/2 teaspoon baking soda
3/4 teaspoon salt
1/3 cup apple butter, I used Smucker's
1/4 cup vegetable oil
1 cup granulated sugar
2 large eggs
1 1/2 teaspoon vanilla extract
1 cup plain yogurt, vanilla would probably be okay, I used Voskos nonfat
3/4 cup dark chocolate chips
1/4 cup chopped pecans
Instructions
Preheat oven to 350 degrees F. Spray a 9x5 inch or 8 ½ x 4 ½ inch metal loaf pan with flour-added baking spray.
Mix the flour, cocoa powder, baking powder, baking soda, salt and salt together in a bowl and set aside.
In a large mixing bowl, whisk the apple butter, oil and sugar together until smooth. Add the eggs one by one, then whisk in the vanilla and the yogurt until smooth.
Whisk in the flour, then stir in the chocolate chips.
Scrape batter into the loaf pan and sprinkle nuts across the top.
Bake on center rack for 50 to 60 minutes or until a pick inserted in the center comes out clean.
Let cool in the pan for about an hour, then remove from pan and let cool completely before serving.
Notes
My favorite loaf pan is an 8 1/2 x 4 1/2 loaf pan, and it's what I used for this bread. It worked well, but I think next time I'd do it in a 9x5 inch loaf pan. If you use a 9x5 inch loaf pan, the bread will probably be done in 45 or 50 minutes. If you put all the batter in the smaller sized loaf pan (like I did), it will probably take an hour. If your oven runs hot and you know it, you might want to bake this at 325 until done.
Related posts: