Perfect Cream Cheese Pound Cake was inspired by an issue of Cook's Illustrated article featuring a pound cake recipe plus tips for making the best pound cake.  This isn't actually their recipe, but it's one of my all time favorite pound cakes, and I made it using Cook's Illustrated's advice. Some of their tips include using room temperature ingredients, adding eggs slowly, baking the pound cake at a low temperature and using cake flour instead of all-purpose. The result is a soft, light textured, tight crumbed cake.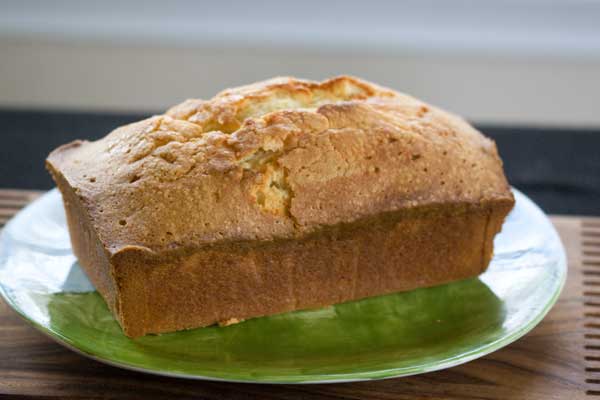 Adding Eggs Slowly to Cream Cheese Pound Cake
I feel like the most interesting tip from CI is the one about adding eggs slowly.  They say the thin film of protein allows the batter to rise easier, much as a thin balloon might might offer less resistance than a thick balloon. Interesting! This explains why the author of one of my old favorite chocolate chip cookie recipes might have added the eggs slowly to cookies.
Using Room Temperature Ingredients
The other tips are more well known.  Ingredients should be room temperature so that they will blend better and the batter will form small air bubbles, cake flour makes a more tender cake and the low temperature keeps a hard crust from forming too quickly.
Medium Speed to Avoid Sad Streaks
The other tip I've learned since is not to cream the ingredients on high speed, but rather medium.  Creaming on high speed may overwork some of the gluten and contributes to those little gel like areas or gluey streaks that sometime form.  This, I learned from King Arthur.  So use medium speed for creaming.
Loaf Pan Size Pound Cake
So have fun making this cake and seeing if the tips work for you.  This is a loaf pan size cake. For a tube cake size pound cake, just double this. If you make it, let me know what you think. I still have a few more to try and re-try, including Epicurious's famous "Elvis's Favorite" which I made years ago but kind of forgot about. I'll have to put it up against this one.
Recipe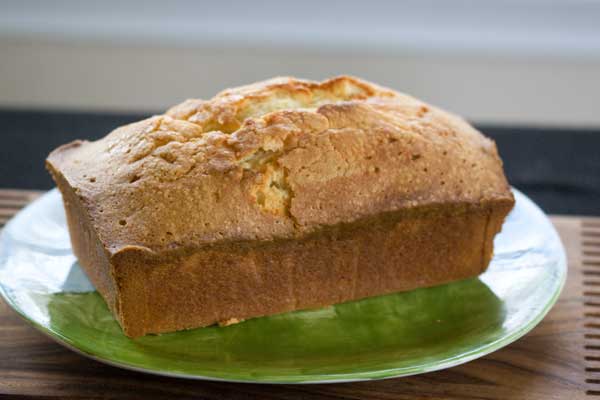 Perfect Cream Cheese Pound Cake
Dense but light textured, tight crumb pound cake made with cream cheese
Ingredients 
3

large

eggs

at room temperature

1 ¾

teaspoons

of vanilla extract and ¼ teaspoon almond extract

6

ounce

unsalted butter at room temperature

(170 grams)

4

oz

cream cheese, softened

(114 grams)

1 ½

cups

granulated or superfine granulated sugar**

(300 grams)

½

teaspoon

salt

omit if using salted butter

1 ½

cups

plus 2 tablespoons cake flour

(180 grams)
Instructions 
Spray an 8 ½ by 4 ½ inch loaf pan with flour-added baking spray. Line pan with parchment paper.

In a liquid measuring cup, whisk the eggs and extracts and set aside.

In the bowl of a stand mixer with the whisk attached, beat the butter and cream cheese for about five minutes on medium speed until light creamy. Scrape bowl occasionally. With the mixer running, add the sugar very slowly – this should take another 5 minutes. Add the salt and scrape bowl again.

Reduce mixer speed slightly and very gradually add the egg/extract mixture a few spoonfuls at a time. This process should take about 2 minutes. Once the eggs are added, continue beating for one minute.

Remove bowl from stand mixer and sift the flour about ½ cup at a time into the batter, stirring with a heavy duty scraper until well blended. Make sure all the flour is incorporated by scraping batter up from the bottom.

Put the batter in the pan, spread it evenly and bake for about 85 minutes at 325 F. Cake should form a dome and crack. Let it cool for about 20 to 30 minutes in the pan, then carefully loosen and remove from pan by inverting, peeling off parchment, and inverting again.

Let the cake cool completely before serving.
Notes
I use superfine sugar which I'd made by putting granulated sugar in a food processor.