A few weeks ago I stopped by a local thrift store to look around. There were the usual old clothes, used jewelry and old appliances from the '70s, but the real find was in the book section. Hidden on the bottom shelf was a stack of 12 issues of Cook's Illustrated from 2000 to about 2011 in perfect condition and priced at 10 cents each. I paid $1.20 for 12 issues and walked out feeling like I'd robbed a bank. Well, sort of. The thrift store ladies assured me that it "was okay" and that I should just "have fun with them" and that we all loved cooking and that the issues really were 10 cents.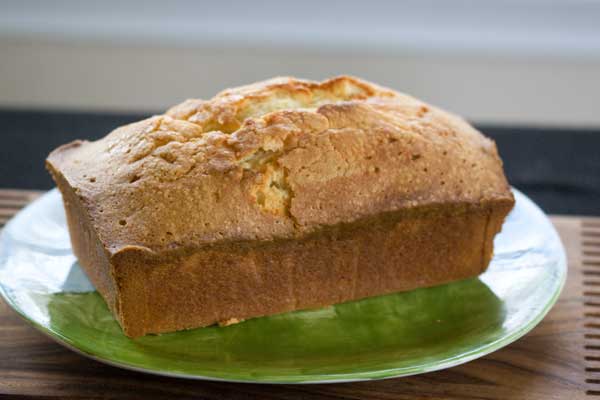 Things got even better when I arrived home and found that one of the articles was about pound cake. After reading the article, I immediately went out and bought the ingredients to make CI's recipe. In the end, I didn't care for it (it happens), but I appreciated the  great tips explaining why low temperature is used, the best types of flour for pound cake and most of all, why it's good to add eggs very, very, slowly. I'd heard different explanations for that, but in this issue they suggested  that adding the eggs slowly coats the other ingredients in a film of protein that's thinner than it would be if you just dumped the eggs in. The thin film of protein allows the batter to rise easier, much as a thin balloon might might offer less resistance than a thick balloon. Interesting! And it explains why the author of one of my old favorite chocolate chip cookie recipes might have added the eggs slowly to cookies.
Anyhow, I set off to find the best pound cake using the techniques I'd learned from CI — cake flour, very cool butter, slow temperature, long creaming, slow addition of eggs, etc. and of all the ones I made, this one was voted the favorite. The texture was tight crumbed and very light and it had a lot of flavor from the cream cheese. Because I'd been making multiple cakes, I kept the pound cakes loaf size. For a tube cake size pound cake, just double this. If you make it, let me know what you think. I still have a few more to try and re-try, including Epicurious's famous "Elvis's Favorite" which I made years ago but kind of forgot about. I'll have to put it up against this one.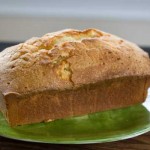 Print Recipe
Perfect Cream Cheese Pound Cake
Dense but light textured, tight crumb pound cake made with cream cheese
Ingredients
3

large eggs

at room temperature

1 3/4

teaspoons

of vanilla extract and 1/4 teaspoon almond extract

1 1/2

sticks

6 oz unsalted butter at cool room temperature

4

oz

cream cheese

cool room temperature

1 1/2

cups

10.5 oz granulated or superfine granulated sugar**

1/2

scant teaspoon salt

omit if using salted butter

1 1/2

cups

plus 2 tablespoons cake flour

6.5 oz or White Lily flour
Instructions
Spray an 8 ½ by 4 ½ inch loaf pan with flour-added baking spray. Line pan with parchment paper.

In a liquid measuring cup, whisk the eggs and extracts and set aside.

In the bowl of a stand mixer with the whisk attached, beat the butter and cream cheese for about five minutes or until very light and creamy. Scrape bowl occasionally. With the mixer running, add the sugar very slowly – this should take another 5 minutes. Add the salt and scrape bowl again.

Reduce mixer speed slightly and very gradually add the egg/extract mixture a few spoonfuls at a time. This process should take about 2 minutes. Once the eggs are added, continue beating for one minute.

Remove bowl from stand mixer and sift the flour about 1/2 cup at a time into the batter, stirring with a heavy duty scraper until well blended. Make sure all the flour is incorporated by scraping batter up from the bottom.

Put the batter in the pan, spread it evenly and bake for about 85 minutes at 325 F. Cake should form a dome and crack. Let it cool for about 20 to 30 minutes in the pan, then carefully loosen and remove from pan by inverting, peeling off parchment, and inverting again.

Let the cake cool completely before serving.
Notes
I used superfine sugar which I'd made by putting granulated sugar in a food processor.