Since we've been talking about pudding cakes lately, I thought I'd bump this one up.  Some of you mentioned chocolate pudding cake could be made in a slow cooker, and I forgot I'd tried it.  This is from 3 years ago and I'm going to file it in the new pudding cake category.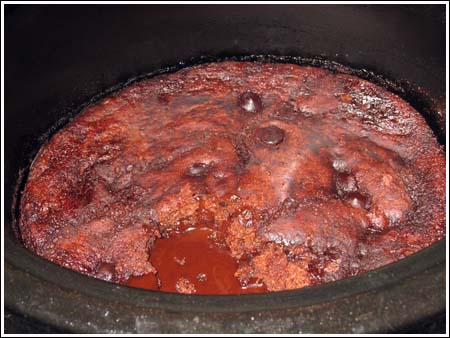 This  Chocolate Orange Pudding cake seemed like the perfect dessert.  But since my family is not too crazy about chocolate-orange, I made the recipe with a few modifications. The end result was a Slow Cooker Chocolate Mocha Pudding Cake – a cakey topped pudding not unlike a giant chocolate molten lava cake, but in this case, not so rich. In fact, according to my cooking software "Mastercook", one serving of this has less than 30% fat. If you make the serving a little smaller and add a scoop of low fat ice cream, that will bring it down even more.
Slow Cooker Chocolate Mocha Pudding Cake
Cooking Spray or butter for pot
1 cup all purpose flour
¾ cup granulated sugar
3 tablespoon plus ¼ cup unsweetened cocoa powder (divided use)
2 teaspoons baking powder
¼ teaspoon salt
½ cup milk
3 tablespoon butter, melted and cooled
1 teaspoon vanilla extract
½ cup bittersweet chocolate chips
¾ cup packed golden brown sugar
1 ⅔ cup hot coffee or hot water
Spray inside of 3 ½ to 4 quart slow cooker with cooking spray or rub with butter.
In a mixing bowl, thoroughly stir together flour, granulated sugar, 3 tablespoons of the cocoa powder, baking powder and salt. Stir in the milk, melted butter, vanilla and chocolate chips. Spread this mixture over the bottom of your slow cooker
In another bowl, mix together brown sugar and remaining ¼ cup cocoa powder. Sprinkle cocoa mixture over the batter, but do not stir it in. Pour the coffee evenly over all. Again, do not stir.
Cover and cook on high heat for 1 ¾ to 2 hours or until a tester inserted in the top portion of the cake comes out clean. The inside should be hot and similar to fudge sauce. Spoon cake and sauce out of slow cooker and arrange next to or under a very cold scoop of ice cream. Or if you prefer, set the ice cream on top.
When I make hot/cold desserts, I like to scoop out the ice cream a few hours ahead of time, and freeze the pre-formed scoops. When it's time to serve the dessert, I just drop the ice cream scoop right on the plate without having to deal with scooping firm ice cream. This cake is very hot, so the ice cream will soften fairly quickly.
Adapted from The Best Slow Cooker Cookbook Ever (#ad) by Natalie Haughton.