I like big crowns and I cannot lie.
No flat top muffins need apply.
When a muffin is hot
There's no reason to cut
It up if it's not high.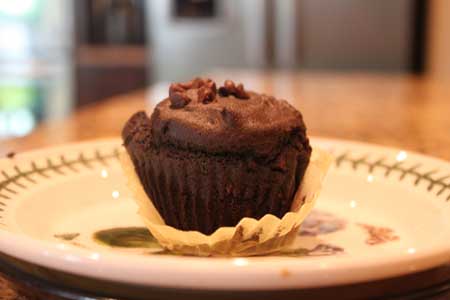 Sorry for the rap (and thank you Sir Mix A Lot), but muffins with nice tops make me really happy; especially when they're experimental muffins that I was pretty sure would end up in ye olde trash can. The tops did crack, but they were still tall and had a good crustiness encasing what I thought was an appropriately moist interior thanks to the chocolate chips.
Here's the recipe. I've only made these once, but I feel like they're good enough to post as is. Besides, if they don't work out you haven't wasted much. I actually halved this recipe and made 3 muffins, but normal people would probably want to make at least 6.
Speaking of normal, you probably don't spend hot summer days making apple butter, but I do, and I use the crock pot so it's not as crazy as it sounds and the holiday smell makes you forget it's 106 outside. If you end up trying these with applesauce, let me know how it goes. I'm not sure applesauce would be as good, but sometimes you just have to use what's around. As I type this, I'm thinking prune baby food would be an interesting stand-in or even apple baby food, which is smoother than applesauce.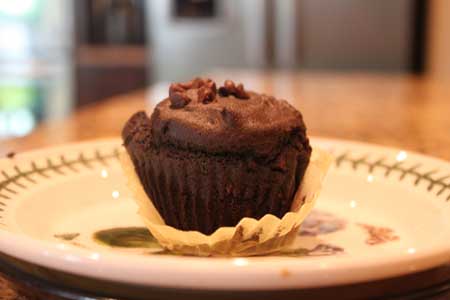 Chocolate Apple Butter Muffins
Apple Butter Chocolate Muffins
Ingredients 
3/4

cup

plus 2 tablespoons white whole wheat flour

114 grams -- if you don't have a scale, sift before measuring

1/3

cup

unsweetened cocoa powder

28 grams

1/2

teaspoon

baking soda

1/2

teaspoon

baking powder

3/8

teaspoon

salt

1/4

teaspoon

cinnamon

1/3

cup

firmly packed brown sugar

63 grams

1/2

cup

apple butter

114 grams

2

large egg whites

3/4

teaspoon

vanilla

2

generous tablespoons vegetable oil

30-33 ml

1/4

cup

semisweet chocolate chips – muffins need them for moisture and sweetness
Instructions 
Preheat oven to 375 degrees F. Line 6 muffin cups with paper liners and spray the liners with a little flour-added cooking spray. Mix the flour, cocoa powder, baking soda, baking powder, salt and cinnamon together in a bowl. In a mixing bowl, stir the brown sugar, apple butter, egg whites, vanilla and oil together. Pour the dry mixture into the apple butter mixture and stir just until mixed. Divide batter equally among muffin cups (it should come almost to the top and you should be able to foil 6 – possibly 7 muffin cups. Bake for 20-23 minutes or until a toothpick or chopstick inserted in center comes out with moist crumbs rather than batter