National Pie Day is tomorrow!  Are you ready?  If not, here's a recipe that might change that.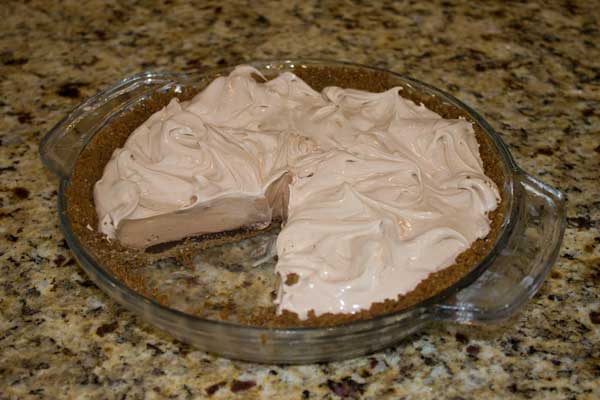 This creamy layered chocolate pie is based on a recipe I brought home from a visit to the Hershey Hotel & Spa. It's meant to be convenient and calls for only five simple ingredients including a 6 ounce store bought crumb crust; but of course I complicated things and used a homemade crust made with gingersnaps.   We loved the ginger combo, but it's not for everybody, so use whatever flavor you like.   Just be sure to give your pie at least six hours in the freezer.
Here's a picture of a cross-section taken after 12 hours in the freezer. Notice how my pie is a little short? That's one reason I think you might be better off using a packaged 6 ounce crust.
Easy Chocolate Pie
Chocolate Pie
Ingredients
1 (6 oz) pie crust (or your favorite homemade), prepared as directed
1 cup Hershey brand dark chocolate chips, divided use
2 tablespoons plus 1/4 cup milk, I used whole, divided use
1 1/2 cups miniature marshmallows
8 ounce container of frozen whipped topping, thawed
Instructions
Measure out 1/3 cup of the chocolate chips and mix with 2 tablespoons of the milk. Put in a microwave-safe bowl and heat on high for 20 seconds. Stir until chips are melted. If needed, microwave for another 20 seconds. Spread over the bottom of the pie crust and put in the refrigerator.
Put the remaining 2/3 cup of chips, marshmallows and 1/4 cup of milk in a saucepan and heat over medium, stirring constantly, until melted. Transfer to a large bowl and let sit for about 30 minutes or until completely cool.
Fold about 2 cups of the whipped topping into the chocolate mixture. Spread about 2/3 of that mixture over the crust. Add whatever is left in the tub of whipped topping (a little over a cup) to the remaining chocolate mixture in the bowl. Spread over the top of the pie.
Cover and freeze 6 to 8 hours or overnight.
Notes
If you want to make a ginger crust, mix 1 1/2 cups gingersnap crumbs, 1 tablespoon of sugar and 4 tablespoons of melted butter together. Press into a 9 inch pie dish and bake for 10 minutes.
Related posts: