Make the Bread, Buy The Butter -- Best Granola Recipe Ever
I have a long list of favorite granola recipes and recently added one more.  It's from Jennifer Reese's book, Make the Bread, Buy the Butter: What You Should (and Shouldn't!) Cook from Scratch to Save Time and Money
.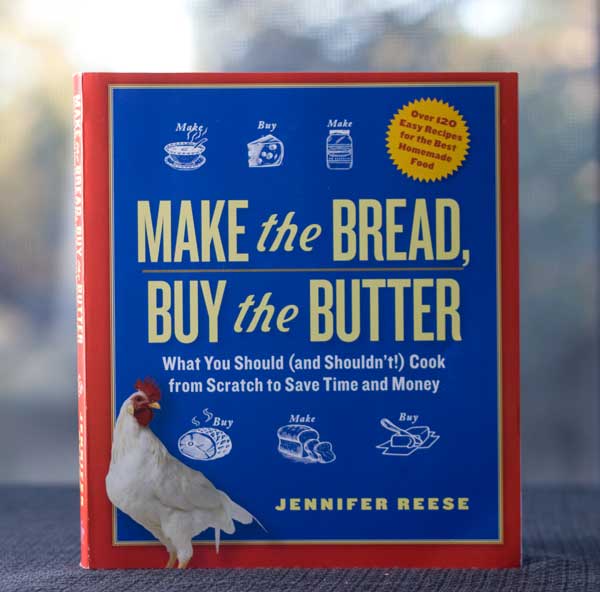 For me, this book falls into the very special category of "books that get lost between the kitchen and nightstand".  It's so practical that I actually use it, but it's also entertaining enough to read at night before bed.  Jennifer's writing style and stories (my favorite is the one about raising urban chickens) are thoughtful and funny; and based on all the research she did to determine which recipes were really worth making, I'd trust her opinion on just about anything kitchen related.  Hence, this granola recipe.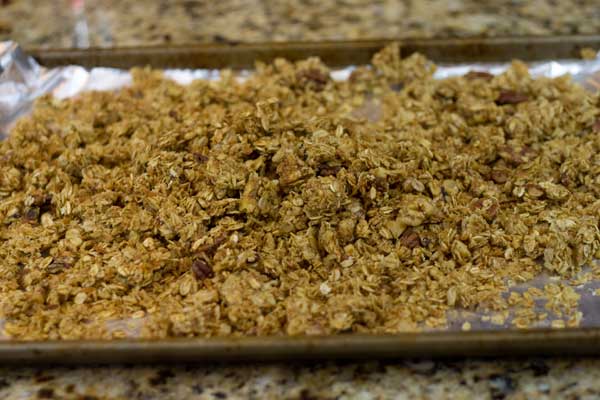 As much as I love the book, I didn't need much convincing that homemade granola is better than store bought.  It's a lot less expensive, you can customize your flavors, and it's simple enough for a kid to make.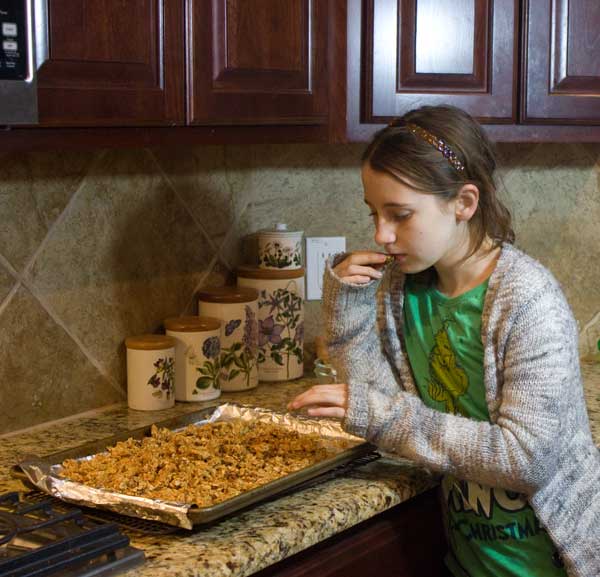 This recipe is particularly good because the measurements are easy to remember, it only requires one bowl, and it's baked at a slow and low 250 degrees F. You don't even have to stir!  It's also a richer, nuttier, granola worthy of gift giving, which is why Fuzz is going to bag it up and give it to her teachers for the holidays.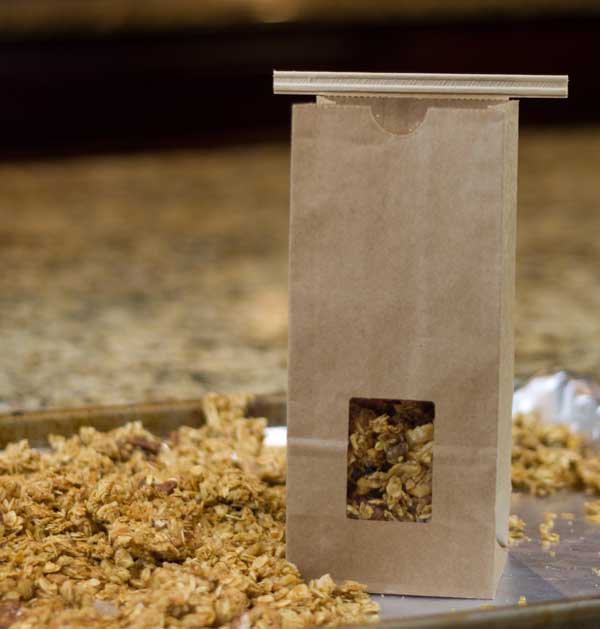 Now all we need are some cute labels!
Recipe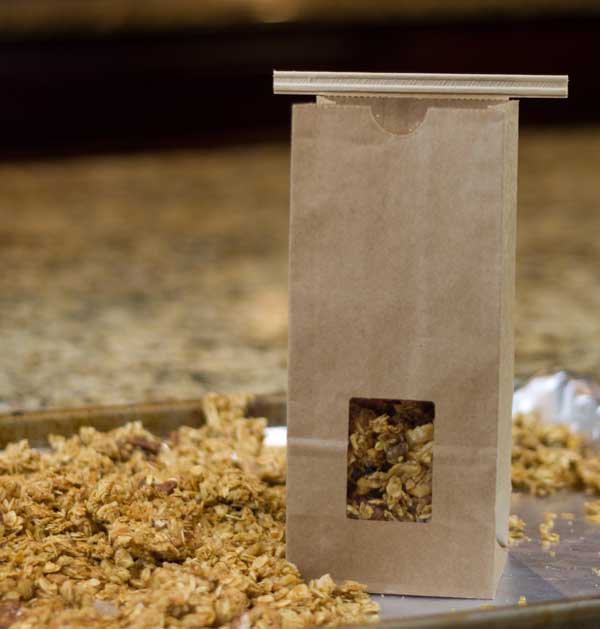 Granola Gifts for Teachers and Make the Bread Buy the Butter Review
An easy no-stir granola recipe that is perfect for gift giving.
Ingredients 
3

cups

rolled oats

1

cup

almonds

I used a mixture of walnuts and pecans

½

cup

chopped pecans

¼

cup

wheat germ

⅓

cup

maple syrup

¾

cup

sweetened

flaked coconut

⅓

cup

light brown sugar

firmly packed

¼

cup

melted butter

or 2 T. butter and 2 T. oil

¾

teaspoon

Kosher salt

or ⅜ if using table salt
Instructions 
Preheat the oven to 250 degrees F.

Mix all the ingredients and spread on a cookie sheet. I like to line my sheet with nonstick foil.

Bake for 1 hour and 15 minutes (but check at 45). Reese says you'll know when it's done because it will be crunchy and golden.

Remove from the oven, break apart any large clumps, and cool. Store in plastic bag or 2-quart jar. I am storing it in freezer bags and freezing it until next week, at which point I will divide it up for teachers.
Notes
If you're using regular table salt you might want to reduce it to a about ⅜ teaspoon.
If you don't want to use too much maple syrup, you can use half maple syrup and half honey. Also, make sure to check the granola after 45 minutes. The original bake time calls for 1 hour and 15 minutes, but it sometimes bakes a little faster -- especially if you halve the recipe.