I'm pretty sure I've tried this recipe at some point, but for some reason it didn't make an impression. Maybe the brownies weren't tall enough?  Maybe I made them back-to-back with a recipe I just happened to like better?  I don't know, but I made them again on this dreary Tuesday and decided they were worth posting if not for their texture and flavor, then for their simplicity. This is one of those easy one  bowl brownie recipe you can whip up as quickly as you could box brownies.  And by design, they are supposed to have a similar texture and even better flavor.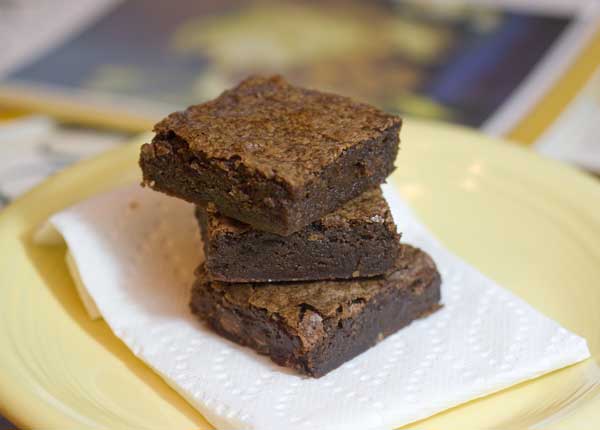 The recipe is adapted from the March/April 2010 issue of Cook's Illustrated, where CI claims that the key to making brownies with a "box brownie" texture is to get the ratio of saturated to unsaturated fat just right.  To do that, they use a mixture of butter and oil, unsweetened chocolate and egg yolks.  The article itself is pretty fascinating, and if you can get your hands on the March/April 2010 issue it's worth a read, but for now I'm just posting the recipe as I made it which is a smaller 8 inch pan version.  This batch was better than any batch I've made in the past (though I  didn't get a flaky top) and it might have to do with the fact I used a high end (Callebaut Dutch) cocoa powder.  Not that using expensive Dutch process cocoa powder is always better since it has a drying effect in some recipes, but in this recipe it worked perfectly with it and the flavor was better than usual.  If you only have natural cocoa, you probably won't get the same results, so make these when you have some good Dutch cocoa on hand.
My only complaint is that these were a little on the thin side and I've become partial to deep dish type brownies.  They were still great, just thin, and I'm mentioning it in case anyone gets the idea to make them in a 9 inch square pan.  Don't bother or they'll be WAY too thin.  I recommend sticking with a half batch in an 8 inch pan or using the double version original which is baked in a 9×13.
Chewy Brownies
One Bowl Chewy Brownies Made in an 8 Inch Pan
Ingredients
2 tablespoons plus 2 teaspoons Dutch-processed cocoa
1 teaspoon of espresso powder
1/4 cup plus 1 tablespoons boiling water
1 ounce unsweetened chocolate, finely chopped
2 tablespoons unsalted butter, melted
1/4 cup plus 1 tablespoon vegetable oil (I used grapeseed)
1 large egg
1 large egg yolk
1 teaspoon vanilla extract
1 1/4 cups granulated sugar
3/4 cup plus 2 tablespoons (4.4 ounces) all-purpose flour
3/8 teaspoon salt plus an extra pinch
1/2 cup dark chocolate chips or 3 oz bittersweet chocolate cut into small chunks
Instructions
Preheat oven to 350 degrees F. Line an 8 inch square metal pan with foil and spray foil with cooking spray.
In a mixing bowl, whisk together the cocoa, espresso powder, and boiling water until smooth. Add the unsweetened chocolate and stir until melted. Stir in melted butter and oil. (Mixture may look curdled.) Add egg, yolk, and vanilla and continue to whisk until smooth. Whisk in sugar until fully incorporated. Add flour and salt and mix with rubber spatula until combined. Fold in chocolate chips (or chopped chocolate).
Scrape batter into pan and bake for about 30 minutes on the lower rack of the oven.
Using foil overhang, lift brownies from pan and set on a wire rack. Let cool for at least an hour.
Related posts: