Brownies are the quintessential American dessert, and these Easy Cake Flour Brownies are a representative of what brownies should be. They are easy to make, fudgy, and don't require a lot of ingredients.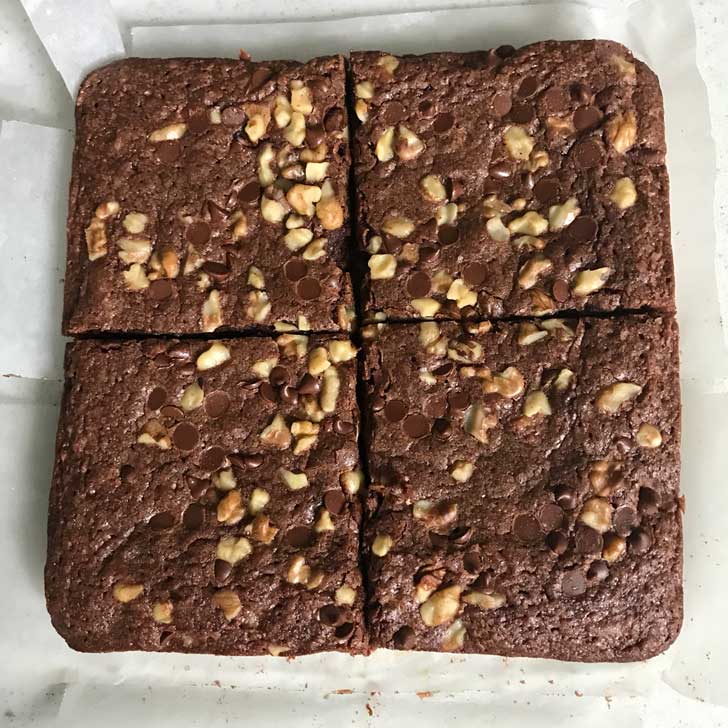 Who Invented Brownies?
As popular as they are, nobody really knows who invented brownies – not even Jean Anderson, who wrote The American Century Cookbook where she mentions a few stories. There's one about a lady in Bangor Maine who ruined a cake and called it "Brownies". Then there's another idea that they're Americanized versions of Scottish cocoa scones. And there was one story saying they were invented by a lady named "Brownie". But what's fact is that food historians found early recipes in two places, the 1906 edition of Fanny Farmer's The Boston Cooking School Cookbook and the Lowney's Cookbook, which was published around the same time, by a chocolate company.
Early Brownie Ingredients
The ingredients in the early versions are as follows, except the Fanny Farmer version has one less egg.
4 oz butter (114 grams)
1 cup sugar (200 grams)
2 oz unsweetened chocolate (56 gram)
2 eggs
½ cup all purpose flour (65 grams )
¼ teaspoon salt
½ cup nut meats
Easy Cake Flour Brownies
Cake Flour Brownies are very similar to the original, but different in that they call for cake flour instead of all-purpose and a little baking powder to lighten the texture. These should not come out cakey at all, but rather soft and fudgy.
For no-fuss brownies, these are excellent and perfect for every day baking. On paper 2 oz unsweetened chocolate doesn't look like a lot, but given the small amounts of everything else, it packs a good punch. And since the recipe is small, you can use your favorite high end baking chocolate. I used what I had on hand which was Ghirardelli's 100% cacao baking chocolate.
Recipe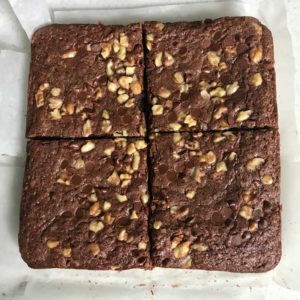 Easy Cake Flour Brownies
Easy recipe brownie recipe with cake flour. These are baked in an 8 inch square pan.
Ingredients 
1

stick

unsalted butter

(114 grams)

2

oz

good quality unsweetened chocolate

(56 grams)

1

cup

granulated sugar

(200 grams)

2

large

eggs

(110 grams)

1

teaspoon

vanilla

⅔

cup

cake flour

(80 grams)

½

teaspoon

baking powder

¼

teaspoon

salt

½

cup

toasted nuts

optional

¼

cup

mini chocolate chips

optional
Instructions 
Preheat oven to 350 degrees F. Line an 8 inch metal pan with foil. Spray bottom only with cooking spray. Alternatively, you can use parchment paper.

Melt the butter over medium heat in a small saucepan. Turn heat to low, add chocolate, stir for a second, then turn off the heat and melt chocolate with residual heat. Let cool for 10 minutes.

Add the sugar to the cooled chocolate mixture and stir well, then add each egg, one by one, whisking or stirring until blended. Whisk in vanilla.

Mix together the cake flour, baking powder and salt and add to batter. Stir until blended. If using nuts, add them too.

Pour the batter in the prepared pan. If desired, sprinkle chocolate chip over the top (and maybe some extra nuts!). Bake on center rack for about 20 minutes or until brownies start to smell done and look set. They'll puff up a little in the center and sink a bit as they cool.

Let to room temperature or quick cool by setting the pan in a larger pan of ice water. Lift foil from pan when brownies are cool. Cut into whatever size you like.