This recipe is from one of my very favorite cookbooks, One Bite Won't Kill You. It's for thin and chewy oatmeal cookies, and I can officially say that I have now been making this recipe for almost a decade.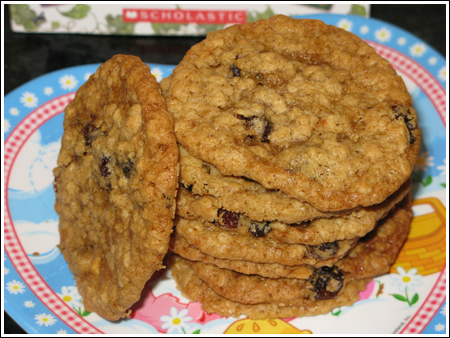 This is a halved version of the recipe, so if you want more than 24 cookies you'll need to double it. The original recipe calls for old fashioned oats, but quick cooking oats works well too. In fact, I just made a batch and think the quick cooking version might be better.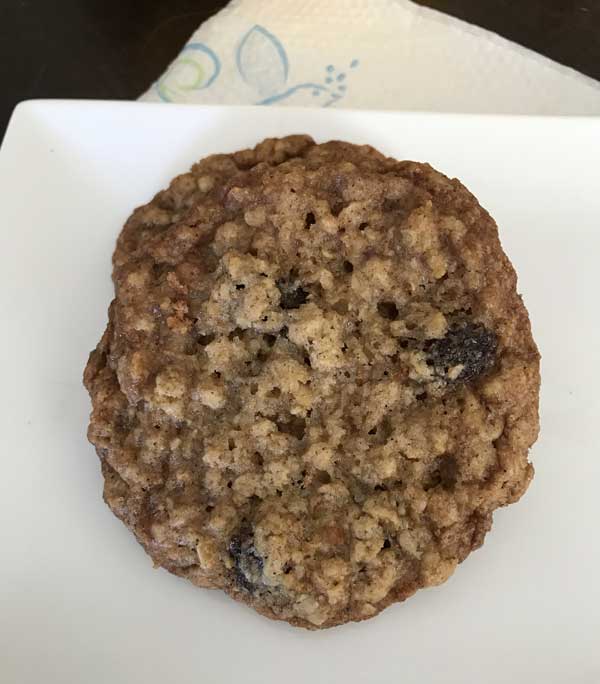 These are thin, chewy oatmeal cookies with a rich and sweet flavor. They are not the most beautiful cookies right out of the oven and you'll have to let them cool and set, but they are delicious. If you want a thicker, heartier cookie, I recommend Old Fashioned Oatmeal Cookies.
Thin, Chewy Oatmeal Cookies
Thin and Chewy Oatmeal Cookies Adapted from Ann Hodgman
Ingredients
8 tablespoons (114 grams) unsalted butter, room temp
1/2 cup (100 grams) brown sugar, light
1/2 cup (100 grams) granulated sugar
1 teaspoon vanilla
1 large egg
3/4 cup (95 grams) all purpose flour
1/2 teaspoon baking soda
1/2 scant teaspoon salt (AH uses 1/4 tsp)
1/2 teaspoon cinnamon
1/8 teaspoon fresh nutmeg
1 1/2 cups Old Fashioned oats or quick cooking if necessary
3/4 cup raisins
Instructions
Preheat oven to 350 degrees F. Line 2 cookie sheets with parchment paper.
Cream butter and both sugars with an electric mixer; beat in vanilla and eggs.
Stir together flour, baking soda, salt, cinnamon and nutmeg in a separate bowl. Add the flour mixture to the butter mixture and stir until blended. Stir in the oats, followed by the raisins.
Using wet hands, shape the dough into equal (1 inch) rounds. Bake for 10-12 minutes (mine took 14) or until cookies are brown around the edges.
Let sit on cookie sheet for a few minutes, then transfer to wire racks to Cool