Tiny Chocolate Chip Cookies, Mini, Petite, or just Small -- whatever you call them, these little guys are a nice change from their dense, chewy, counterparts. They're crisp through and through packed with chocolate chips. M&Ms are optional.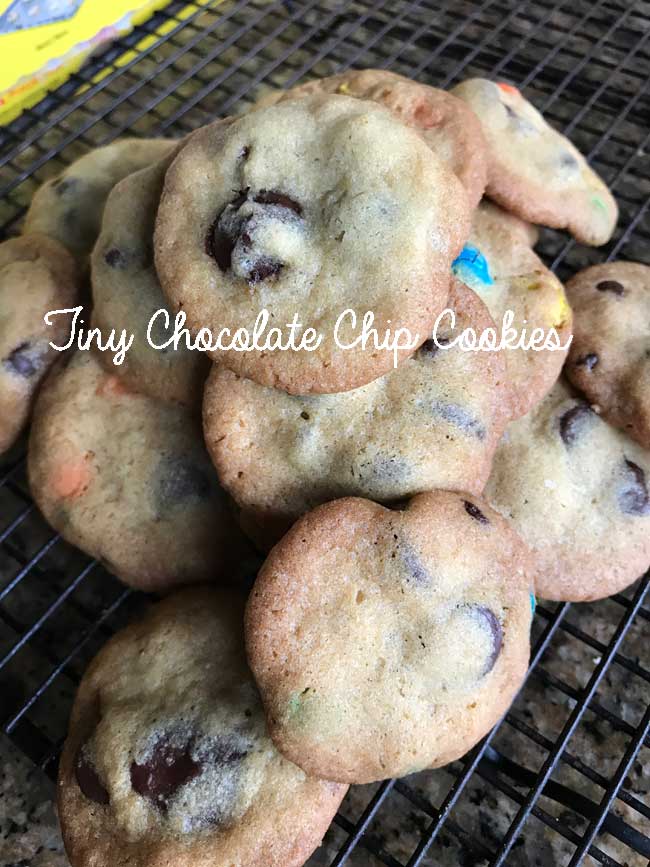 These are different than Crispy Mini Chocolate Chip Cookies because they have a slightly higher ratio of granulated sugar plus a little bit of water which contributes to the spread.  The recipe also contain shortening.   I tested them with butter only, and while the cookies were good, the texture just wasn't quite the same as when made with a mixture of butter and shortening.
As far as chocolate chips go, the cookies are a little crisper when made with miniature chocolate chips and M&Ms Baking Bits, but I like the flavor better when they're made with Ghirardelli Bittersweet chips and nuts.
Recipe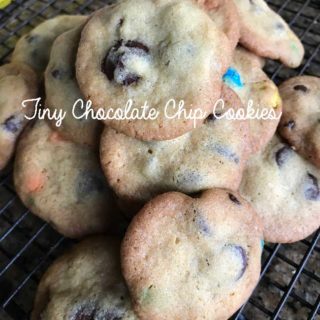 Tiny Chocolate Chips Cookies
Small, thin and crispy chocolate chip cookies made with a mixture of butter and shortening.
Ingredients 
4

tablespoons

unsalted butter

56 grams

4

tablespoons

butter flavored shortening

48 grams

½

teaspoon

salt

½

cup

granulated sugar

100 grams

¼

cup

plus 2 tablespoons brown sugar

75 grams

¾

teaspoon

vanilla extract

48

grams

lightly beaten egg

1 egg

½

teaspoon

vanilla extract

½

teaspoon

baking soda

½

teaspoon

warm water

1

cup

plus 2 tablespoons

140 grams unbleached all-purpose flour**

1 ½

cups

bittersweet chocolate chips or 1 cup mini chocolate chips plus a handful of M&Ms baking bits or M&Ms

½

cup

chopped and toasted pecans

optional
Instructions 
In a mixing bowl, beat the butter, shortening, salt and both sugars with an electric mixer until smooth. Add the vanilla and stir until mixed, then stir in the lightly beaten egg. Beat the batter with the electric mixer for 30 seconds.

Dissolve the baking soda in the hot water, add to batter and stir with a heavy duty scraper until well blended. Gradually add the flour, stirring until evenly blended, then stir in the chocolate chips and candy (and/or nuts).

Drop the dough by rounded half teaspoonfuls (or scant teaspoons -- I find rounded ½ teaspoonfuls easier to manage) onto plates or small trays lined with plastic wrap, then cover and chill for a half hour or until the dough is a bit firmer. Shape each raggedy little mound into a neat ball and flatten slightly.

When ready to bake, arrange mounds of dough on an ungreased baking sheet and bake at 350 for 10 to 12 minutes or until cookies are slightly brown. Check your cookies at 8 minutes since ovens vary. If your cookies are coming out too brown or have crispy edges and soft centers, reduce the heat by 25 degrees and cook for a minute or two longer.
Notes
I've been making these with King Arthur.