One thing I noticed while making batches of cookie bark is that baking at a low temperature for a longer amount of time almost always results in an evenly cooked and very crisp product. Recently, I've been applying this to some of my miniature cookie recipes. I've always loved teeny tiny mini crisp chocolate chip cookies (especially the ones from Trader Joe's), but prefer them to have a uniform crispness throughout, and for the longest time I kept getting cookies that were just too brown around the edges and not cooked enough in the center. The low temp, long bake time fixed that problem completely!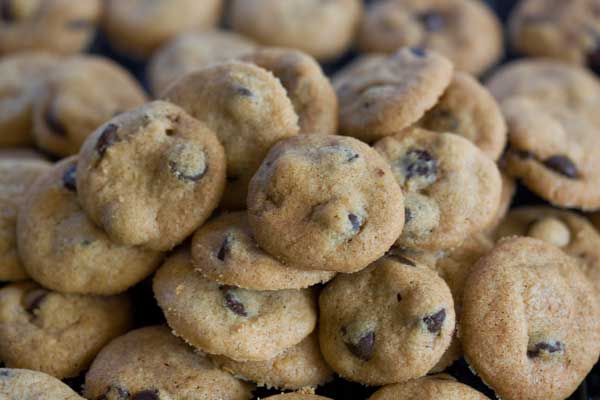 Low Temperature for Crispy Cookies
These crisp little chocolate chip cookies are baked at 300 for about 25 minutes. They brown evenly, have a light and crunchy texture and spread into perfect circles (well, most of them). This particular dough works well, but I'm going to experiment with a few other high butter/high sugar (doughs notorious for spreading) as well.
Pastry Bag Mini Chocolate Chip Cookies
I don't know why I didn't try this sooner, but using a pastry bag for mini chocolate chip cookies makes the process feel somewhat less tedious. It's also easier to make the cookies the same size. To make chocolate chip cookies with a pastry bag, don't put the chocolate chips in the dough. Put the dough in a large pastry bag and gently squeeze the dough directly onto the baking sheet. Poke a few chips into each bit of dough and then squeeze a little more dough over the chips. If you are someone who likes to chill the dough, Squeeze the blobs of dough out onto a dinner plate covered with plastic wrap or wax paper. Add chips. Refrigerate or freeze until firm.
More Good Mini Chocolate Chip Dough Tips
#1.  If you are okay with using shortening, try making these crunchy chocolate chip cookies using the method below (tiny drops of dough baked at 300). These are light and have a nice structure thanks to the shortening.
#2. If you want an all-butter mini cookie recipe, make these crunchy cookies as minis using the 300 degree method. They're a little harder and crunchier (as opposed to light and crunchy) and thicker.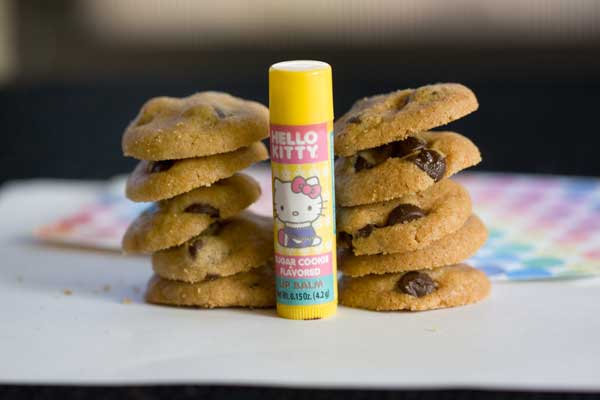 Recipe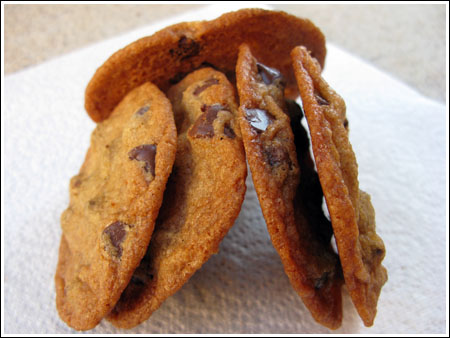 More Thin & Crispy Chocolate Chip Cookies
Perfect thin and crispy chocolate chip cookies
Ingredients 
1

stick

unsalted butter

(114 grams /4 oz)

½

cup

granulated sugar

½

cup

packed light brown sugar

½

teaspoon

vanilla

1

large egg

1

cup

plus 2 tablespoons flour

(140 grams/5 ounces)

½

teaspoon

baking soda

½

teaspoon

salt

1

cup

dark chocolate chips or mini chocolate chips
Instructions 
Preheat the oven to 300 degrees F.

Beat the butter until creamy using an electric mixer. Beat in both sugars, and vanilla. When creamy, beat in the egg. When egg is mixed in, beat in salt and baking soda. Add flour and stir until it is almost blended in. Add the chocolate chips and stir until all flour disappears.

Line two large baking sheets with regular foil.

Using a ¼ teaspoon measure, scoop up rounded spoons of dough, each with about 3 chocolate chips (you'll have what appears to be a lot of chips and a tiny bit of dough). Shape into marble size balls and arrange on baking sheets spacing about 1 ½ inches apart.

Bake one sheet at a time for 25 minutes (check at 15) or until cookies are evenly browned. Let cool slightly, then remove from baking sheets to finish cooling.
Notes
Baking at a very slow and low temperature helps the inside and outside cook evenly, giving you a uniformly crisp texture throughout. The number of cookies is approximate. I recommend baking one sheet of 20 (or so) just to nail down the exact bake time in your oven.