Thin Crisp Chocolate Chip Cookies (a recipe without eggs) is originally from The New York Times. And things didn't go so well the first time I made them.  Since then I've made these egg-free cookies multiple times and the recipe is now one of my favorites.  So what's the story?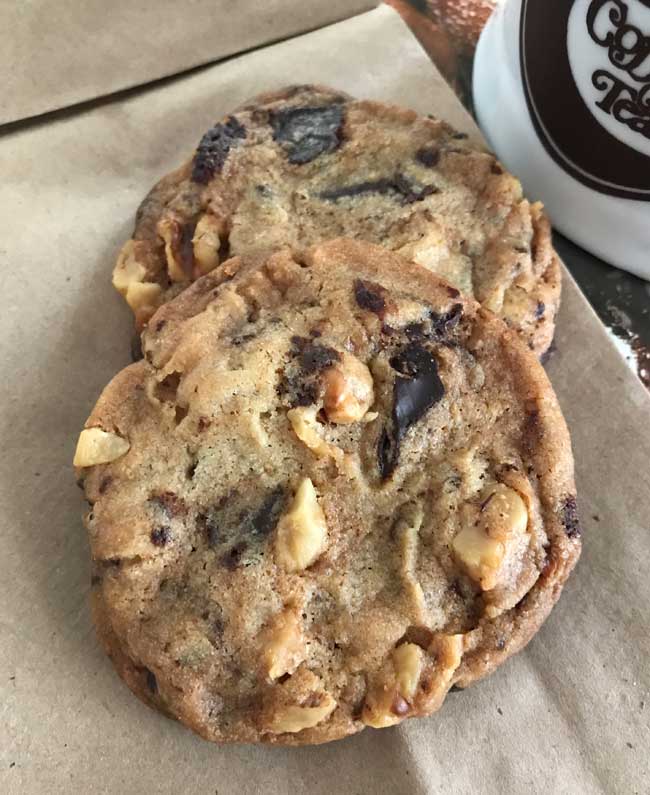 Salt
The cookies in the first batch were thin and crisp, but WAY too salty. The recipe calls for 1 tablespoon of kosher salt, but when I first made the cookies I didn't realize they were talking about very coarse kosher crystals -- specifically, Diamond brand, which is easier to find in some cities than others. I used Morton Kosher (which measures like table salt) and the cookies were inedible.
Ah, but it was a learning moment. I now know that kosher salt brands have different size granules and when any recipe calls for kosher salt, you need to try to figure out if the author is using coarse Diamond crystals or everyday brand of kosher salt like Morton. These days, when I get a feeling the author is using coarse salt (though awareness is higher and usually authors tell you) I just use about ⅓ of the amount.
So long story short, these cookies are the Thin and Crisp Cookies from The New York Times, but they are made with only 1 scant teaspoon of salt and most importantly, 1 ¾ cup flour (note, the original recipe has an asterisk where the ¾ cup should be!). So here's how I now make these cookies, and they are indeed thin and crispy and egg-free.
Thin Crisp Cookies Stay Fresh!
Update:  Another bonus with these cookies is they stay fresh for up to 5 days in a closed tin.  I also updated the recipe to make the cookies smaller.
Recipe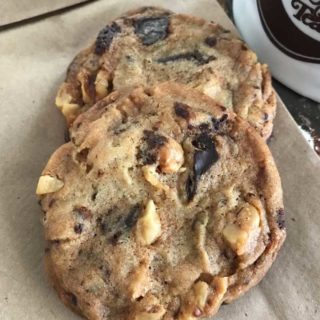 Thin and Crisp Chocolate Chip
Thin and Crisp Chocolate Chip Cookies are crisp through and through. This version calls for 1 teaspoon of salt and the cookies are just slightly salty (but in a good way if you like salt). If you use salted butter, definitely cut the amount in half or use as little as ¼ teaspoon.
Ingredients 
14

tablespoons

unsalted butter

melted (196 grams)

1 ¾

cups

all-purpose flour

245 grams

¾

teaspoon

baking soda

1

teaspoon

kosher salt

½ teaspoon if using salted butter

½

cup

packed light brown sugar

100 grams

½

cup

sugar

100 grams

2

tablespoons

light corn syrup

36 grams

1

tablespoon

vanilla extract

2

tablespoons

milk

1 ½

cups

chopped bittersweet chocolate

pea size pieces and shavings

Generous 1 cup chopped toasted walnuts
Instructions 
Melt the butter in the microwave or over the stove, then set it aside to cool.

While butter is cooling, mix the flour, baking soda and salt for 1 minute to ensure that dry ingredients are fully blended.

With an electric mixer, cream the melted butter, sugars and corn syrup until fluffy, 3 minutes. Stir in the vanilla, then the milk. Add the flour mixture all at once and blend just until a dough forms. Fold in the chocolate and walnuts. Chill the dough for about an hour.

Preheat the oven to 325 degrees. Line two baking sheets with foil or if you prefer, just leave them unlined and ungreased.

Scoop up small cookie scoop size or tablespoon size balls. Place on the baking sheet and flatten to ¼ inch-thick disks spaced 2 inches apart. Chill the dough between batches. Bake until the edges are dark golden brown, 14 to 17 minutes. Let cool slightly on the baking sheet, then transfer to a baking rack.