This recipe for brownies made with condensed milk is a solution to a problem I encounter quite often -- what to do with half a can of condensed milk.  Sometimes I make a half batch of Magic Cookie Bars, but I've also made these Low Fat Moist Chocolate Brownies from Eagle Brand.  The recipe makes a 13x9 inch pan and calls for a full can of condensed milk, so I just halve it and use an 8 inch pan.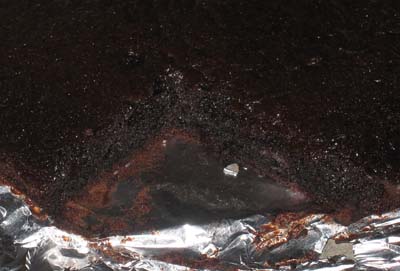 The brownies are lower in fat than some other recipes and have no butter or oil.  They get all their fat from the melted chocolate plus whatever fat is in the condensed milk (unless you use the fat free type).  Instead of eggs, they call for egg whites, so they are a little chewier than some other brownies, sweet and good but not decadently rich.  I've always felt these brownies with condensed milk were similar to the No Pudge brand of brownies. They definitely taste light, but not in a bad way.
Brownies Made with Condensed Milk
¾ cup (4 oz) semisweet chocolate chips or chopped semisweet chocolate
1 can Eagle Brand sweetened condensed milk (14 oz), regular or fat free
⅓ cup unsweetened cocoa powder
4 large egg whites
⅓ cup all-purpose flour  (42 grams)
1 teaspoon baking powder
1 teaspoon vanilla extract
Preheat oven to 350°F. Grease a 13x9 inch baking dish.
In a saucepan, combine the chocolate chips, sweetened condensed milk and cocoa.
Cook over low heat, stirring constantly, until melted.
In a mixing bowl, mix together flour and baking powder, then add egg whites and vanilla and stir well.
Stir in chocolate mixture until blended. Pour into prepared pan and bake 15 to 20 minutes or until center is set.   Let cool completely.
Cut to make 18 brownies.
Note:  For a small batch version, weigh out 7 oz (half a can) of condensed milk, halve all the other ingredients and bake in an 8 inch square pan.