Here are the Vegan Oatmeal Peanut Butter Chocolate Chip Cookies from Friday morning. At first I thought the recipe wasn't worth posting, but after eating the cookies for a few days and appreciating their extra-moist texture, whole wheat taste and sweetness, I've changed my mind.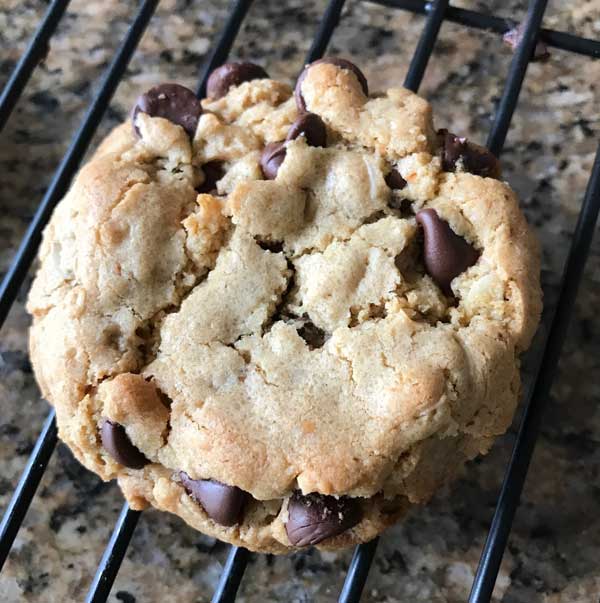 Fuzz likes them too, and she's pickier about cookies than I am. So here's the recipe. I left out the walnuts thinking that walnuts or pecans wouldn't go with peanut butter. However, the way all the flavors come together in the cookies, the extra nuts would good.
Vegan Oatmeal Peanut Butter Chocolate Chip Cookies
⅓ cup plus 1 tablespoon crunchy peanut butter (100 grams)
2 tablespoons canola oil or any vegetable oil
1 cup sugar, can use regular sugar, turbinado or natural cane juice crystals
⅓ cup soy or almond milk
1 teaspoon pure vanilla extract
1 cup whole-wheat pastry flour (114 grams/4 ounces weight or very lightly scooped)**
½ teaspoon baking soda
½ teaspoon salt
1 cup rolled oats (120 grams)
⅔ cup semi-sweet chocolate chips -- use non-dairy such as Tropical Source
⅓ cup chopped, toasted walnuts, pecans or salted peanuts (optional)
Preheat oven to 375 degrees. In a large mixing bowl, stir together first five ingredients.
In a small bowl, thoroughly stir together flour, soda and salt. Stir into batter. Stir in oats and chocolate chips, followed by nuts if using.
Drop batter by rounded tablespoonfuls onto Silpat or parchment lined baking sheet. Bake for 10 minutes or until set. Remove sheet from oven and let cool on tray for 5 minutes.
Makes 18 cookies
**If you don't have whole wheat pastry flour you can use 1 cup of cake flour.