I was hoping to try the famous Jeni's Roasted Strawberry Ice Cream recipe, but we didn't have any milk or cream cheese. What we did have were strawberries and coconut milk, so instead of the delicious dairy version I went with a strawberry flavored non-dairy coconut milk ice cream. Technically it's not ice cream, but the texture is just as rich and smooth. Here's a melt-y shot.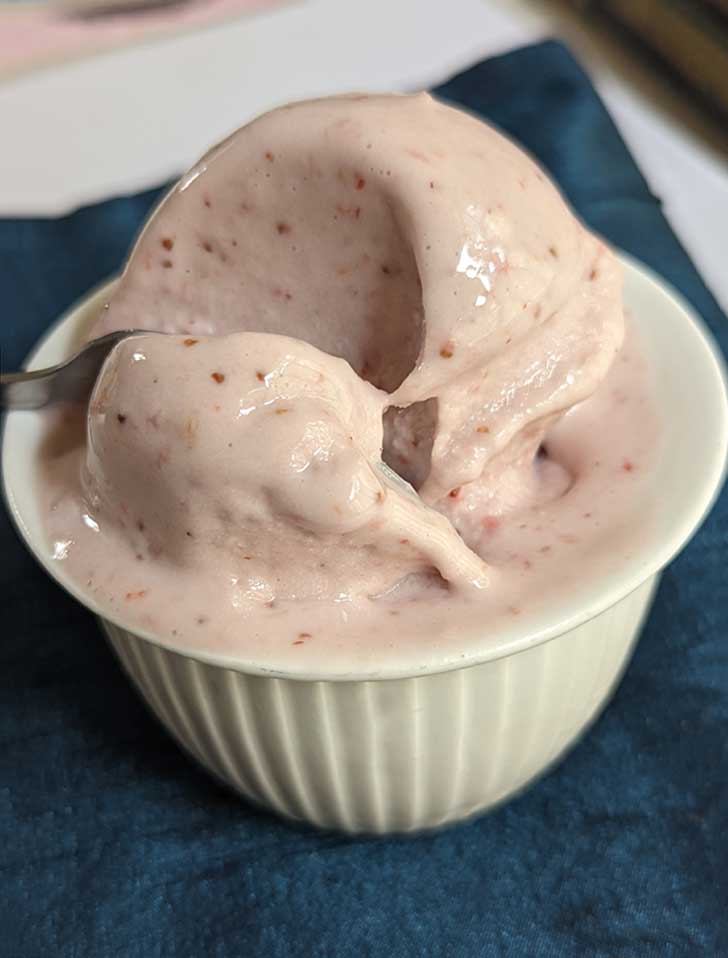 Roasting the Strawberries
To be honest, strawberry ice cream isn't a family favorite. We like it, but most of the time we'd just prefer to eat chocolate or vanilla. But we were in the mood for strawberry, and I wanted to try roasting them. And it's extremely easy. You just trim and slice thes strawberries, put them in a pan, toss with sugar and bake for 10 minutes. The roasting process heightens the flavor of the strawberries, but it does something else that's beneficial to ice cream. It creates a syrup, which just might inhibit some of the crystalization in the same way corn syrup, maple syrup or agave (all popular ice cream sweeteners) would. In theory, it should help keep the ice cream soft. This ice cream does stay fairly soft when frozen, but only for the first day or so. After 24 hours in the freezer it will get rock hard and will need to sit out for a few minutes to soften.
Brands of Coconut Milk & Stabilizers
If you are making coconut milk ice cream, chances are you already have a brand you know and trust. I usually use Wegmans organic, which has guar gum, but I've also tested with Goya. Goya does not have guar gum, but rather a preservative called potassium metabisulfate. Based on my experience, coconut milk with guar gum makes the custard a little smoother, as the guar gum acts as a stabilizer. With the Goya brand (no gum), the custard was quite curdled (picture below), yet once churned and frozen it was creamy and smooth. I'm sure the cornstarch helped, too.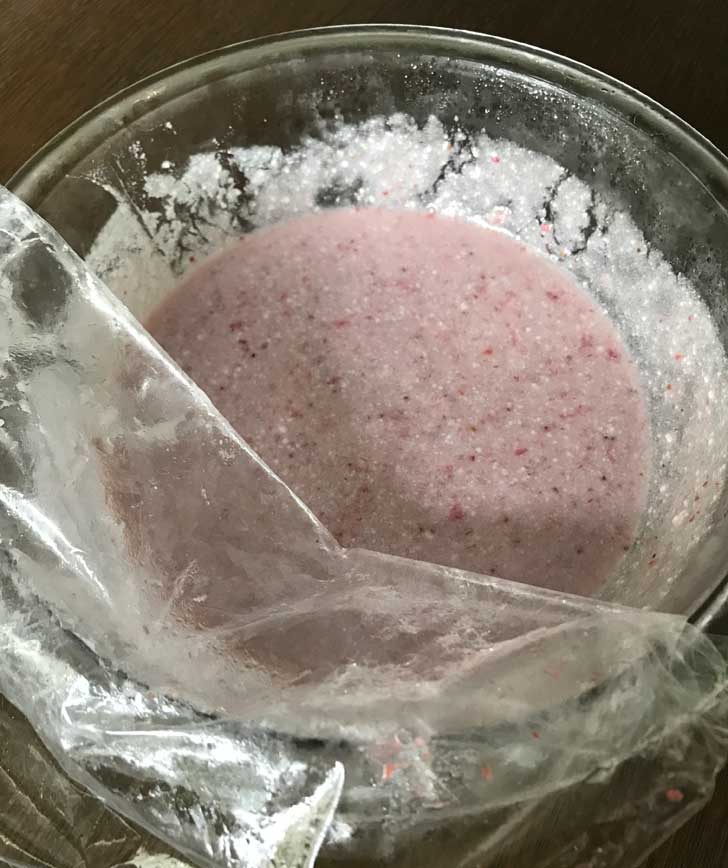 Coconut Milk Flavor in Ice Cream
As for flavor, Goya has a distinct flavor, and so did the coconut milk ice cream -- which is not to say it wasn't good, but the coconut milk flavor was more pronounced in the Goya version than in the Wegmans version. I haven't tested this with Trader Joe's or Whole Foods 365 coconut milk, but will update when I do. The family really likes this! They liked it so much that I made a chocolate version next, which I will also post.
Half Versions
The recipe I posted should give you a little over 2 ½ pints. If you only need a pint or so of ice cream, you can halve the recipe, which is what I usually do. My ice cream maker is a Cuisinart model designed to make 2 quarts so making small batches of ice cream works out okay. If you have the smaller 1 ½ quart Cuisinart model, the half batch might work even better. There are so many different modeld of ice cream makers these days, and this recipe should work well with any of them. If you don't have an ice cream maker you can still make this and freeze it in a loaf pan. I've seen it done, but I'm not sure the texture is quite as smooth.
Variations
I'm looking forward to sharing the new chocolate coconut milk ice cream recipe, but for now here are two variations on the strawberry version. You can try Roasted Strawberry Malt Coconut Milk Ice Cream by adding two tablespoons of malted milk powder (in which case it is no longer dairy free) or Roasted Strawberry Birthday Cake Cookies and Cream, by adding broken birthday cake flavored sandwich cookies. I use gluten-free, dairy-free Goodie Girl cookies, but Birthday Cake Oreos should work too. I wasn't sure if the texture of gluten-free sandwich cookies would work in the ice cream, but the family liked it.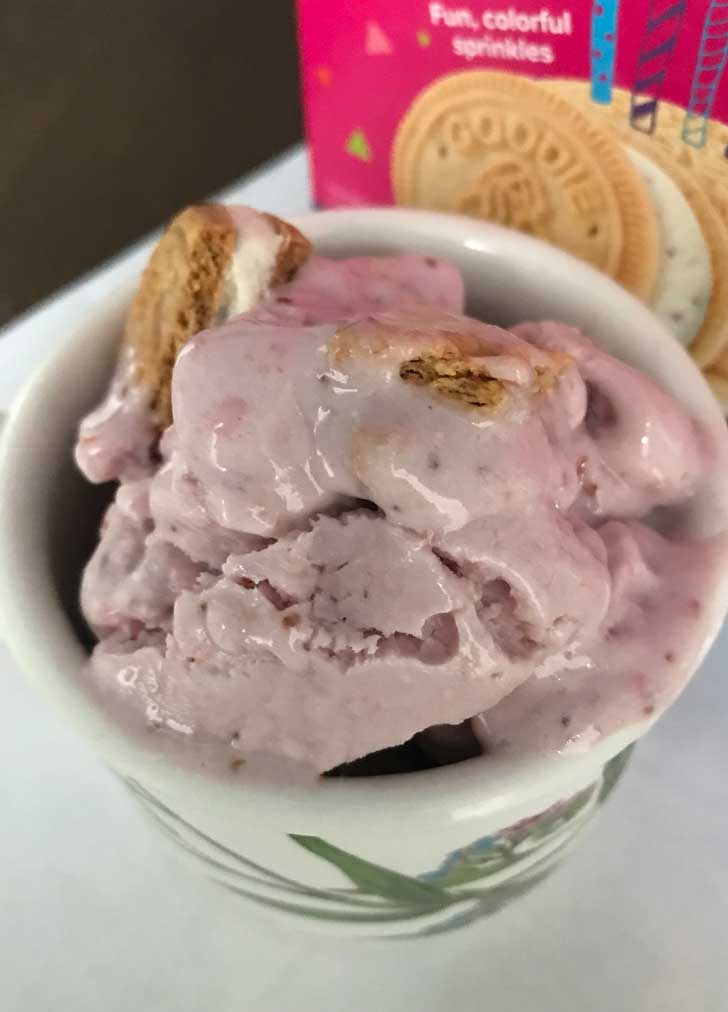 Recipe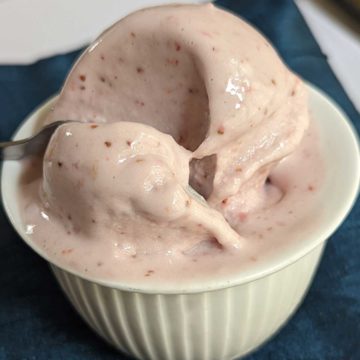 Roasted Strawberry Coconut Milk Ice Cream
Non-dairy strawberry ice cream recipe made with coconut milk. You can serve this shortly after taking it out of the freezer or freeze overnight and let soften slightly.
Ingredients 
Roasted Strawberries
2

cups

slightly heaping, strawberries --weigh after trimming

(340 grams)

6

tablespoons

granulated sugar

(70 grams)
Coconut Milk Mixture
2

cans

coconut milk (15 oz) each

6

tablespoons

sugar

(70 grams)

1

tablespoon

cornstarch or tapioca starch

2

teaspoons

vanilla
Instructions 
Preheat the oven to 375 degrees F.

Slice the strawberries, then put them in a loaf pan and toss with the 6 T. sugar. Bake for 10 minutes. Strawberries should form a syrup. Let cool for at least 20 minutes.

Put the coconut milk in a large pot and stir well. Measure out ½ cup and mix with the cornstarch. Stir to dissolve, then add the cornstarch mixture to the pot of coconut milk.

Add the 6 tablespoons sugar and the salt, then tip the loaf pan with the strawberries and pour syrup over the saucepan and let the syrup drain into the pot with the coconut milk (hold back the strawberries). You should get roughly 6 tablespoons of syrup, but it doesn't matter. You can leave some behind with the strawberries, as it will all get pureed and added later.

Turn heat to medium and cook, stirring often until mixture reaches a gentle boil. Stir and let boil for about 3-5 minutes or until it thickens just slightly (more like cream gravy than pudding). Goya brand may take a minute or two longer than brands with guar gum. Remove from heat and transfer to a large bowl. Stir in vanilla extract.

Puree the reserved strawberries and stir strawberry puree into the coconut milk mixture. Cover and chill for at least 3 hours or until very cold. If you want to speed up the chilling, pour the mixture into a large flat dish (like a 9x13 inch dish). The wider surface area will allow air to hit more of the mixture so it will cool faster. Otherwise, just cool it in the bowl.

Process the mixture in your ice cream maker as directed by manufacturer.