After many years of making the Vegan Gingerbread Biscotti from Isa Chandra Moskowitz, I branched out a little and tried some more recipes for vegan biscotti. This recipe, which is of course egg-free since it's vegan, is really good. We like it as much or more than some non-vegan recipes. The biscotti is crunchy, crumbly and easy to bite into. It's almost more like a crunchy cookie than a hard biscotti so you don't really need to dunk it (but you can!).
You can make this biscotti in different flavors by changing up the add-ins. My favorite version is with dried cherries, pecans and chocolate chips. I've never tested this recipe plain without any add-ins, but I feel like it probably needs them since it doesn't have real butter and eggs for flavor.
Batch Size
I keep the batch size small because I tend to make it over and over again and vary the flavors. That, plus I make this all year round for our family and even the smaller batch lasts a long time. If you are baking for more people, you can easily double the recipe.
Vegan Biscotti Bites (or Rocks)
I love this recipe so much. Lately I've been making small round cookies using the same dough. I'm not sure whether to call them Biscotti Bites or Nut Rocks, but they are crunchy, 1 oz size balls of biscotti dusted in confectioners sugar. Basically, you just shape the dough into balls and bake it them for 28 to 30 minutes, flipping halfway through so you have crunchy, brown-crusted cookies filled with nuts and chocolate. I put the exact directions in the notes.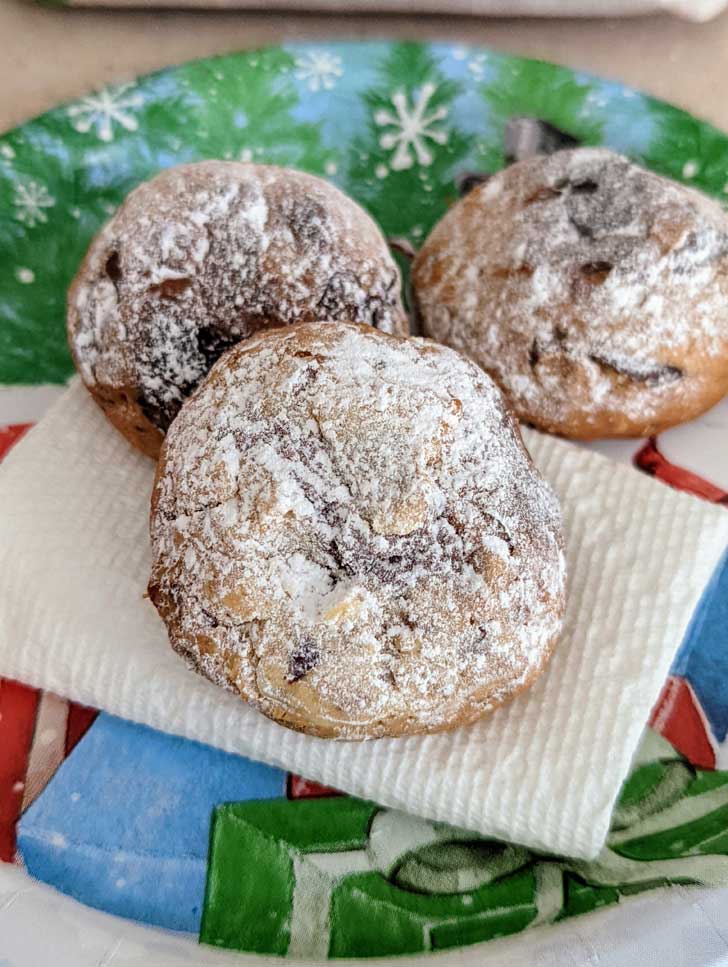 Vegan Biscotti Ingredients
The ingredient list is pretty flexible.
Vegan Butter -- Earth Balance works well. I like the flavor of the soy free tub style, but any variety of Earth Balance works. You can substitute ⅓ cup of olive oil for the vegan butter if you prefer. Oil will give you a slightly harder, crunchier biscotti.
Sugar --- I just use regular granulated sugar. I tested with coconut sugar and wasn't happy with the flavor.
Milk -- Almond milk, oat milk and soy all work. If you do not need to make the biscotti vegan, you can use 3 tablespoons of regular dairy milk.
Ground Flax -- This stands in for the egg.
Extract -- Vanilla is a good base, but you can also use almond, lemon or any other flavor.
Cornstarch -- Softens the texture somewhat.
Baking Powder -- The recipe has a lot of baking powder, so I recommend Rumford or one that's aluminum-free.
Salt -- The baking powder and the vegan butter both add salty flavor, so you don't need to add too much salt to the dough.
Flour -- King Arthur or any unbleached AP.
Dried Fruit -- Any kind! I like dried cherries or cranberries.
Nuts -- Pecans pair well with the texture of this biscotti, as they are a little softer than almonds. Walnuts also work.
Chocolate Chips -- Some brands are vegan and some are not, so check the label.
More Biscotti Recipes
Recipe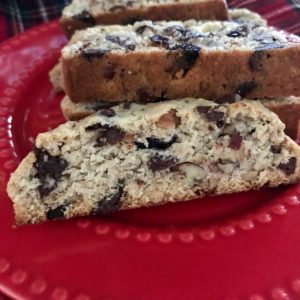 Vegan Biscotti
Biscotti made without eggs or dairy.
Ingredients 
4

tablespoons

vegan butter (Earth Balance)

(56 grams)

5

tablespoons

granulated sugar

(63 grams)

3

tablespoons

almond milk (or any other vegan milk)

1

tablespoon

ground flax

ground flax

1

teaspoon

vanilla extract

1

tablespoon

cornstarch

1

teaspoon

baking powder

⅛

teaspoon

salt**

¾

cup

plus 2 tablespoons AP flour

110 grams

⅔

cup

pecans, chopped

or one of your other favorite nuts

⅓

cup

dried cherries or cranberries

or your other favorite dried fruit

⅓

cup

chocolate or white chips (non-dairy brand)
Instructions 
Preheat oven to 350 degrees F. Have ready a large baking sheet lined with parchment paper.

In a mixing bowl, beat together the plant butter and sugar. Add the flax, almond milk, and vanilla and stir until blended, then stir in the cornstarch, baking powder and salt until. Add the flour and stir to make a soft dough, then stir in your add-ins (pecans, cherries and chips).

Shape the dough into a log that's 2 ½ inches wide and 8 inches long. This log will spread, so it's good to start it narrow and tall rather than press it down too much. Bake the log at 350 for about 25 to 28 minutes. Let it cool for 10 minutes, then carefully slice into half inch pieces. What works best for me is a sharp Chef's knife and slicing straight down in one motion rather than sawing.

Set the pieces back on the baking sheet. I usually stand them up so that both sides are exposed.

Reduce oven heat to 300.

Bake biscotti at 300 for about 25-30 minutes. Remove from oven and let cool completely. It will crisp as it cools.
Notes
If you are using oil instead of vegan butter, use ¼ teaspoon of salt. 
Biscotti Bites or Rocks
Shape the dough into 1 oz balls and arrange 2 ½ inches apart on a parchment or Silpat lined baking sheet. 
Bake for  a total of 28 to 30 minutes, but set the time for 14 minutes to start.  After 14 minutes, use a spatula to carefully turn the bites on their side.  Flipping them is also an option, but that tends to decompress them more so they have a squashed look.  You'll understand when you try it. 
After turning the cookies, let them bake for another 14 to 16 minutes.
Let cool completely.  They should be rock or boulder shaped (not beautifully rounded) with crispy, crunchy edges and crumbly nut-filled insides.  Let cool completely and dust in sugar. 
You can also drizzle with chocolate and let set, but if you put plenty of chocolate chips on the inside of the cookies they are better without the chocolate glaze.  Weird but true.  You can also put a combo of nuts and white chips, but I don't recommend actual white chocolate as it melts into the dough.