Cinnamon Crown Cake is a moist yellow cake with a big ring of cinnamon-nut cake running through the center. Aside from being pretty and tasty, it's simple. You don't need any fancy equipment, just a hand held mixer. The source of this recipe is one of my little Pillsbury Bake-Off booklets from the groovy '70s. This one has stood the test of time!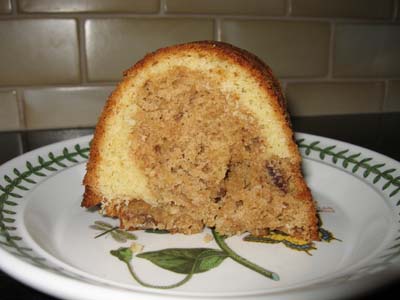 Measuring Flour
A kitchen scale will come in handy here because you can weigh the flour, but of course you can make it without the scale. Just be careful not to use too heavy a cup of flour, which is one major reason some cakes turn out dry. This is one I'll be making quite often now that I've finally tried it. In fact, next time I make it I'm going to put on a Bee Gees album (who've also stood the test of time).
Cinnamon Crown Cake Photo
A few notes. That thing near the bottom on the right side is a pecan. The center is full of nuts and very flavorful. The cake is much moister than it appears here. But don't take my word for it, just bake it!
Recipe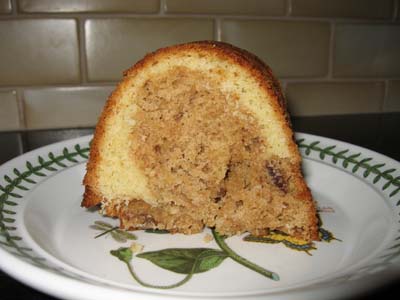 Cinnamon Crown Cake
Cinnamon Crown Cake is an double flavored Bundt cake.
Ingredients 
3

cups

all purpose flour

(13.5 oz/378 grams)

1

tablespoon

baking powder

½

teaspoon

salt

1

cup

butter, softened -- use salted or add extra ½ tsp salt

(230 grams)

2

cups

sugar

(390 grams)

3

large

eggs

1

tablespoon

vanilla

1

cup

milk

(224 grams)

½

cup

chopped

toasted pecans

½

cup

oats

quick cooking

½

cup

dark brown sugar, packed

(110 grams)

2

teaspoons

cinnamon

½

cup

apple sauce
Instructions 
Preheat oven to 350 degrees F. Spray a 12 cup bundt pan with flour added baking spray.

In a medium bowl, thoroughly stir together flour, baking powder and salt.

In a mixing bowl, using a hand held mixer, beat together butter and sugar. Beat in eggs and vanilla and continue beating for 1 minute or until batter is light. Scrape sides of bowl. By hand, stir in flour mixture alternately with milk.

Pour half of the batter into pan. I weighed the batter, and half of the batter weighed about 24 ounces. If you have a scale, you can weigh out half the batter and pour the rest in. If not, just estimate.

Stir remaining ingredients (pecans, oats, brown sugar, cinnamon and applesauce) into remaining batter in bowl; Spoon into pan so that it sits on top of first batter.

Bake for 55-60 minutes. Cool in pan for 10 minutes. Turn from pan and let cool completely