This recipe for basic blueberry muffins was created by Joanne Chang who owns a bakery/café in Boston. It's from the Feb/March 2006 issue of Fine Cooking Magazine, and it got very good ratings on the magazine's bulletin board.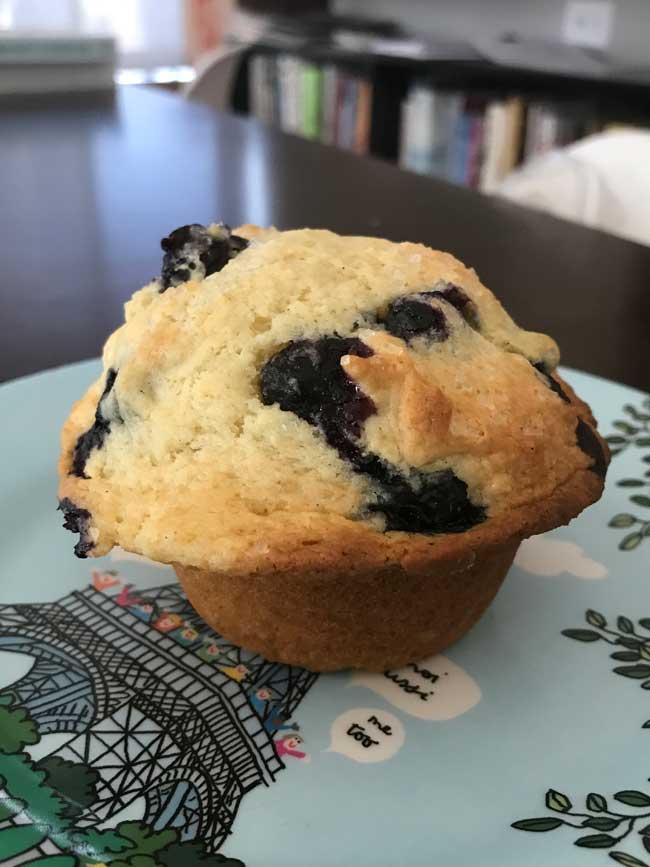 I loved these muffins, but they did not get a thumbs up from my 5 year old who prefers cupcakes in disguise. These are real muffins - the dense, high, nicely crowned type you might find at a diner. The article in Fine Cooking lists all kinds of variations, so if you are like me and save your old issues, you might want to dig it up and take a look. There's a beef shortrib dish on the front.
Basic Blueberry Muffins Update
Update:  The five year old is now going to college and loves these muffins! Coincidentally, her favorite lunch spot in the whole world is Joanne Chang's Flour Bakery. The original Basic Blueberry Muffins recipe is supposed to make 12 muffins, but in reality it makes more like 18.  You could even make the muffins a bit smaller and get 24, but I recommend piling the batter in the cups and going for 18 large ones.  I usually halve the recipe and make 9 muffins.
Recipe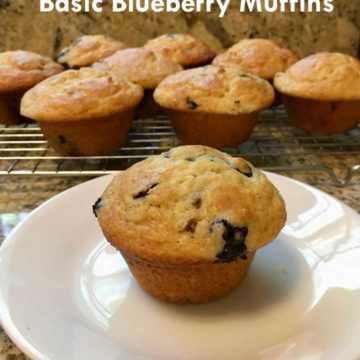 Basic Blueberry Muffins -- Good Ones
A very good recipe for basic blueberry muffins. These are rather large, which is a good thing in my opinion! They also have nice crowns.
Ingredients 
3 ½

cups

unbleached all-purpose flour

(1 pound)

4

teaspoons

baking powder

½

teaspoon

baking soda

½

teaspoon

salt

1 ⅓

cups

granulated sugar

5

ounces

butter, melted and cooled slightly

(140 grams)

1

cup

whole milk

1

teaspoon

vanilla

or other extract/flavoring

1

cup

sour cream or crème fraiche

2

large egg at room temperature

1

large egg yolk

1 ½

cups

frozen blueberries
Instructions 
Preheat oven to 350 degrees F. Grease 18 muffins cups or line with paper liners.

In a large mixing bowl, sift together the flour, baking powder, baking soda and salt; mix well.

In a medium mixing bowl, whisk together the sugar, butter, milk, vanilla, sour cream, eggs and yolk.

Pour the wet ingredients into the dry and fold gently with a rubber spatula until the dry ingredients are mostly moistened. The batter will be lumpy and there will be streaks of flour. Choose an add-in. I used blueberries, but you can use a cup and half of other types of frozen fruit. Fold add-in into batter and at this point, make sure all the flour in incorporated.

Using a measuring spoon for scooping, scoop batter into tins. It should be slightly stiff and go up and over the top by about ¾ inch. Bake for 30-35 minutes. Let the tin cool on a rack for 15 to 20 minutes.

Makes 18 muffins (or 12 large bakery style muffins)
Notes
If desired, make a glaze. The recipe suggests the following:
3 cups confectioner's sugar plus one of the liquid ingredients below.
--- 6 tablespoons water, mixed with a little cinnamon
--- 1 cup maple syrup
--- 6 tablespoon orange juice
--- 6 tablespoons pineapple juice,