Molasses Oat Bran Cookies are one of many recipes buried deep within the archives of Cookie Madness which I only tried once. Now, as of 11/2020, they have been tested twice! I didn't want to commit to a full batch so I actually halved the recipe and made some minor improvements. Back when I first tested I said they were good but tasted kind of healthy. This time I think they are great and don't taste "healthy" at all. The oat bran adds some textural contrast and that's about it. So yes, there's a little extra fiber but these are delicious and worthy of future cookie exchanges.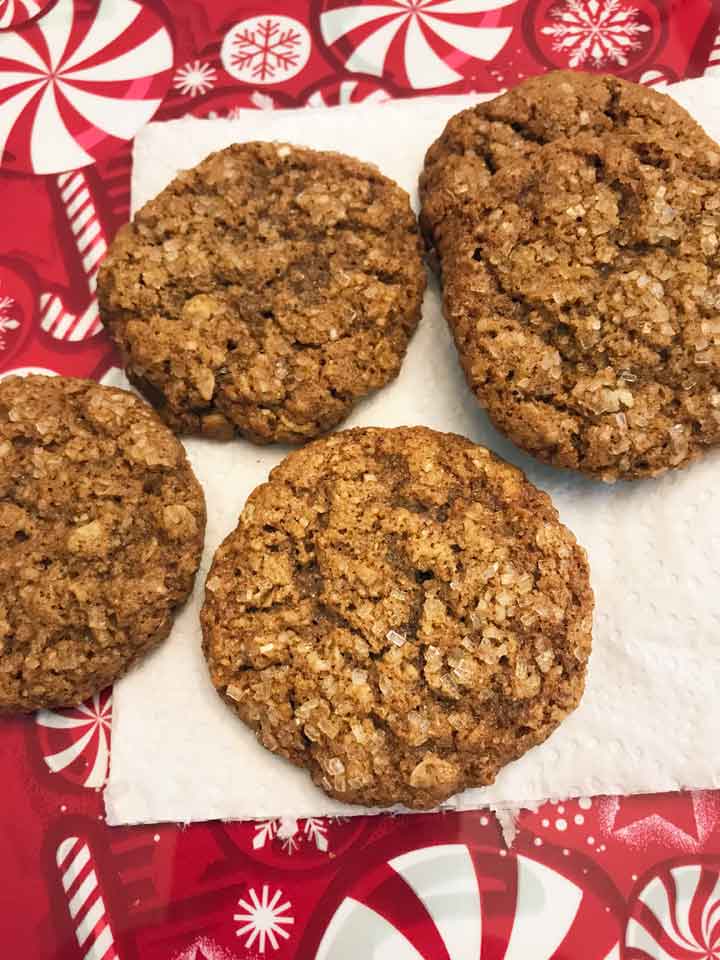 Improvements and Cookie Tips
You can make Molasses Oat Bran Cookies with white whole wheat flour or all-purpose. Either should work, but make sure to weigh the flour or sift and aerate it. The recipe calls for 1 ½ cups, and that is a light-handed 1 ½ cups weighing 185 grams.
I made the ones in the photos with quick cooking oats. I often substitute old fashioned for quick cooking, but this is one of those recipes that's probably best with quick cooking as they are cut smaller and will help the dough hold its shape better than old fashioned. So use quick cooking.
Light olive oil works well!
You can portion the dough by spooning up 1 tablespoon and dividing it in half so each cookie is about ½ tablespoon measure.
Molasses Oat Bran Cookies
1 ½ cups white whole wheat flour (185 grams)
1 ½ cup quick cooking oats (120 grams)
½ cup oat bran (60 grams)
2 teaspoons baking soda
¼ teaspoon salt
1 teaspoon cinnamon
½ teaspoon ginger
¼ teaspoon cloves
1 cup granulated sugar (200 grams)
¾ cup vegetable oil
¼ cup egg substitute or 1 large egg
¼ cup mild molasses (80 grams)
Turbinado sugar and crushed walnuts (optional) for dusting
Preheat oven to 375 degrees F. Line two cookie sheets with parchment.
In a mixing bowl, thoroughly stir together flour, oats, oat bran, baking soda, salt, cinnamon, ginger and cloves.
In a second mixing bowl, stir together sugar, oil, egg and molasses.
Stir dry ingredients into wet ingredients and mix until thoroughly blended. 
Using a tablespoon measure, scoop up dough and shape each spoonful into two balls. 
Arrange balls on baking sheets 2 inches apart or arrange on plates lined with plastic wrap if you are going to chill the dough.
Bake for 7-10 minutes.
Makes around 60 cookies