You've probably tried molasses cookies, but how about molasses cookies with rum? That's what Joe Froggers are -- big, round, chewy, spice cookies most often associated with the seaside town of Marblehead, Massachusetts.
Jump to Recipe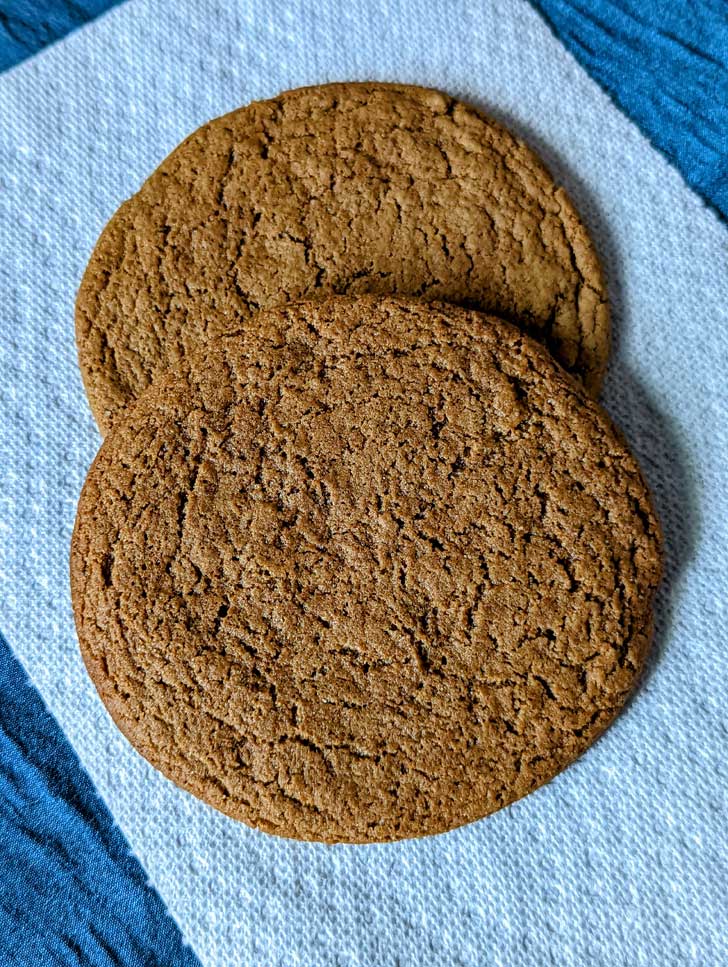 Why Are They Called Joe Froggers?
So why are they called Joe Froggers? The short answer is they are named after a tavern owner named Joseph Brown. Joe didn't bake the cookies, though. The baker behind the famous cookies was Joe's wife, Lucretia, who made them for the local fisherman to take on long fishing trips. Their history is actually quite fascinating, and if you want to go down a rabbit hole learning about Joseph and Lucretia Brown and their cookies, Unbound is a good place to start.
The "Never Stale" Cookie!
For me, the key takeaway from reading about Joe Froggers was that they are designed to taste fresh for days. The recipe varies of course, but the ingredient calls for molasses, spices, salty water and rum. Actually, I've seen versions without rum that should probably not be called Joe Froggers given their origin, but that's just my opinion. Rum is what makes them different from your usual molasses cookie
To Roll or Not to Roll
Traditionally, Joe Frogger dough is a sticky one. You chill it, roll it and cut it into circles. I chilled the dough for sure because that's always a good thing, but I did my own thing for shaping. Instead of rolling, I portioned the dough before chilling, rolled each portion into a ball and pressed them directly onto a baking sheet. It worked just fine, but if you'd rather roll and if you have a 3 ½ to 4 inch cutter, you can roll the dough out ½ inch thick and cut rounds.
Joe Froggers Ingredients
Molasses -- Golden Barrel is my new favorite! I discovered it last year during while learning about Shoofly Pie, then found a jar of at the North Carolina State Fair. Grandma's and Brer Rabbit should work just fine, but if you've never tried Golden Barrel I recommend ordering some just for fun.
Baking Soda -- There's a brand called Arm & Hammer that I found at my local grocery store. It comes in an orange box and has a picture of an arm with a hammer. People often use it for cleaning and odor removal. Some people brush their teeth with it. Okay, sorry. Just kidding. I didn't want to leave it off the ingredient rundown because in this recipe the baking soda addition is kind of interesting. You add it straight to the molasses and let the molasses expand before adding it.
Salt -- In this recipe it gets dissolved in the water to resemble the sea water Lucretia used. You'll know what I'm talking about if you went down the aforementioned Joe Frogger rabbit hole.
Rum -- I'm currently using Bacardi. I'm not a rum expert, but it seems fine.
Flour -- Grab your scale because this recipe calls for 420 grams, which could be anywhere from 3 to 3 ½ cups depending on how you scoop your flour. I've put 3 ¼ cups as a volume measure to be safe, but I've been weighing it.
Spices -- Ginger, cloves, nutmeg and allspice are what you commonly find in Joe Froggers. You can change up the amounts if you need more spice.
Butter -- As mentioned, butter. Make sure it's unsalted since the recipe already has plenty of salt. The weight of the butter should be 114 grams. If you substitute shortening, you'll need about 98 grams because shortening weighs less per tablespoon. I'm guessing these are excellent with shortening as well and stay fresher even longer.
Granulated Sugar -- You need a full cup. No more, no less.
Update: If you saw the old note in the recipe about the flour amount, just ignore it because it was for another molasses cookie. Joe Froggers call for 420 grams of flour, which is 3 to 3 ¼ cups depending on how you measure.
Recipe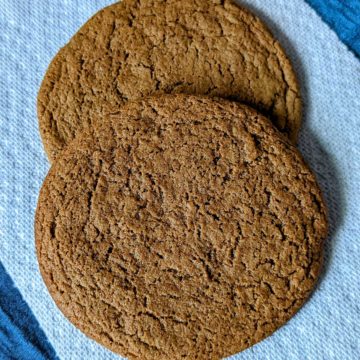 Joe Froggers
This recipe is adapted from one by America's Test Kitchen. Being in Boston, they probably know a thing or two about how these cookies are supposed to be.
Ingredients 
1

cup

molasses (I used Golden Barrel)

(300 grams)

1

teaspoon

baking soda

1 ½

teaspoon

salt

⅓

cup

rum

1

tablespoon

water

3 ¼

cups

all-purpose flour (measure with a light hand or weigh)

(420 grams)

¾

teaspoon

ground ginger

⅛

teaspoon

ground cloves

¼

teaspoon

nutmeg

½

teaspoon

allspice

8

tablespoons

unsalted butter, softened

(114 grams)

1

cup

granulated sugar

(200 grams)
Instructions 
In a glass measure, stir together the molasses and baking soda and let sit for about 10 minutes. Molasses will expand in volume.

Meanwhile, combine the rum, water and salt. Stir to dissolve salt. If it doesn't all dissolve, don't worry. At this point you can also mix together the flour and all spices.

In a mixing bowl, beat the butter and sugar until well blended. It won't be super creamy due to the high amount of sugar. Scrape in the molasses/soda mixture and beat until mixed, then gradually add the rum mixture and the flour mixture alternately. The batter starts out very thick, so it will take some elbow grease. If you have a stand mixer with a paddle, this is a good use for it.

With a cookie scoop, scoop out about 18 or 24 portions of dough. At this point the mounds of dough will be pretty soft. Arrange them on two dinner plates, cover with plastic and chill overnight or at least for a few hours.

When ready to bake, shape the chilled rounds into neat balls. Pat them down ½ inch thick (about 3 inches across) on parchment lined baking sheets about 6 to a sheet and leaving plenty of room for spreading.

Bake one sheet at a time in a 375 degree oven for about 10 minutes (check at 8 if you made them smaller). Allow the cookies to cool for about 10 minute directly on the baking sheet.

When the cookies cool they'll be fairly firm, but as they stand they soften up. I stored mine in a zipper bag for several days and they seemed to get softer and softer. You can bend them almost into taco shell shape.