This is our family's favorite recipe for sturdy gingerbread. What's special about this recipe is that the dough is easy to work with and bakes into puffy, thick (but light) not-too-sweet cookies. It works especially well for gingerbread people.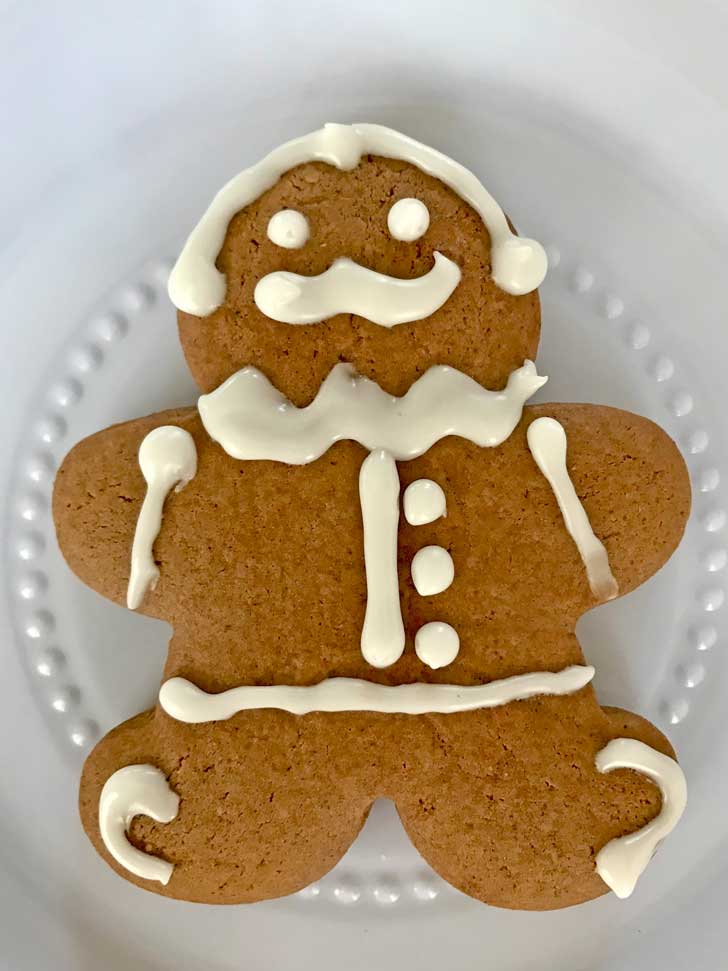 Sturdy Gingerbread House Dough
For houses, it has its pros and cons. The pros are it's lightweight and holds together well with royal icing "snow". The cons are it puffs a little as it bakes, so if you are trying to make a fancy Queen Anne style ginger home or something with turrents and such, it might not be the best choice. But it's good for basic gingerbread house patterns.
Here's a picture of the texture. The baking soda lightens it. The edges are a bit crunchy.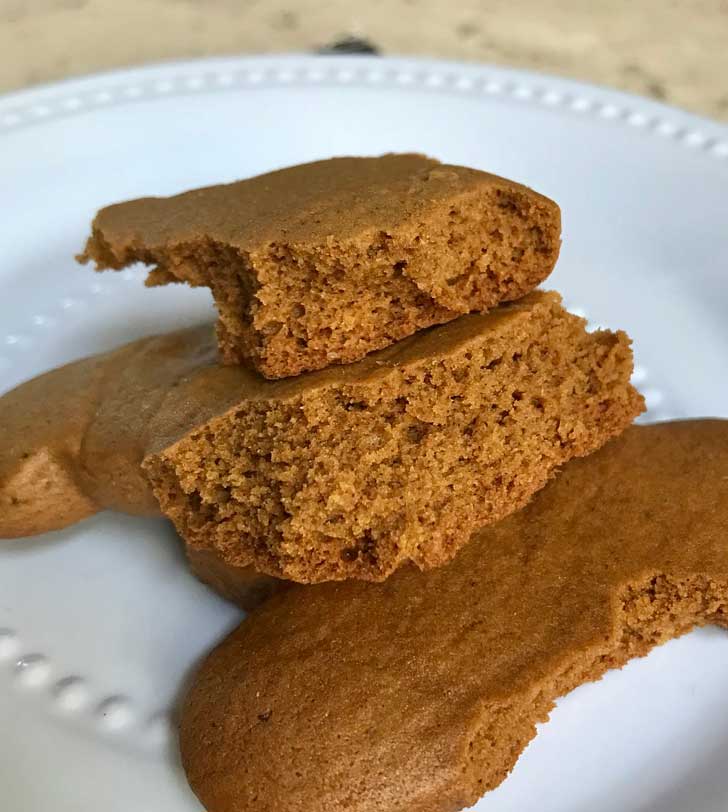 This is what the dough looks like. It's easy to work with and makes great gingerbread man cut-outs, though they will puff a bit. If you want cookies with really sharp edges, you may want to try a different gingerbread dough.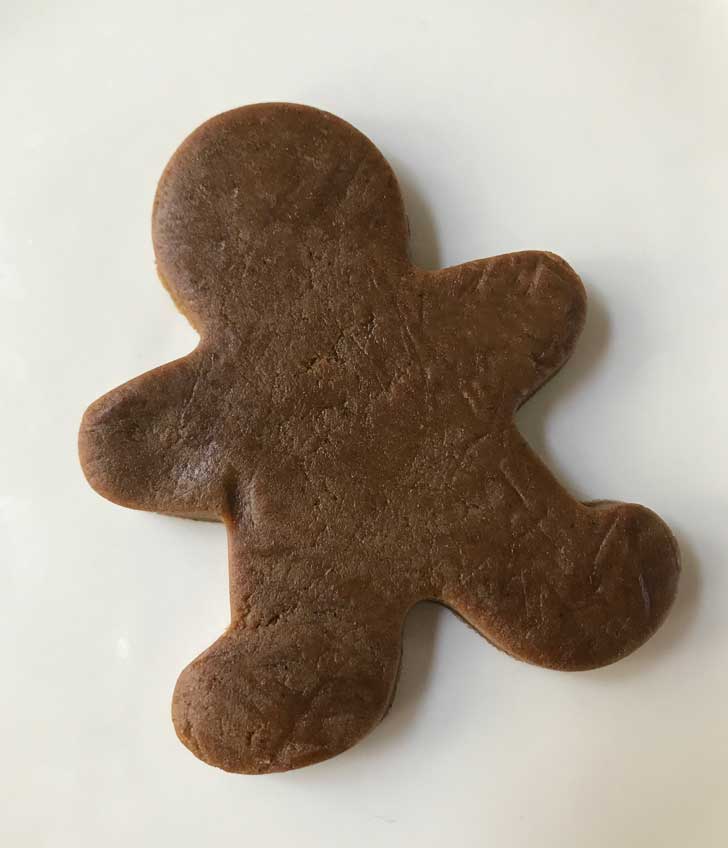 Sturdy Gingerbread People Dough Tips
Sugar -- Dark brown is best, but light can work in a pinch.
Molasses -- Any brand of mild will work. I've never tested with blackstrap.
Spices -- I like a blend of cinnamon, ginger, cloves and allspice.
Baking Soda -- When you add the baking soda, expect the mixture to bubble up and lighten.
Shortening vs. Butter -- Both work equally well. Using shortening may help the cookies stay fresher slightly longer, but I haven't tested that.
Egg -- A cold egg is less likely to get cooked in the warm sugar mixture. If you let the sugar mixture cool slightly as directed this shouldn't be an issue, but using a cold egg is just another way to help prevent this from happening.
Flour -- Weigh the flour! This dough makes puffy, not-too-sweet, thick cookies Too much flour will make the dough too crumbly.
More Gingerbread Flavored Recipes
Recipe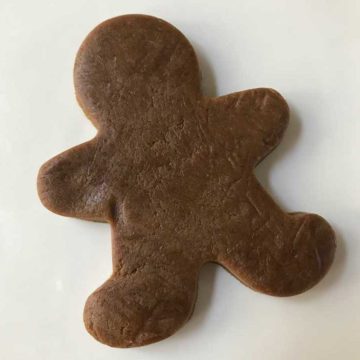 Sturdy Gingerbread Cut-Out Cookies
Sturdy gingerbread dough for gingerbread people. Yield will vary depending on the size of the cutter.
Ingredients 
½

cup

granulated sugar

(100 grams)

½

cup

molasses

(170 grams)

1

teaspoon

cinnamon

1

teaspoon

cloves

1 ½

teaspoons

ginger

½

teaspoon

allspice

2

teaspoons

baking soda

1

stick

butter, cut into chunks or ½ cup shortening

(114 grams butter) (96 grams shortening)

1

large

lightly beaten or cold from refrigerator egg

3 to 3 ½

cups

unbleached all-purpose flour

(390 grams)
Easy Royal Icing
1-3

large

pasteurized egg whites

depending on how many cookies you are decorating*

1-3

cups

powdered sugar

amount may vary

¼

tsp

or more of vanilla extract

Water as needed
Instructions 
Measure and weigh out 3 cups of flour. Gather the spices.

Place sugar, molasses, cinnamon, cloves, ginger and allspice in a 2-3 quart saucepan. Set saucepan over medium heat and bring mixture to a boil, stirring often as it heats. When mixture starts to boil, remove from heat and stir in baking soda. Mixture will fizz up and become very airy. Stir in butter and allow mixture to cool for about 5 minutes.

Dump slightly cooled sugar/molasses mixture into a mixing bowl and stir in lightly beaten egg. Add flour, 1 cup at a time, until mixture forms a not-too-sticky dough. Form dough into two equal sections. Wrap tightly and chill until ready to use, or use right away if you need to. The dough is easier to work with after it's been refrigerated, however, it's manageable without the chill period.

When ready to cut, preheat oven to 325 degrees F. Roll dough into ⅜ to ½ inch thick circles and cut out shapes. Bake on a parchment lined cookie sheet for 12-14 minutes or until cookies appear done. The cookies thicken during baking, so keep that in mind when you are rolling out the dough.

When the cookies have cooled, decorate with icing.

Crack an egg white or all three egg whites into a mixing bowl. With a whisk or mixing spoon, add powdered sugar ½ cup at a time and stir until smooth. You may use more sugar, you may use less - go by feel. If icing seems too thick, add a small amount of water. When icing has reached desired consistency, add vanilla.

If you have a decorating bag, stand it upright in a tall glass and pour the icing into the bag. Otherwise, you may just spoon icing over the cookies.