This is how I toast hazelnuts and remove hazelnuts skins. If you have a better method, let me know.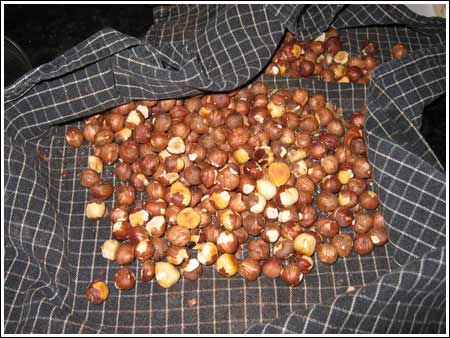 Spread a few cups of nuts in a metal baking pan or a large sheet pan with ridges.
To toast the nuts, bake them in a preheated 350 degree oven for 10-12 minutes or until they are very hot and fragrant. Carefully dump the hazelnuts into a dish towel which you've spread across the counter - a ridged dish towel or one with some sort of embroidery works well because it provides more friction. Bring the ends of the dish towel up around the still-hot hazelnuts and wrap them up like a present. Using your hands, rub them between the towel and the work surface so that the friction created by the rubbing loosens the skin. If the nuts are very hot, you may want to wear oven mitts while you press down on the towel.
This is very messy, by the way. The skin will not instantly follow off all the nuts. Pick out the ones which have lost the most skin and put them in a separate group. Work on the remaining. As the nuts cool, you can pick up about 5 at a time and rub them in the palm of your hands to remove remaining skin. Remove all of the nuts from the towel. Take the towel in the back yard (lift it up carefully) and shake all the skins off into the air.
Boil in Baking Soda and Toast Hazelnuts
Another method for removing skins from hazelnuts is to boil the hazelnuts with baking soda. To do this, bring 2 cups of water to a boil. Add the hazelnuts and about 2-3 tablespoons of baking soda. Boil for 3 minutes, then drain. Rub away the skins. After removing as much of the skin as possible, toast the hazelnuts on a rimmed baking sheet at 350 for about 8 to 10 minutes.