Earlier this week I made a test batch of some cat cookies I thought would be cute for the Halloween party.  As I mixed the dough, I had a flashback.  I did indeed make these cookies a few years ago and accidentally put the candy corn on the cats before baking. Results were disastrous. However, done properly, these are too cute. I'm glad I waited a couple of years and tried again.
What's cool is these are as sturdy as they look in the picture. The recipe is adapted from Taste of Home and also appears on allrecipes.com.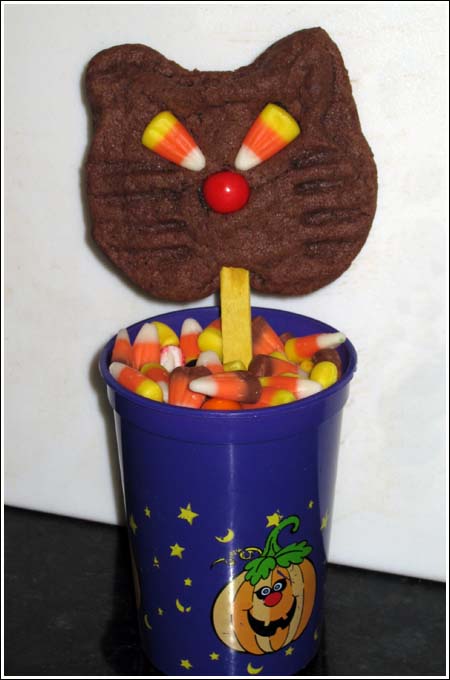 Black Cat Cookies on a Stick
8 ounces butter, soft
2 cups granulated sugar
2 large eggs
3 teaspoons vanilla extract
3 cups flour
1 cup unsweetened cocoa powder
½ teaspoon baking powder
½ teaspoon baking soda
½ teaspoon salt
Preheat oven to 350 degrees F and line a couple of cookie sheets with Release foil or parchment.
Cream butter and sugar with mixer. Beat in eggs and vanilla. Combine the flour, cocoa powder, baking powder, baking soda and salt and stir into butter mixture. Shape dough into 1 ½ inch balls and place 3 inches apart on cookie sheets. Insert sticks.
Press down with bottom of sugared glass (I used my hand) to make a circle. Use fork tines to make whiskers. Pinch tops to make ears. Bake at 350 degrees for 10-12 minutes. Remove from oven and immediately decorate as pictured with candy corn. Use red candy for nose. Cool on cookie sheet for a few minutes, then transfer to wire rack to finish cooling.
Makes 24.