Here's a crazy edible craft inspired by something I saw at Big Top Candy a few weeks ago -- Little Debbie Oatmeal Creme Pies dipped in white chocolate and decorated with melted colored candies.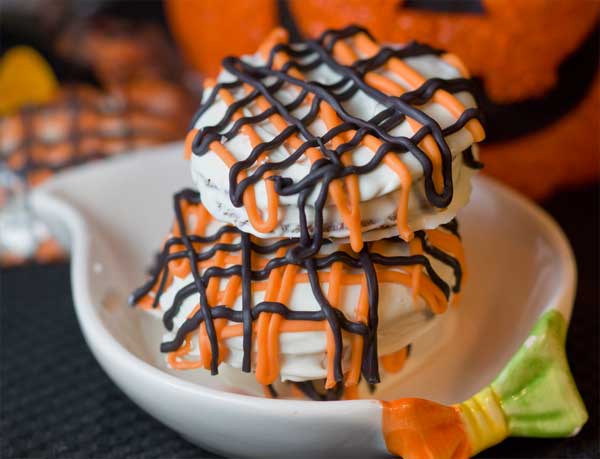 The idea is a little weird, but since Halloween is coming, I thought what the heck.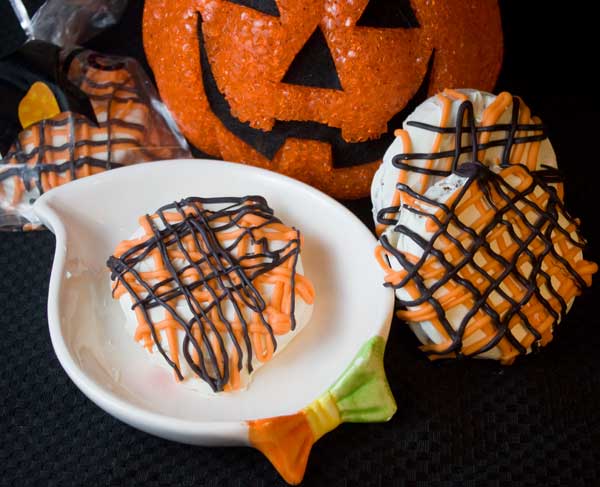 All you do is take Little Debbie Oatmeal Creme Pies (or make your own), dip them in melted white candy, then drizzle with melted orange and black candy.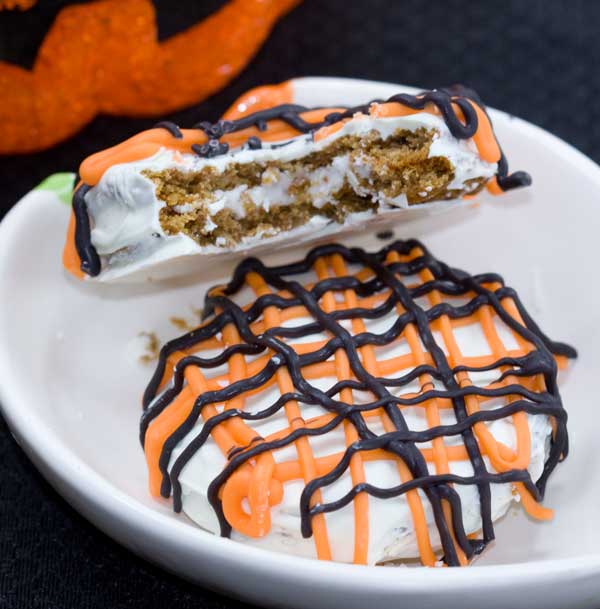 And speaking of dipping, I used Mercken's candy melts, a brand I've heard cake and candy makers rave about. They were pretty good, but the orange and black colored Wilton candy melts worked just as well and were easier to find.
So here's a rundown on how to do it.
All amounts are approximate, but it took about 12 ounces of white candy melts to coat 10 of the oatmeal pies.  You may need more, you may need less.
Ingredients:
A box of 12  Little Debbie Oatmeal Creme Pies OR you could make your own using a clone recipe.
About a pound of white candy melts
A a few ounces each  of black and orange candy melts
1. Freeze the Little Debbie Oatmeal Creme Pies.  It makes them easier to dip.
2. Line a large baking sheet with nonstick foil or parchment paper.
3. In a microwave safe  bowl, top of a double boiler or in a chocolate melting pot (another great item for a bakers Christmas list), melt the white chocolate.  Dip the frozen pies one by one into the chocolate, then set them on a sheet of nonstick foil.  Let the white coating set at room temperature, or speed things up by chilling it.  I almost always chill it.  Note:  If you are using the microwave to melt your chocolate, set the bowl of melted chocolate on a hot pad to keep the chocolate warm while you dip.
4. Put a handful of orange candy melts in a heavy duty freezer bag.  Microwave on high for 30  seconds, then massage bag to melt the candies.  Repeat until candies are melted.  Snip the end off the bag and pipe lines of orange candy melts over the oatmeal bars.  Repeat with the black melts.