This recipe for Banana Drop Cookies is an old one from the 1940's. It was sent to me by Brian from our local public radio station, KUT. Brian says this recipe was given to his mother by a friend who ran a lunch counter in South Dakota called "Minute Lunch". The cookies became a family favorite.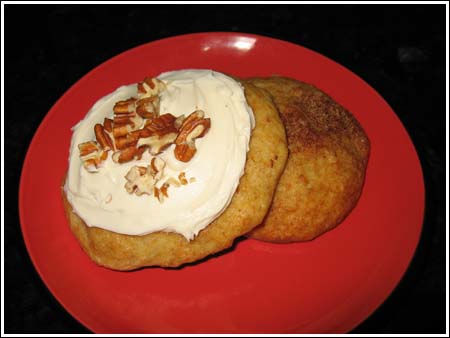 The cookies were big, fat, cakey and moist. The original recipe was four times what's below, so I scaled it down to yield 12-16 very big cookies. Because they are so cakey, I recommend frosting them with your favorite frosting. However, I also dusted a few of them with cinnamon and sugar and that version was great too.
Here's the original lunch counter recipe and below that, is the "household" version.
Banana Drop Cookies
Makes 12-16 large cookies
2 cups plus 2 tablespoons all purpose flour
1 ½ teaspoons baking powder
¼ teaspoons soda
½ cup Butter Flavored Crisco shortening (subbing butter may cause spreading)
¾ cup plus 2 tablespoons granulated sugar
1 cup mashed bananas
¾ teaspoons salt
2 large eggs
¾ teaspoon vanilla
sugar and cinnamon or sugar and nutmeg for topping
Preheat oven to 400 degrees F. Have ready two cookie sheets.
Sift together flour, baking powder, soda, and salt and set aside.
Cream shortening and sugar until light and fluffy. Stir in eggs and bananas until well mixed. By hand, stir in the flour mixture. Batter will be thinner than regular cookie dough, but should be thick enough to hold its shape when you drop it onto a cookie sheet.
Drop by quarter cupfuls onto ungreased cookie sheets (about 6-8 cookies per sheet) and sprinkle with sugar and cinnamon or sugar and nutmeg/
Bake at 400° F for about 12 minutes or until they appear lightly browned around the edges.
There is an added note that time is 9 ½ minutes for a convection oven.
The cookies tend to disappear quickly.
Banana Drop Cookies-- Giant Batch!
Makes 8 to 10 dozen
2 ⅛ lbs flour (8 ½ cups)
1 ¾ lbs sugar (3 ½ cups)
1 oz baking powder (2 tbsp)
2 lbs bananas
½ oz salt (1 tbsp)
13 oz eggs (8)
1 tsp soda
¾ oz vanilla (1 ½ tbsp)
1 lb shortening (2 cups) (Crisco or equivalent)
sugar and cinnamon or sugar and nutmeg for topping