Last week, a reader named Sue sent me her pumpkin walnut cookie recipe saying it was "a little bit different" and that it had become her family's favorite. After tasting one, I think the key to the good flavor is the lemon, which brings out the other flavors without overpowering them.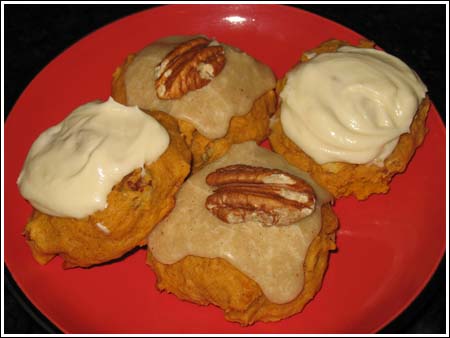 Sue's Pumpkin Cookies are moist and cakey. They taste good alone, but I prefer them with frosting and was glad Sue included her recipe. Just for fun, I also tried the cookies with a brown butter glaze. I'm only telling you that because the picture shows some of the cookies with glaze. But for these, Sue's soft and creamy frosting works better. Finally, all I had on hand was pecans. While I'm looking forward to trying these with walnuts, the lemon flavor really worked well the pecans.
Sue's Pumpkin Cookies (Makes 2 1/2 – 3 Dozen)
1/2 c. butter
1 1/2 c. brown sugar
2 large eggs
1 c. canned pumpkin
1 t. vanilla
1 tsp. grated lemon peel
1 tsp. lemon juice
2 1/2 c. flour
3 t. baking powder
1 t. salt
1 1/2 t. pumpkin pie spice
1/4 t. ginger
1 c. chopped walnuts
Candy corn, and walnut pieces (optional)
Cream butter and sugar. Beat in eggs, one at a time. Stir in pumpkin, vanilla, lemon peel and lemon juice. Gradually add dry ingredients until well blended. Stir in walnuts. Drop by tablespoonfuls onto lightly greased cookie sheets. Bake at 375 for 12-14 minutes. When cool, frost with Buttercream Frosting. Decorate frosted cookies with wanut pieces and candy corn if desired.
Buttercream Frosting
1/3 c. soft butter
2-3 c. powdered sugar (Sue's recipe said 3, I only needed 2)
1 1/2 t. vanilla
2 T. cream
Blend butter and sugar. Stir in vanilla and cream; beat until smooth.