Sue's Snickerdoodles are from a recipe Sue posted years ago, and it's one she and I both use to this day. I like to swap out some of the granulated sugar for brown sugar, while Sue is more of a purist when it comes to Snickerdoodles and uses only granulated.
One thing we both agree on is that Snickerdoodles should have cream of tartar rather than baking powder. It adds a certain flavor unique to the cookies. And Snickerdoodles should definitely be chewy, not cakey. A crackly top is also a must, and this recipe will give you just that -- cookies with crackly tops. For even cracklier tops, chill the dough.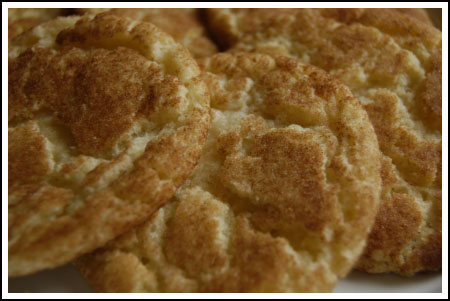 Regular vs. Insulated Baking Sheet
Back when we first featured this recipe we discussed whether Sue's Snickerdoodles came out crisper on a regular baking sheet or an an AirBake insulated baking sheet. Sue did an experiment and determined the cookies were in fact crispier on a regular baking sheet. She also found that the cookies had a better texture, flavor and more cracks when baked with dough that had been chilled for two days. So again, if you have time to chill the dough it enhances the texture.
Sue's Snickerdoodles Recipe
Here's the recipe Sue uses for very delicious and crispy Snickerdoodles. I've also made it printable below. I use ¾ teaspoon of salt rather than ½ teaspoon and sometimes swap out half of the granulated sugar for brown.
Update: If you like Sue's Snickerdoodles, check out another recipe recommended by Sue -- Mrs. Fields Cinnamon Sugar Butter Cookies.
Schneckerdoodle
I recently came across a recipe in my little Texas-German cookbook called Schneckerdudel. It wasn't as good as Sue's Snickerdoodles, but the ratios were close. What was interesting about the Schneckerdudel was that instead of vanilla, it called for almond extract, so if you'd like to change these up a bit you could incorporate a bit of almond extract in with the vanilla.
Recipe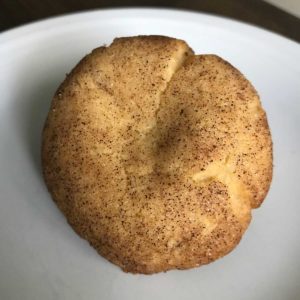 Sue's Snickerdoodles
Chewy and sweet Snickerdoodles made with a mixture of shortening and butter.
Ingredients 
2 ¼

cups

all-purpose flour

(315 grams)

2

teaspoons

cream of tartar

1

teaspoon

baking soda

¾

teaspoon

salt

¾

cup

unsalted butter

softened (170 grams)

¼

cup

butter flavored shortening

(48 grams)

1 ½

cups

granulated sugar (or use half white and half brown)

(300 grams)

2

eggs

bring to room temperature

2

teaspoons

vanilla extract

Cinnamon Sugar: 3 tablespoons granulated sugar

36 grams plus 1 ½ teaspoons cinnamon
Instructions 
Preheat oven to 375 degrees F. Line cookie sheets with parchment.

Stir together flour, cream of tartar, baking soda and salt.

In a mixing bowl, using low speed of a mixer (or by hand), mix together the butter and shortening. Add the sugar and mix just until blended (don't cream). Add the eggs one at a time, beating on low just until each egg is incorporated and mixture is smooth. Beat in the vanilla.

Using a medium cookie scoop, scoop up rounds of dough. You should get about 30 using a medium cookie scoop. If using large, about 16. At this point you can chill the dough balls until ready to bake or bake right away.

Before baking, mix together the cinnamon and sugar. Roll dough balls in cinnamon sugar.

Place on cookie sheets and bake at 375 degrees for 9-11 minutes or until the edges are brown.
Notes
For a change of flavor and a little more chewiness, swap out half of the granulated sugar for brown sugar.