This year's cookie baking trend seems to be boiling canned pumpkin to concentrate the flavor before adding it to the dough. I've done that and it works, but I recently tried maximizing the pumpkin flavor by roasting canned pumpkin in the oven. Removing moisture from the canned pumpkin intensifies the flavor and (sometimes) helps make the cookies chewier. I think the Roasted Canned Pumpkin Chocolate Chip Cookies do have more pumpkin flavor. As for chewiness, they're slightly chewier but still soft and a little bit cakey.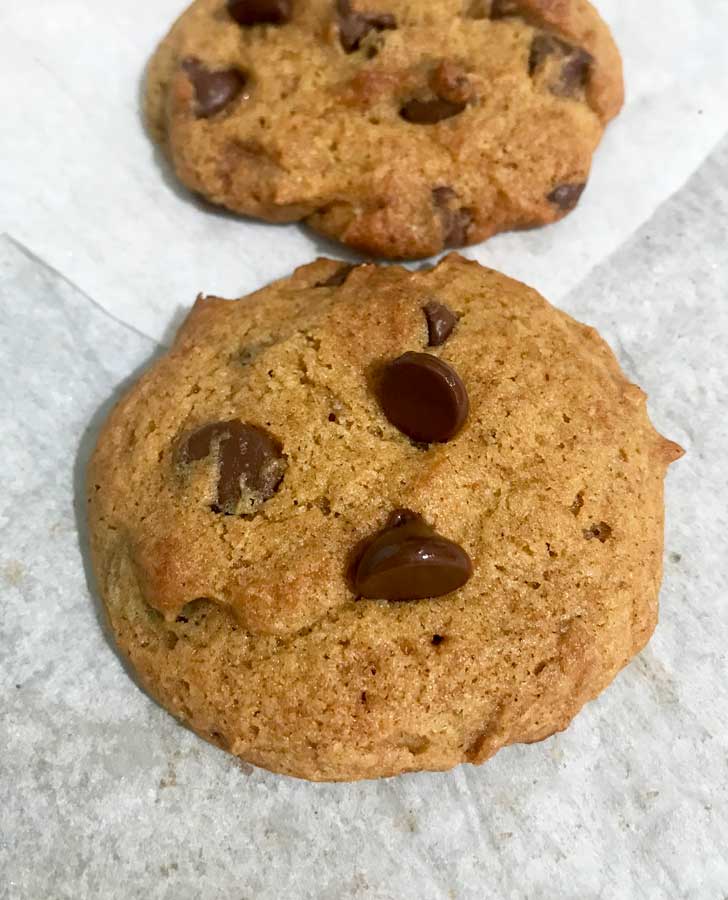 Easy Stir-and-Bake Pumpkin Cookies
This is an easy stir-and-bake recipe, which starts with melted butter so you don't need an electric mixer. As mentioned, the cookies are still on the cakey side even with the roasted canned pumpkin, but they are a little chewier and more pumpkin-y. I do think roasted pumpkin makes a difference and am looking forward to trying it in a few other things where I want the pumpkin flavor to come through.
Roasted Canned Pumpkin
If you'd like to try it, here's the method for roasting canned pumpkin. I tend to bake in smaller quantities, so I use half a can at a time. Feel free to double it it.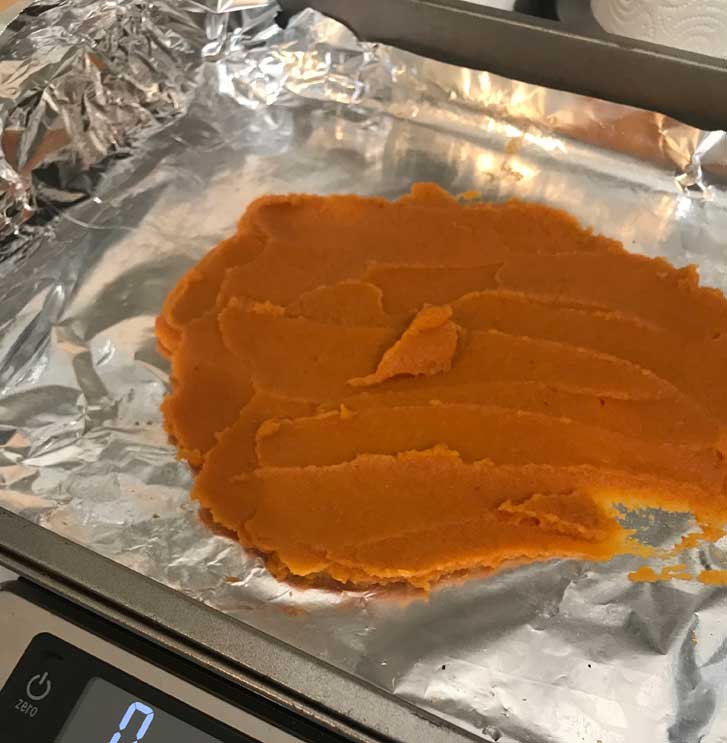 Steps for Roasting Pumpkin
Set a foil-lined baking sheet on a scale and set the tare to zero.
Remove the baking sheet (don't undo the tare) and spread half of a 15 oz can of pumpkin in a thin layer on the foil. Set the baking sheet back on the scale to check that it's 7.5 oz.
Remove baking sheet. Turn off scale and weigh the baking sheet and pumpkin together. This weight will vary depending on the weight of your baking sheet. For me, the total weight was 21 oz. The baking sheet weighed 13.5 oz and the pumpkin weighed 7.5 oz.
Bake the pumpkin at 350 for about 15 minutes. Remove from the oven and weigh again - cookie sheet and all. The pumpkin should have lost at least 2 oz of weight. You can bake it a little longer if you need to. If you are using a different amount of pumpkin, just shoot for a moisture loss of about 30%.
If you can't see the display on your scale when weighing a whole baking sheet or your scale is just not capable of that for some reason, you can just weigh out 7.5 oz of pumpkin, bake it, then scrape it into a bowl after baking and weigh again.
Gluten-Free Pumpkin Chocolate Chip Cookies
I'm trying to eat gluten-free, so I also made a batch of these using Bob's Red Mill 1:1 flour. The gluten-free roasted pumpkin chocolate chip cookie recipe worked well too, but I think the cookies were better when made larger. And by larger, I mean a quarter cup measure vs. a tablespoon. Both sizes are good, I just thought the texture of the gluten-free one were better larger.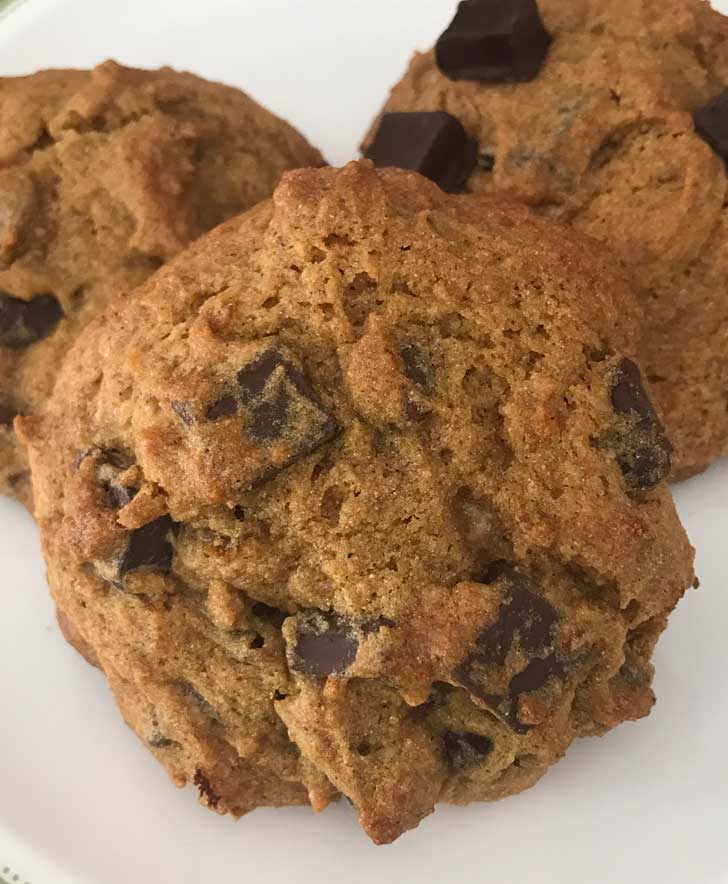 More Notes on Roasted Canned Pumpkin Cookies
This is just a really basic and easy pumpkin cookie recipe open to variations in spices. I don't think there's a way to mess this one up. For best results, weigh the ingredients. For this recipe I use my measuring cups mainly as scoopers only so volume is just approximate and weight are the measures used.
The Other Half Can of Pumpkin
Update: So I had the other half of the can of pumpkin to use and decided to make a batch of Jumbo Chocolate Muffins. This time I did not roast the pumpkin because in chocolate muffins the pumpkin is really just there for moisture. Also, I was staying in an AirBB and couldn't find a muffin tin, so I used ceramic loaf pans and made them as Chocolate Pumpkin Mini Loaves. They were so good! If you are not in the mood for Roasted Pumpkin Chocolate Chip Cookies, try one of the mini loaves on the Jumbo Chocolate Muffin recipe page.
Recipe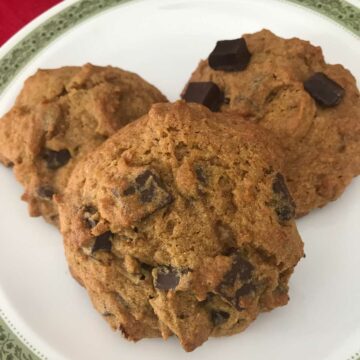 Roasted Canned Pumpkin Chocolate Chip Cookies
Chewy and spicy pumpkin cookies.
Ingredients 
Canned Pumpkin for Roasting
½

can

canned pumpkin (210 grams) which you will roast and use only 110 grams of. There will be extra roasted pumpkin left over.

(110 grams weight after roasting)
Other Ingredients
8

tablespoons

unsalted butter (if using salted, just reduce salt)

(114 grams)

1

cup

plus 2 tablespoons AP or bread flour -- I weigh 160 grams, so volume is approximate. Best to weigh.

160 grams or use Bob's Gluten-Free 1:1

½

teaspoon

baking powder

½

teaspoon

baking soda

½

teaspoon

salt (cut in half if using salted butter)

½

teaspoon

cinnamon

¼

teaspoon

nutmeg

⅛

teaspoon

ground cloves

1

cup

brown sugar, dark or light okay

packed (210 grams)

1

large

egg

110 grams of roasted pumpkin from above

2

teaspoons

vanilla

1

cup

chocolate chips
Instructions 
Preheat oven to 350 degrees F.

Line a baking sheet with foil. Spread half a can (7.5 oz) of pumpkin in a thin layer on the foil. Bake for 15 minutes. Pumpkin should lose 2 oz of moisture, so you should be left with somewhere around 5 to 5.5 oz or about 150 grams. You will only use 110 grams of it.

Melt the butter and let it cool. I like to do it directly in a microwave-safe mixing bowl.

While the butter cools, stir together both flours, baking soda, baking powder, salt and spices.

Add the brown sugar to the cooled butter and stir well, then stir in the egg, 110 grams of roasted pumpkin and vanilla.

Add flour mixture and stir until mixed. Stir in chocolate chips. Drop by rounded tablespoons onto a baking sheet and bake for 12-15 minutes. For larger cookies, drop by quarter cupfuls. Bake longer (usually 15 to 17 minutes).

Let cookies cool completely before serving.
Notes
If using the gluten-free 1:1 blend, use 160 grams.  With Bob's, that's about 1 cup, but it's best to weigh.
Nutrition
Calories:
124
kcal
Carbohydrates:
18
g
Protein:
1
g
Fat:
6
g