Growing up, we had a tradition of buying my dad a big carton of Whoppers on his birthday. They were his favorite, and he'd keep them on his dresser along with other off-limits items like his wallet and watch. Let me tell you, Whoppers taste better stolen off dressers. I've had to change my ways, though. Neither Fuzz nor Todd likes Whoppers so I don't have anyone to steal them from anymore.  In fact, Fuzz kindly gave me permission to use her Halloween Whoppers as I see fit. So, since my dad is coming over and since I haven't given him a carton of Whoppers in years, I made him a batch of Chocolate Malt Whopper Cookies from the book Baking: From My Home to Yours.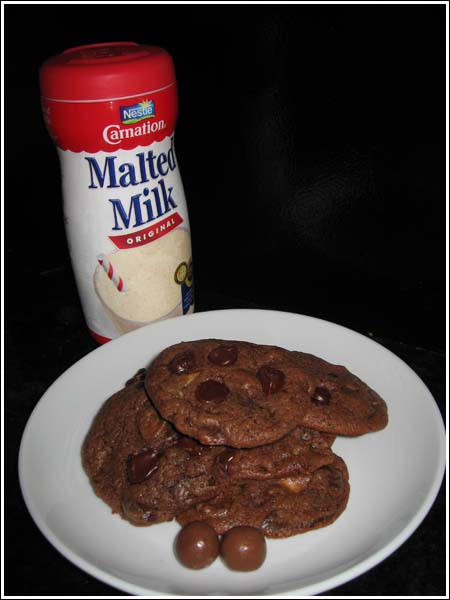 These cookies are absolutely fabulous and probably one of the best things I've ever made with Whoppers. They were very malty and had the perfect level of sweetness. I read one review where someone said they were tooth-achingly sweet, but I suspect that person might have used a sweetened malted milk drink mix rather than malted milk powder. The malted milk powder I used was Carnation
, and it does not have added sugar. It's similar to Horlicks. The cookies aren't that impressive to look at, but the texture is excellent. They're thin and soft, but have chewy/crispy edges thanks to the melted & cooled Whoppers. Let them sit for a while before you taste one.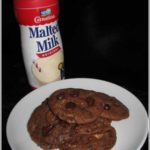 Print Recipe
Chocolate Malt Whopper Cookies
Chocolate Malt Whopper Cookies
Ingredients
1 3/4

cups

all-purpose flour

1

cup

malted milk powder

Carnation or Ovaltine Malt

1/4

cup

unsweetened cocoa powder

1 1/2

teaspoons

baking powder

1/4

teaspoon

salt

11

tablespoons

unsalted stick butter

at room temperature

2/3

cup

sugar

2

large eggs

1

teaspoon

vanilla extract

1/4

cup

whole milk

2

cups

chocolate-covered malted milk balls

VERY coarsely chopped

6

ounces

bittersweet chocolate

coarsely chopped, or 1 cup chocolate chips or chunks
Instructions
Preheat oven to 350 F. Line two baking sheets with parchment.

In a medium bowl, sift together the flour, malted milk powder, cocoa, baking powder and salt. Set aside.

In a mixing bowl, using an electric mixer, beat the butter and sugar together on medium until very smooth, about 3 minutes. Add the eggs, one at a time, beating for 1 minute after each addition.

Beat in the vanilla.

Reduce the mixer speed to low, add half the dry ingredients, mixing until they just disappear into the batter. Mix in the milk, then the remaining dry ingredients, mixing only until they are incorporated.

With the mixer on low, or by hand with a rubber spatula, mix in the malted milk balls and chocolate pieces.

Drop the cookie dough onto the prepared baking sheets, one rounded tablespoon per cookie, leaving about 2 inches between each. Bake for 11 to 13 minutes, rotating sheets from top to bottom and front to back halfway through.

When done, the cookies will be puffed and set, but slightly soft to the touch. Let the cookies rest for 2 minutes before using a wide metal spatula to transfer them to racks to cool to room temperature. Bake remaining dough in similar fashion. Makes about 30