Maida Heatter's Chocolate Whoppers are among the most iconic double chocolate cookies. The recipe's been adapted by people all over the world, including an old restaurant called The Soho Charcuterie, where they used Maida's recipe to make their "Chocolate Gobs" and a bakery in Sonrisa, California that called them "Charlie's Cookies". Update From LD who lived down the street from the bakery: They were from SONRISA BAKERY in Rancho Santa Fe, California. They were the favorite of Charles Russell Stimpson who lived nearby and for awhile was a popular host at The Inn in Rancho Santa Fe.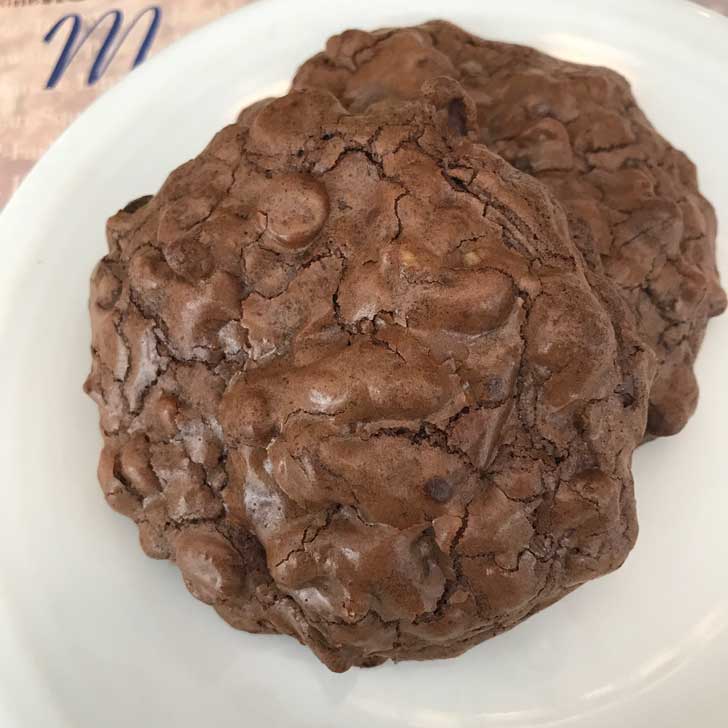 I'm guessing they go by a lot of names these days, but I call them Maida's Chocolate Whoppers in honor of the late home baker who gave us so many delicious desserts. I can't even count how many I've made over the years.
Unfortunately, I've taken some terrible pictures of these cookies and I've made some batches that weren't really up to par. Usually it was because I was trying to scale them down or make substitutions or was just in a hurry. Given that, I've taken some time to post new photos and am including some tips on making the perfect Chocolate Whoppers.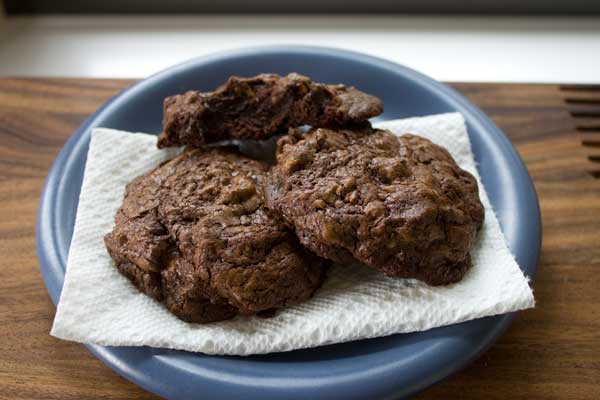 Chocolate Whoppers Tips
Do your very best to let the melted chocolate and butter mixture cool completely. I have a very hard time with this because I always want to get right to the mixing. But really, the chocolate needs to cool or the batter will be too runny.
Don't substitute anything for the unsweetened chocolate. You can use any brand of unsweetened, but don't try using 85% or anything sweetened or you'll probably get too much spreading (or too much sweetness).
One thing you don't have to do is sift the flour. Maida originally called for ¼ cup of sifted flour, but this is only necessary if your flour is super lumpy.
Cold eggs whip up higher and fluffier. Make sure to use an electric mixer and really whip the eggs and sugar until thick and pale.
Nuts are important to these cookies, so if you don't like nuts it might be best to use a different recipe. Chocolate Whoppers need nuts.
Recipe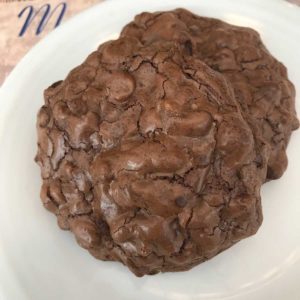 Maida's Chocolate Whopper Cookies
Chocolate Whoppers or Chocolate Gobs aka Charlie's Cookies -- a favorite!
Ingredients 
2

ounces

unsweetened chocolate, chopped

(56 grams)

6

ounces

semisweet chocolate, chopped

(170 grams)

3

ounces

unsalted butter (this is bout 6 tablespoons)

(84 grams)

¼

cup

all-purpose flour

(30 grams)

¼

teaspoon

baking powder

½

teaspoon

salt

2

eggs

¾

cup

granulated sugar

150 grams

2

teaspoons

powdered espresso

not granular instant coffee

2

teaspoons

vanilla extract

1

cup

semisweet chocolate morsels

(170 grams)

2

cups

toasted and chopped walnuts and/or pecans**
Instructions 
Preheat the oven to 350°F. Line two cookie sheets with parchment paper.

Place the unsweetened chocolate, semisweet chocolate, and butter in the top of a small double boiler or in a bowl set over simmering water. Stir until melted and smooth. Remove from heat and let cool. Alternatively, mix the chocolate and butter and microwave for 30 seconds. Stir and repeat until melted and smooth, then let cool.

Mix together the flour, baking powder, and salt, and set aside.

With an electric mixer, beat the eggs, sugar, coffee or espresso, and vanilla at high speed for 3 minutes or until pale and fluffy.

Fold in the cooled melted chocolate, followed by the flour mixture. Scrape sides of bowl as needed, then stir in the nuts. Make sure your dough is not at all warm, then stir in the chips.

At this point the dough might still be a bit runny. Chilling it will make the cookies less glossy, so rather than chill it just let it stand for 10 minutes.

Use a ⅓-cup metal measuring cup to measure the amount of batter for each cookie, put five cookies on each cookie sheet, one in the middle and one toward each corner. Use a rubber spatula to push the mixture into the measuring cup and then to scoop it out onto the lined sheet (the dough is gooey). Do not flatten.

Bake one sheet at a time or two sheets at a time, reversing the sheets top to bottom and front to back once during baking to ensure even baking. Bake for 16 to 17 minutes-no longer. The surface of the cookies will be dry but the insides will still be soft. Maida Notes: "There is really no way to test these; just use a portable oven thermometer before baking to be sure your oven is right, and then watch the clock."

When the cookies have cooled, use a wide metal spatula to release them and turn them over to air the bottoms a bit.