Golden Syrup Pecan Pie comes from John Thorne via Chowhound, where a few people have rated and reviewed it. Instead of corn syrup, this recipe calls for Lyle's Golden Syrup, which gives the pie a very distinct caramel flavor.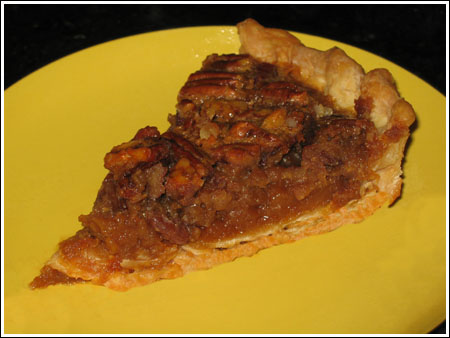 I used the Chowhound recipe as a guide, but made a few small changes. I toasted the pecans and didn't use quite so many, used vanilla instead of rum and added the cream. The recipe says it's optional, but it's a good idea to keep it in because it cuts the sweetness of the pie.
Golden Syrup Pecan Pie
1 cup light brown sugar, packed
⅔ cup golden syrup (Lyle's)
4 tablespoons unsalted butter
3 large eggs
1 teaspoon vanilla or 1 tablespoon Bourbon or Rum
¼ teaspoon salt
1 ½ to 2 cups toasted pecan pieces
4 tablespoons heavy cream
9-inch unbaked pie shell
Preheat oven to 350 degrees F.
In a large saucepan, bring the brown sugar, golden syrup and butter to a boil. When mixture boils, set timer for 1 minute and cook, stirring constantly, for 1 minute. Remove from heat and let cool.
In a mixing bowl, beat together the eggs, vanilla and salt. When the boiled syrup has cooled, Pour it into the egg mixture and stir well. Stir in pecans and cream. Pour into the unbaked pie shell and bake for 45-50 minutes. Pie should be set around edges, but slightly wiggly in center. It will set as it cools.
To toast pecans, lay flat on a cookie sheet and bake at 350 for 8-10 minutes. Let cool, then chop into bits.