It's Pecan Pie time, and if you're looking for one with a little twist to it, how about Vinegar Pecan Pie? It's unique in that the filling calls for a tablespoon of vinegar and a tablespoon of cornmeal. In addition to that, the recipe does not call for corn syrup, so that's one less thing to buy. The sweet taste of this pie comes from granulated and brown sugar.
Jump to Recipe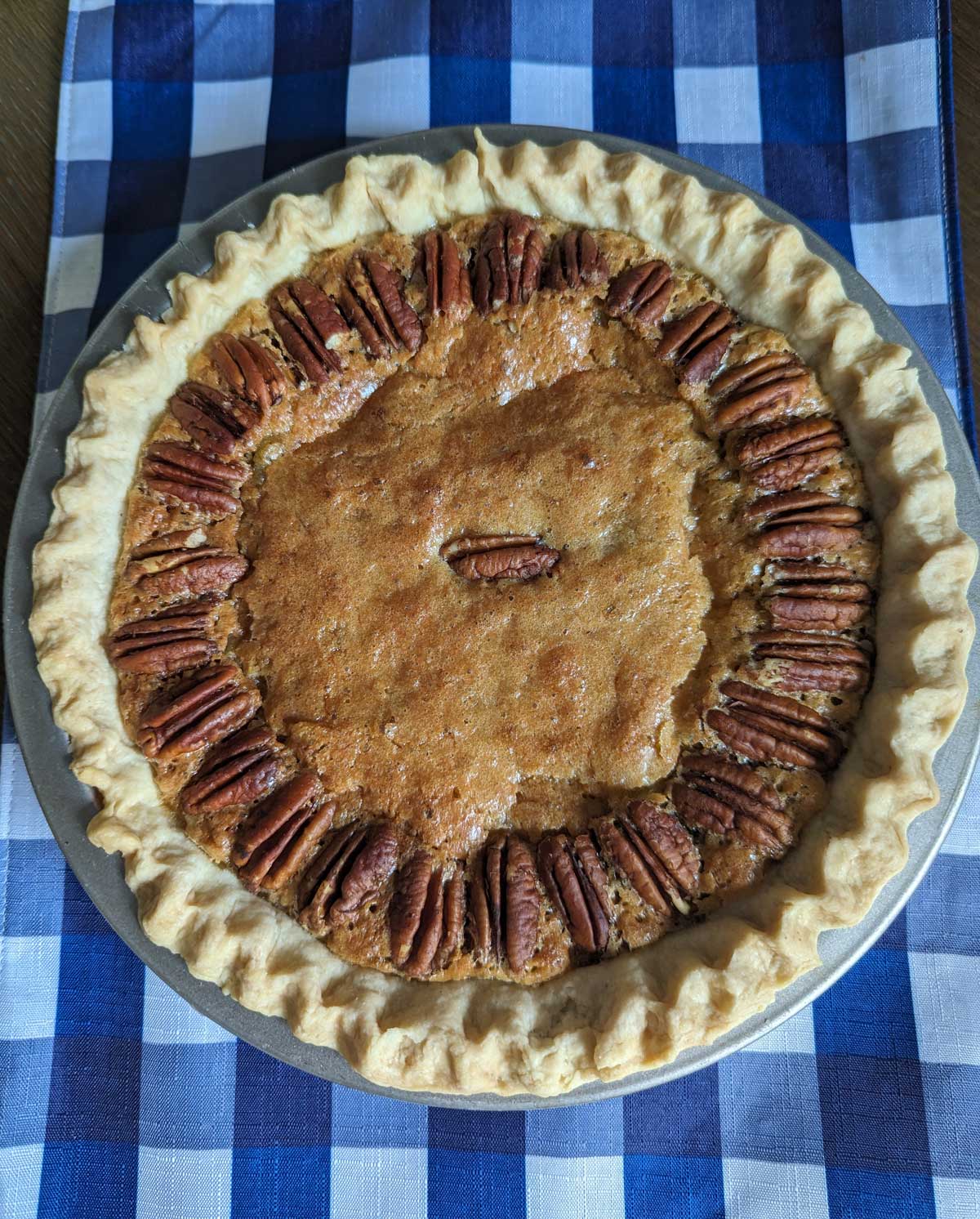 Why Add Vinegar to Pecan Pie
Vinegar may sound like a strange addition, but a little vinegar added to pecan pie cuts the sweetness and adds a flavor of its own. I use malt vinegar in some pecan pies, and while the malt is not really detectable, the little kick of acid is. In addition to balancing sweetness, vinegar enhances smoothness of the filling by curbing the crystallization of the sugar. That might not mean as much in a corn syrup based pecan pie, but in a no-corn syrup pie, the vinegar makes a lot of sense.
Pecans in Vinegar Pecan Pie
I am a little biased towards Texas pecans, seeing that pecan is the state tree and I grew up with little piles of them around the house. But pecans are grown all over the south, and flavors vary based by type and where they are grown. For Vinegar Pecan Pie, I used Kirkland (Costco) pecans, which are very good this year. A 2022 article from The Costco Connection says the Kirkland pecans are from Mexico. Whichever pecans you use, get a big bag of them so you can pick out 20 or 30 nice looking halves for the border.
Two Distinct Layers
Like Magic Cake and Vienna Pie, this pie splits during baking. Once baked, Vinegar Pecan Pie will have two distinct layers. There's a dark nutty layer on the bottom and a buttery smooth layer on top. You should also see a little cornmeal, unless you happen to forget it. We've done that during testing and the pie is fine without it. But keep it in if you can! The cornmeal adds extra texture and flavor.
Internal Temperature of Pecan Pie
Pecan pie is done when the internal temperature reaches 200 degrees F. This probably varies a bit by recipe, but I've been using a top out temp of 200F as the pull time. The middle should still be a little jiggly. So far I have forgotten to take this pie's temperature during every test, but it's been just fine at 50 minutes, with 50 being on the higher side.
Freezing and Thawing Vinegar Pecan Pie
Like most pecans, this one improves after being frozen and thawed. The freezing and thawing process seems to improve over-baked pecan pies in general. So if you accidentally over-bake a pecan pie, throw it in the freezer overnight. I can't say it will save every pecan pie, but the middle smooths out a bit and the two separate layers become even more distinct. Even if you only freeze for a few hours, you'll get some improvement. But bring back to room temperature before serving.
Pecan Pie FAQ
In addition to what I've mentioned above, here are some frequently asked questions about pecan pie.
Do you have to par-bake the crust for pecan pie?
There are some recipes that have you par-bake the pecan pie crust. I do not usually do that. If your pie crust is a very thick homemade pastry you may want to consider it, but generally you can just pour the filling into the crust. It also doesn't hurt to bake the pie on a preheated baking sheet, which sometimes helps the bottom bake.
Should I toast pecans for pecan pie?
Yes, but only the ones that go directly in the filling. The pecans used for the border will pick up some toastiness just from being on top.
Is brown butter good in pecan pie?
Yes! In this recipe you don't have to brown the butter, but if you're considering other recipes, it does enhance the flavor.
You have too many pecan pie recipes! Which one do you recommend and which do you like the most?
I usually recommend Mom's Pecan Pie because it's very reliable. The one I actually make the most or have made the most in life is the One Stick of Butter Pecan Pie. I don't always recommend it to beginners because it can be running. But it has so much flavor! A good compromise between those two is Best Pecan Pie Yet which has browned butter (but less of it) and a little cream.
So here's the Vinegar Pecan Pie recipe! It's a tried and true pie adapted from a recipe on Discover South Carolina. I've made it twice, and Fuzz made it once. She forgot to put the cornmeal in the pecan pie, and it was still good.
Recipe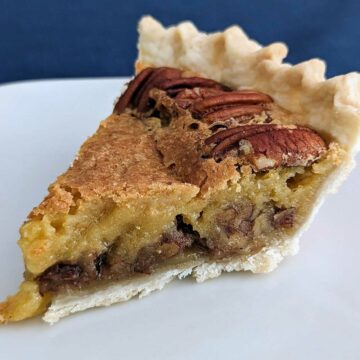 Vinegar Pecan Pie
A Carolina pecan pie with vinegar and cornmeal.
Ingredients 
1

9-inch

unbaked pastry crust (preferably not a deep dish)

2

cups

pecan halves, but start with a big bag

3

large

eggs

room temperature

¾

cup

granulated sugar

(150 grams)

¾

cup

brown sugar

(150 grams)

2

teaspoons

vanilla extract

½

cup

melted butter, gently melted and cooled

can use salted or unsalted

⅛ to ¼

teaspoon

salt

use ⅛ if butter is salted, ¼ if unsalted

1

tablespoon

cornmeal, fine

1

tablespoon

vinegar, white, apple cider or malt
Instructions 
Preheat oven to 350 degrees F and have ready a rimmed baking sheet.

Set aside about 25 to 30 of the pecans (a heaping half cup) to use as the border. Roast the rest of the pecans (about a cup and a half) by laying them on a baking sheet and baking for about 6 to 8 minutes at 350 F or until they start to release their oils. Pull them from the oven. Let cool, then chop.

Spread the chopped pecans across the bottom of the pastry lined pie dish.

Whisk the eggs until the yolks are blended with the whites, then whisk in the sugar, brown sugar, vanilla, melted butter, salt, cornmeal and vinegar.

Pour filling over pecans. Arrange remaining pecan halves decoratively around the side.

Put the pie on the rimmed baking sheet and bake for 45 to 50 minutes or until pie appears set (though it should be slightly jiggly when you pull it from the oven).

Let cool for several hours, then cover and freeze overnight if you have time. Bring to room temperature before serving.
Notes
You'll need a good amount of pecan halves so you can pick out the prettiest ones for the border.