Butterfinger Meringuesare a twist on the Chewy Chai Meringues, where Butterfinger candy stands in for the chai spices and nuts.  This is a small batch recipe that will give you 12 cookies.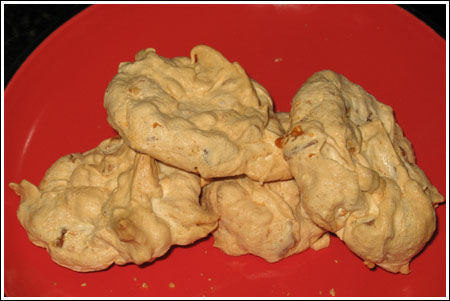 Butterfinger Meringues
⅓ cup powdered sugar
1 teaspoon cornstarch
2 large egg whites
¼ cup granulated sugar
⅛ teaspoon cream of tartar
⅛ teaspoon salt
½ teaspoon vanilla extract
½ teaspoon vinegar
2 full size Butterfinger candy bars, crushed in their wrappers
Preheat oven to 300 degrees F. Line a large cookie sheet with parchment paper
Sift together the powdered sugar and cornstarch. Set aside.
In bowl of stand mixer, whisk together the egg whites and the granulated sugar. Set this bowl over a pot of simmering water and whisk until mixture is very warm and sugar dissolves. Be careful not to cook the whites. If you aren't using a stand mixer, you can do this over a double boiler.
Remove from heat and stir in cream of tartar and salt. Set bowl on stand and whip until stiff peaks form. Add vanilla and vinegar while whites are whipping.
Remove bowl from stand and fold in the powdered sugar mixture and crushed candy.
Drop by generously rounded tablespoonfuls onto parchment lined cookie sheet. Bake for 30 minutes at 300 degrees F. Cool on cookie sheets for about 5 minutes, then carefully transfer to a rack to cool completely. Butterfinger will loose stickiness as it cools.
Makes 12 cookies