This week's inspiration came from an old book called Search for the Best Chocolate Chip Cookies -- 101 Best Chocolate Chip Cookies.  I've had this book forever and have made several of its recipes, but I somehow missed the Brownie Chip Meringues. With two egg whites hanging out in the refrigerator they seemed like the perfect cookies, and they were!  They are very rich, fudge-like, kind of pretty in my opinion, and as a bonus they are naturally gluten-free.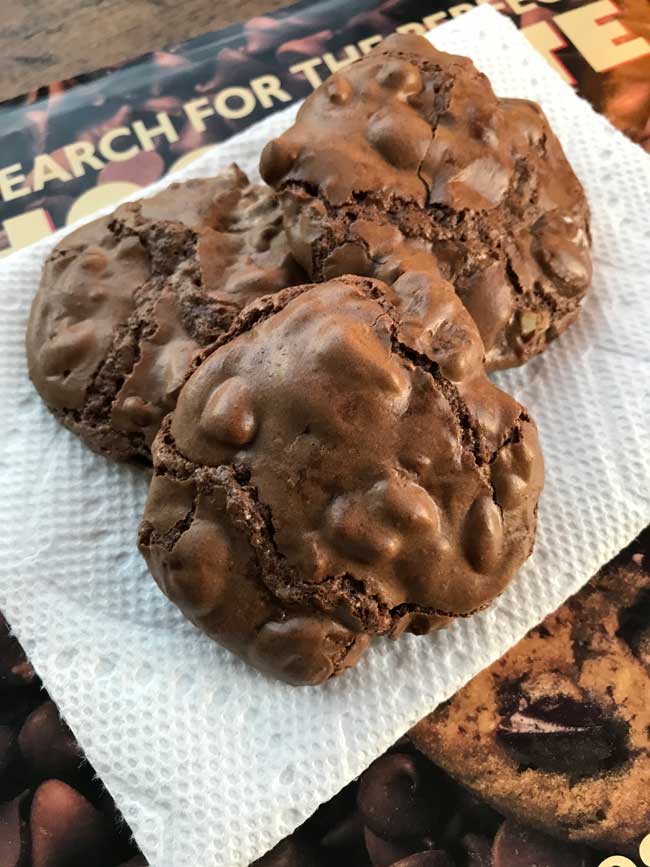 Brownie Chip Meringues vs. Pecan Chewies
These are similar to Pecan Chewies, but different in that they are made with melted chocolate chips instead of cocoa powder and call for walnuts rather than pecans.  The melted chocolate gives the batter a little more stability so in some ways it's easier to deal with.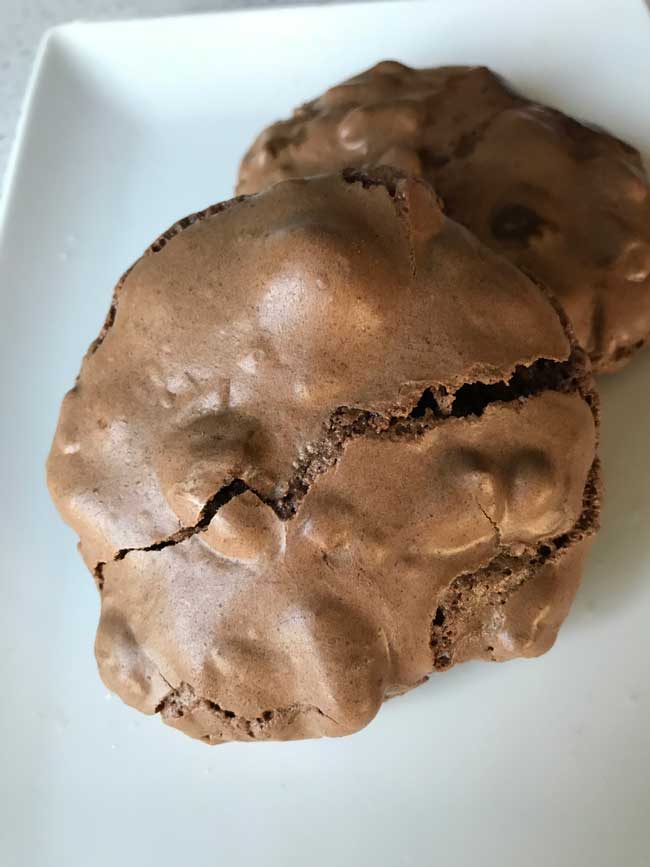 The original recipe in 101 Best Chocolate Chip Cookies is supposed to make 6 dozen/72 cookies, and I suppose if you carefully spoon out scant tablespoons you'll get around that number. I halved the recipe and got about 18 rather than 36, so obviously I was overly generous with the scoops!  However, I'd definitely make them the same size in the future.
Egg White Makes a Difference
I also found there was a big difference in texture depending on how much egg white I used.  The first time I used 80 grams  and the cookies were glossier, while the second time I used slightly smaller egg whites and the cookies had a rougher finish.  Still good, though! If you have a scale, you may want to weigh out your egg whites and use 80 grams.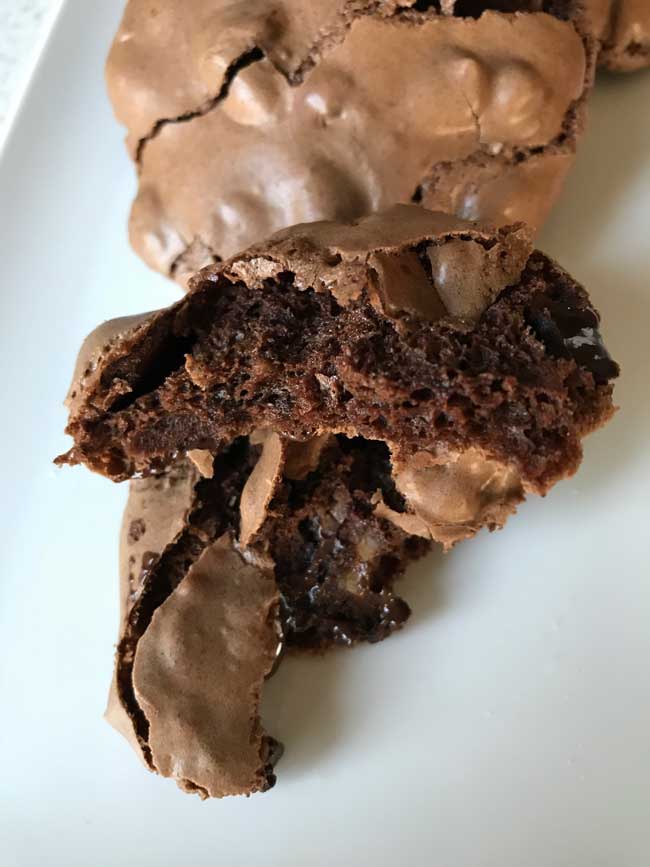 Another little experiment was to replace some of the melted chocolate chips with a 70% Lindt chocolate bar.  This is totally optional, but if you have some dark or bittersweet chocolate lying around and want the batter to be a little richer, you can try it.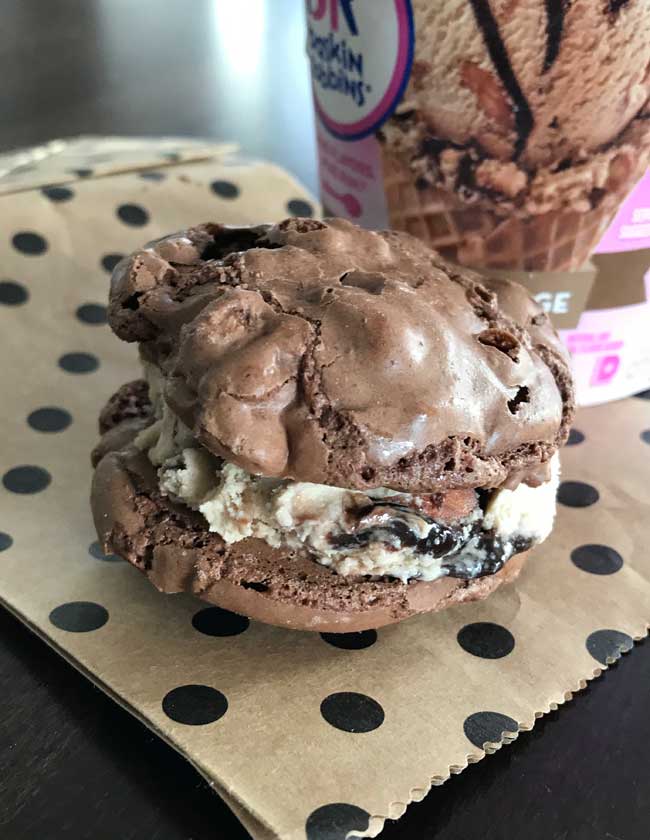 The cookies freeze well and work perfectly for ice cream sandwiches. I filled the one above with Jamocha Almond Fudge and it was a little overwhelming, so next time I'll do plain coffee or vanilla.
Recipe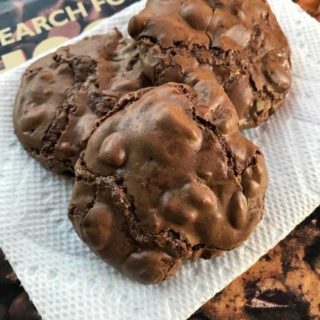 Brownie Chip Meringues
Brownie Chip Meringues are rich gluten-free chocolate cookies made with melted chocolate chips and toasted walnuts.
Ingredients 
3

oz

bittersweet or semisweet chocolate chips, Guittard or Ghirardelli

(½ cup)

3

oz

chopped bittersweet or semisweet chocolate

or just use more 3oz more chips

2

oz

semisweet or bittersweet chocolate chips

(⅓ cup)

2

extra large egg whites

80 grams -- or large okay, too

½

teaspoon

vanilla extract

½

teaspoon

apple cider vinegar

1

small pinch salt

½

cup

granulated sugar

95 grams

½

cup

chopped and toasted walnuts
Instructions 
Preheat oven to 350 and line two large rimmed baking sheets with parchment paper or nonstick foil.

Put 3 oz of chocolate chips and 3 oz of chopped bittersweet or semisweet chocolate in a microwave-safe bowl. Heat on high, stirring every 30 seconds, until chocolate is melted. Set aside to cool slightly.

In the bowl of a stand mixer, beat the egg whites, vinegar and salt until soft peaks start to form. Add the vanilla and continue beating as you gradually add the sugar. Remove mixer from stand and fold in the melted chocolate (make sure it has cooled down so that it doesn't melt the added chips). Stir in the reserved 2 oz of chocolate chips and the chopped walnuts.

Using a tablespoon measure, carefully scoop out about a dozen cookies and bake for 10 minutes. While cookies bake, continue scooping out batter onto the second tray and continue baking 1 sheet at a time.

Allow the cookies to cool completely on the tray, then carefully peel away from foil.
Notes
For best results, weigh out 80 grams of egg whites. If using extra large or Jumbo eggs you should get 80 grams from two eggs. If using large eggs you might need to crack open a third egg and measure out half.