Meringue experiment number 2. All in all, Double Chocolate Meringues were very good, but I need to get a few more opinions. Like the others, these are crispy on the outside and soft and chewy on the inside.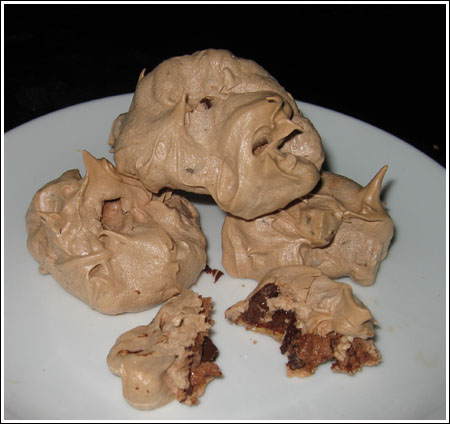 Double Chocolate Meringues
½ cup powdered sugar
1 teaspoon cornstarch
1 ½ tablespoons unsweetened cocoa powder
2 large egg whites
¼ cup granulated sugar
⅛ teaspoon cream of tartar
⅛ teaspoon salt
¾ teaspoon vanilla extract
½ teaspoon vinegar
½ cup semi-sweet chocolate chips (use more if desired)
OPTIONAL -- ¾ to 1 cup Cocoa Puffs cereal, use only serving cookies the same day.
Preheat oven to 300 degrees F. Line a large cookie sheet with parchment paper
Sift together the powdered sugar, cornstarch and cocoa. Set aside.
In a metal mixing bowl (bowl of stand mixer), whisk together the egg whites and the granulated sugar. Set this bowl over a pot of simmering water and whisk until mixture is very warm and sugar dissolves. Be careful not to cook the whites. This may also be done over a double boiler.
Remove from heat and stir in cream of tartar and salt. Set bowl under whisk attachment and whip until stiff peaks form. Add vanilla and vinegar while whites are whipping.
Remove bowl from stand and fold in the confectioners' sugar mixture and chocolate chips and Cocoa Puffs (if using).
Drop by generously rounded tablespoonfuls onto parchment lined cookie sheet. Cookies won't spread. Bake for 30 minutes at 300 degrees F.
Makes 12
Note:  If you use the Cocoa Puffs, make sure you eat ALL 12 (good thing it's a small recipe) the same day.  I experimented so you don't have to.  The CP version was awesome on day one, but after being closed up in a container for a few days, the CP's lost their crunch.  The cookie part was still good, though.  Just use Coca Puffs judiciously in this case.