A child with many names is a child loved many times. I don't know where I read this quote originally, but it stuck in my head because my daughter has so many nicknames. I thought of it again this morning as I made these Mexican Wedding Cakes, aka Snowballs, aka Kourambiedes, aka Russian Tea Cakes. I guess a cookie with many names is a cookie loved many times too. They all have small differences, but are basically well built globs of flour, sugar, butter and nuts coated in powdered sugar.
After making a few different Mexican Wedding Cakes recipes, I've decided my favorite one is still Steve G's. I don't know Steve G (or where he got the recipe), but his version is on Recipezaar. Below is the condensed food processor version which I made. I was a running out of pecans and a bit light handed with the flour so mine spread a bit more than usual, but boy, are they ever good -- they're lighter and less floury than other version and in my opinion, more attractive.
I think you could make these vegan with Earth Balance Buttery Sticks. If anyone tries and has good luck, let me know.
One note. Make sure you use really good, fresh powdered sugar. Powdered sugar tends to absorb other flavors and if you don't keep the box completely shut or better yet, sealed in an air-tight jar, it will throw the flavor of the cookies off.
Here's a photo. Like I said, mine spread a bit, but yours should be a little poofier. These guys are about to take another dive into the powdered sugar, but I thought this shot would give you an idea of how tender and golden they get around the edges.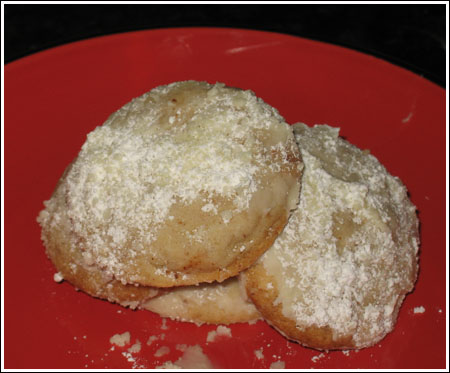 Mexican Wedding Cakes
¾ cup pecan halves, toasted cooled
⅜ teaspoon salt
1 cup powdered sugar
1 cup unsalted butter, room temp (228 grams)
1 teaspoon vanilla extract
1 ¾ cups all purpose flour
1 ½ cups powdered sugar for rolling
In a food processor, process toasted pecans with salt and 1 cup powdered sugar. Add butter and process until creamy. Add vanilla. Add flour and pulse until mixture starts to form big clumps. Empty dough into a bowl and chill for 3 hours.
Shape dough into 1 inch balls and place on a cookie sheet about 1 ½ inches apart. Bake at 350 degree F. for 15-18 minutes. Remove from oven and let cool for 3 minutes. Toss in sugar. Let cool completely then roll in more powdered sugar
Makes about 36