Blueberry Pecan Mexican Wedding Cookies are just another twist on the classic Mexican Wedding Cookie. This version calls for toasted pecans and dried blueberries. I made these for National Pecan Month.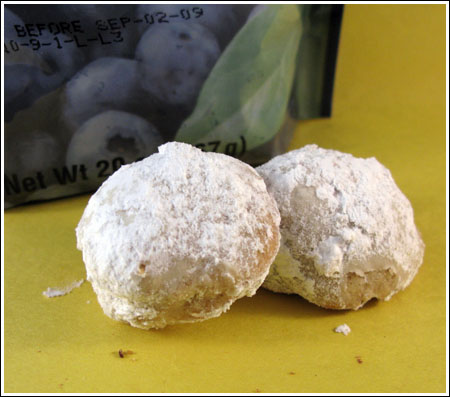 Blueberry-Lemon-Pecan Mexican Wedding Cookies
8 oz unsalted butter (2 sticks/230 grams) room temperature
2 oz powdered sugar (½ cup/60 grams)
1 scant teaspoon salt
1 ½ teaspoon lemon juice plus ½ heaping tsp. zest
2.5 oz ground toasted pecans (¾cup/70 grams)**
9.5 oz flour (2 ¼ cups/280 grams)
3 oz dried blueberries, chopped up a bit (use more or less)
2 oz powdered sugar for rolling (½ cup/56 grams)
Preheat oven to 325 degrees F. Line a cookie sheet with parchment or just use an ungreased cookie sheet.
Cream the butter and 2 oz (½ cup) powdered sugar with an electric mixer. Beat in the salt, lemon juice and lemon zest. Stir in the pecan meal, then add the flour and stir until absorbed. Stir in the berries. Shape into balls the size of a chestnut. Place on cookie sheet and bake at 325 F for about 15-10 minutes or until they are just beginning to brown.
Roll the hot cookies in the remaining powdered sugar and let cool completely. When they are cool, roll them in the sugar again.
Makes about 5 dozen cookies **I ground mine in a coffee grinder
Note:  This recipe halves easily.