Italian Wedding Cookies, Rainbow Cookies, Tri-Color Cookies – pick the name you like, these little cakes of pink, yellow and green are less complicated than you think, but it's helpful to know a few things before making them.  When I made my first batch of Rainbow Cookie I wasn't sure what type of almond paste to use, which recipe was the best, the proper way to coat them or whether or not the eggs really needed to be separated. After multiple batches of 3 different recipes, I've learned a few things about Rainbow Cookies.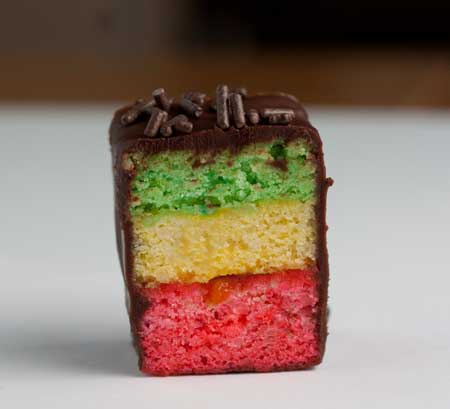 First, I started with a highly rated recipe from Food.com which is baked in 8 inch pans. I used almond pastry cake filling instead of almond paste and got a soft, dense, very flavorful cookie that was really more like a little cake or petit four. Here they are pictured below. I was so proud of those cakes, but now I'm much better at making them.
The second recipe was Joe's Culinary in the Desert Seven Layer Bars made in a 13×9 inch pan. The layers were quite thin, and since I kind of like seeing more cake in each slice, I tried Joe's recipe again in a slightly smaller (11×9 inch disposable pan). Better.
The third recipe was on Allrecipes.com and Gourmet, with the Allrecipes.com version (Italian Wedding Cookies II) having 1 oz more almond paste. I chose this one over the Gourmet recipe because I figured I needed all the almond paste I could get to balance out the 3 sticks of butter. The only change I made was to use the 11×9 inch pans again.
Here's a photo of  the three I just mentioned in order – Joe's recipe baked in 13×9 inch pans, Joe's recipe baked in 11×9 inch pans (I sliced those a little thin.  Whoops!) and the Allrecipes.com/Gourmet recipe with the 24 tablespoons of butter. My favorite was Joe's, but baked in the 11×9 inch pans (the middle one).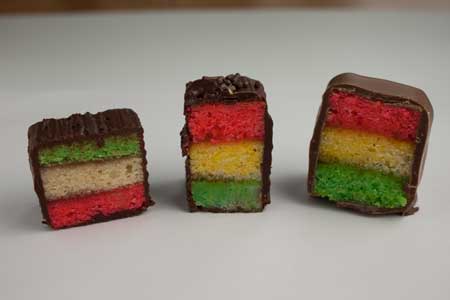 Where the fun really began was dipping. You'd think that would be difficult, but if you freeze the cake and then cut it into little sticks, it's kind of fun. Thanks for the tip, Eric in AZ.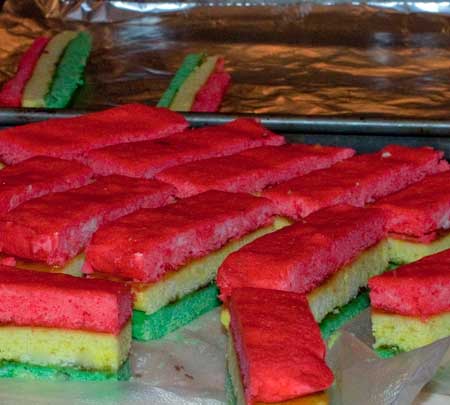 For my first batch, I just spread chocolate over the top as pictured in the second (and worst) photo. For all consecutive batches, I skipped the step of refrigerating the layers  and put the cooled, stacked, layers, tightly wrapped, in the freezer. When ready to coat with chocolate, I took them out of the freezer, cut into butter-size sticks, and tried different methods of coating them with chocolate.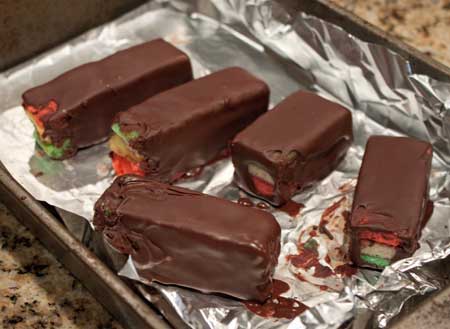 Dipping is best if you have really good chocolate or couverture that's thin and at the perfect temperature. I had an assortment of fairly decent chocolate from the grocery store plus chocolate chips and almond bark to play with. After testing lots of ratios of chocolate to butter, chocolate to shortening, and chocolate chips to both, I found the one that worked best was a 2:1 ratio of chocolate (not chips) to butter. That is, 6 oz of chocolate and 3 oz of butter.  Chocolate chips worked better with shortening than with butter, but I didn't like the flavor of the shortening and threw that version out even though it worked very well for dipping. I don't have any couverture at the moment, but that's probably the best bet. These were dipped in 4 oz of Ghirardelli Intense Chocolate Twilight 60%) mixed with 2 oz of butter.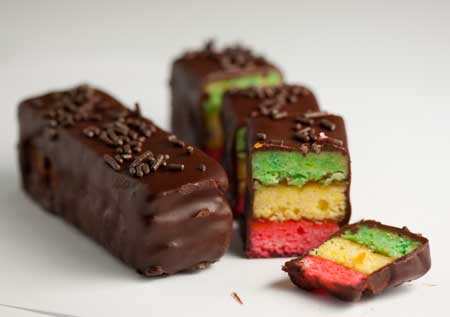 Now that I'm better at making these and have learned a few tricks, I recommend the Food.com recipe made with almond cake filling (Solo) or Joe's recipe made with Odense, Solo or homemade almond paste. If you are using Odense (the kind in the tube), make sure to grate it before adding it to the sugar. If you don't, you might end up with lumps of almond paste in your cakes. You can see the little lumps in mine.
The good news is that you can make almond paste yourself and it's super simple. This homemade almond paste recipe from Taste of Home was as good as Odense and a lot easier to incorporate into the cake batter. It's cheaper, plus you get the satisfaction of knowing how to make almond paste.
I also tested a batch where I beat the whole eggs until foamy rather than separating them and folding in the whites. The reason, aside from keeping things simple, is that skipping the step of folding in the whites (which lose a lot of their air anyway), means there's less stirring of the batter and toughening up the glutens in the flour. The batter gets enough extra stirring when it comes time to adding the colors, so any amount of stirring I could cut seemed liked a good idea. Then again, if I used cake flour I might not have to worry about toughening the batter, so that might be the next version. Until then, here's my version of Joe's recipe.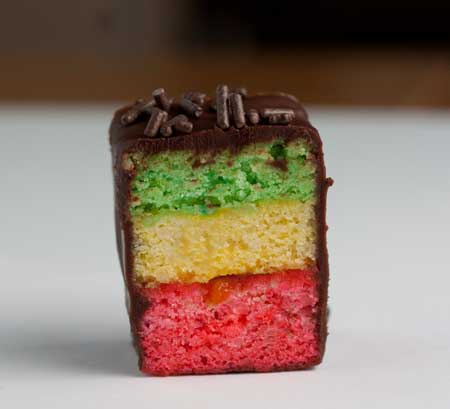 Rainbow Cookies Recipes and Tips
Rainbow Cookies or Italian Wedding Cookies are made with three layers of colored almond cakes sandwiched with preserves and coated in chocolate.
Ingredients 
Rainbow Cookies

4

large eggs

room temperature

1

cup

granulated sugar

divided

8

ounces

almond paste – homemade or Odense or Solo

grated

2 1/2

sticks

10 oz unsalted butter, softened

1

teaspoon

almond extract

1/2

teaspoon

salt

2

cups

9 oz all-purpose flour

Green food coloring

Yellow food coloring

optional

Red food coloring

1

12 ounce jar seedless raspberry or apricot jam, heated

12

oz

good quality chocolate

4

oz

unsalted butter
Instructions 
Preheat oven to 350 degrees F. Spray three 13x9 inch or 3 disposable 11x9 inch pans with cooking spray and line with parchment paper.

In the bowl of a stand mixer using the whisk attachment, beat the eggs until thick and foamy (about 3 minutes). Pour them in a separate bowl, then add the sugar and the grated almond paste to the stand mixing bowl and beat until well-combined using the paddle. Beat in the butter, then beat in the already-beaten eggs. Continue beating as you add the almond extract and salt. With mixer on low (or by hand) gently stir in the flour.

Evenly distribute batter between 3 medium bowls. If you have a scale, weigh the total amount of batter and divide it into three equal bowls. Mix red food coloring into one, green food coloring into another, and yellow into another. Spread batter evenly across the parchment lined pans. The batter is thick and this task is kind of a challenge. I used a rubber scraper. Bake for 10-14 minutes or until a toothpick inserted in the center comes out clean. Let cakes cool completely on a wire rack.

When layers are cool, carefully loosen from pans and lift out by grasping parchment. Transfer the green layer to a large sheet of plastic wrap. Spread the green layer (top) with preserves. Top it with the yellow layer and spread yellow layer with preserves. Cap with pink layer. Wrap the plastic wrap around the stack of cakes and put the stack in one of the original pans. Put the stack in freezer. Note: Most recipes say to weigh down the layers, but I never weighed them down. Freeze until ready to use.

On or before the day you plan to serve the bars, remove the frozen cakes from the freezer. Place on a large cutting board and slice frozen cakes into bars the size of a butter stick – about 1 inch wide and 4 1/2 inches long. Trip the edges before or after slicing. If you plan on dipping, it's best to trim just the short sides of the rectangle and keep the long sides of the rectangle raggedy so that you'll have a longer handle for dipping. You're going to trim those anyway.

Keep the sticks frozen as you melt the chocolate.

Melt the butter in the microwave. Add the chopped chocolate to the melted butter and stir well. Return to microwave and microwave at 50% power for 30 second intervals, stirring at each interval, until chocolate is melted and smooth. I did this all in a 2 cup Pyrex measure and did it in half batches – 3 oz of chocolate to 1 1/2 oz butter, etc.

You can dip the cake sticks in the melted chocolate if it's thin enough (which will depend on which brand of chocolate you use and how much you heated it) or you can just use a silicone pastry brush and just paint the chocolate coating all over the sticks and let it set. If it looks messy, coat with chocolate sprinkles – the kind called "Jimmie's" which are softer and less annoying than crunchy sprinkles.

Once your cake sticks are coated with chocolate and set, trim the raggedy ends and cut into about 4 neat squares.

I kind of lost track of yields, but if you figure you get 18 butter stick size cake sticks from an 11x9 inch pan and cut each into 3 pieces (minus the trimmings), you should get at least 54 nice size squares.