Wednesdays are always super busy, so I knew today's recipe had to be quick; or in this case, "Quik". These are brownies made with Nesquik chocolate milk mix.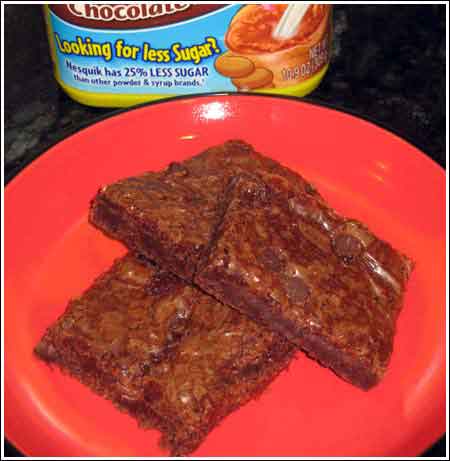 I'd been meaning to try this recipe for the past 3 months. That is, since the day I bought loads of Nesquik to make a cake. It's been languishing in the pantry, getting used here and there for milkshakes and whatnot, but I wanted to try it in brownies because I'm always running out of unsweetened cocoa powder and figured if it worked, it would be a good alternative.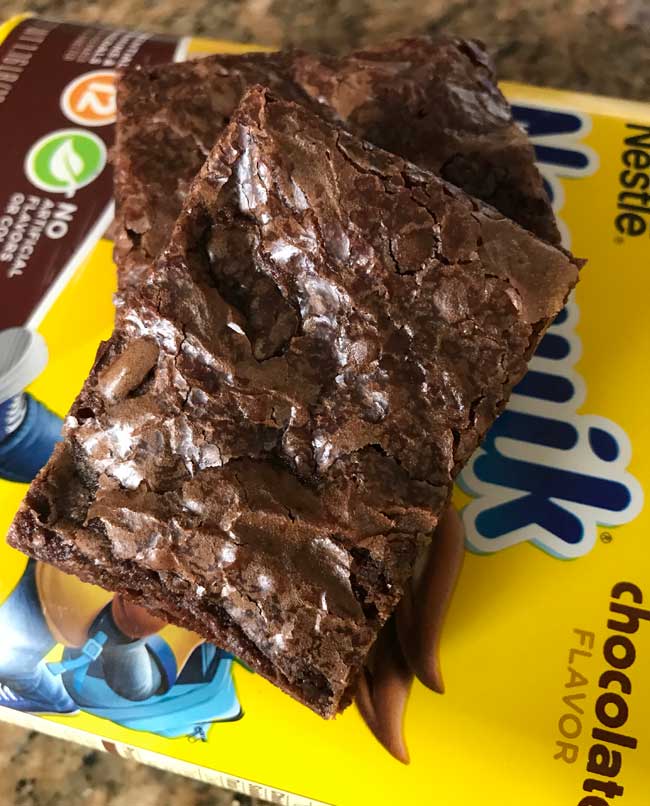 I didn't want a full 13x9 inch pan of brownies, so below is how I made them in an 8 inch pan. Someone told me that melted or dissolved sugar creates the shiny top, so to get that I combined the sugar with the butter while the butter was hot, then microwaved it a bit more so the sugar would melt.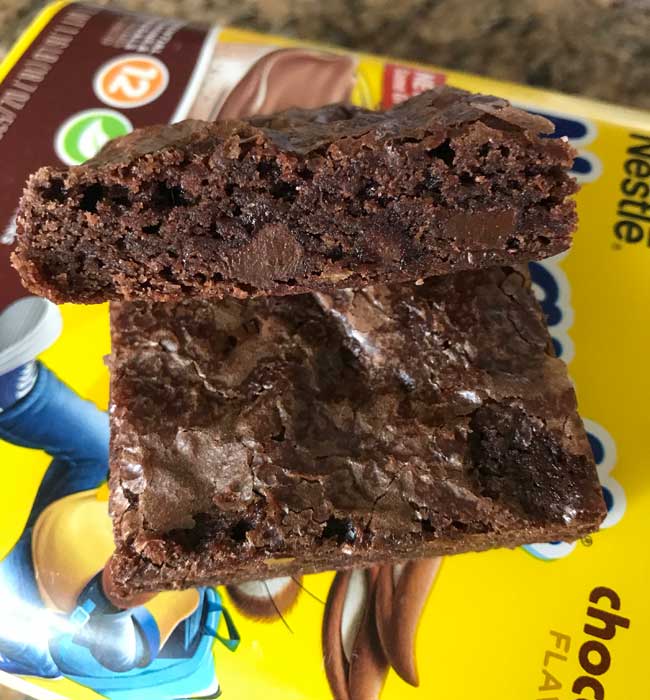 The brownies turned out great! They're on the sweet side, but still very good and sturdy enough to wrap and send in a lunchbox. Brownies made with Nesquik are great for kids, but adults will probably like them too. I'm sort of an adult and I did.
Update:  We recently had a French exchange student who drank Nesquik every morning.  He did not finish the package of Nesquik before it was time to go back to Paris (incidentally, he says their Nesquik tastes different), so I used it again in these brownies.  They are good!  Brownies made with Nesquik are, in my opinion, a bit chewier.
Brownies Made With Nesquik
Recipe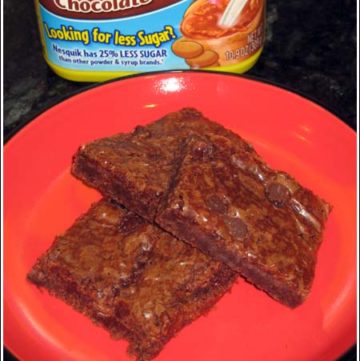 Brownies Made With Nesquik
Nestle Quik Brownies are dense fudge brownies made with Nestle Quik.
Ingredients 
⅔

cup

all-purpose flour

84 grams

¼

teaspoon

baking powder

¼

teaspoon

salt

6

tablespoons

unsalted butter (84 grams

½

cup

granulated sugar

1

tablespoon

water

1

large

egg

½

teaspoon

vanilla extract

¾

cup

NESTLÉ NESQUIK Chocolate Flavor Powder

84 grams

½

cup

semi-sweet chocolate chips (84 grams(
Instructions 
Preheat oven to 350° F. and line an 8 inch metal pan with foil; spray foil with cooking spray.

Stir together flour, baking powder and salt. Set aside.

In a medium size (3 quart is good) microwave safe mixing bowl, melt butter for 1 minute on high. Stir in sugar and water, then microwave mixture for 30 seconds to help melt sugar. Stir and let stand for about 3 minutes.

Add egg and and stir until mixed, then add the vanilla. Stir in Nesquik, then add flour mixture and stir just until smooth. If the batter is still very warm, allow it to cool a bit (so the chips won't melt when added) then fold in chocolate chips. Rap pan on counter to bring air bubbles to top.

Bake for 18 minutes. Let cool completely on a wire rack. Chill for an hour or so, then lift from pan and slice into 12 brownies.

Makes 12 brownies