Here's another small batch vegan cookie. I came up with this recipe yesterday after making molasses cookies. Since this was highly experimental, I made a very small batch – 8 cookies. If you like the recipe, you might want to double it.
If you are not a vegan but like using natural ingredients, honey is a good substitute for the corn syrup. In fact, I made my first batch with honey and loved the flavor. For the vegan version, I changed it to corn syrup. Brown rice syrup or molasses might work too.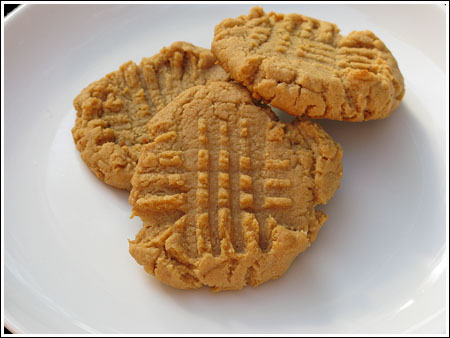 I used Smart Balance natural peanut butter because it has added Omega 3's. Other natural peanut butters should work. Regular peanut butter would probably work, but the cookies might be too sweet so I can't say for sure.
One last thing. For the flour, I used Eagle Mills Ultragrain, but you could use unbleached all purpose instead.
Vegan Peanut Butter Cookies (Makes 8 cookies)
1/2 cup plus 1 tablespoons flour (70 grams) – lightly spooned, evenly swept
1/2 teaspoon baking soda (2.5 ml)
1/8 teaspoon salt (.6 ml)
1/4 cup lightly packed brown sugar (48 grams)
2 tablespoons vegetable oil (30 ml)
1 tablespoon light corn/glucose syrup or honey (15 ml) — (honey's not  vegan, though)
1/4 teaspoon vanilla extract (1.25 ml)
1 tablespoons unsweetened apple sauce (15 ml)
1/4 cup natural style peanut butter (64 grams)
Sparkly sugar or turbinado sugar for garnish (optional)
Preheat oven to 325 degrees F or 165 degrees C.
In a mixing bowl, stir together flour, baking soda and salt.
In a second bowl, mix brown sugar, vegetable oil, corn syrup (or honey), vanilla, apple sauce and natural peanut butter. Stir until smooth.
Add flour mixture to brown sugar mixture and stir until mixed. Form dough into 8 equal pieces and shape pieces into balls. Press down slightly to make neat mounds. Place the 8 mounds about 2 1/2 inches apart on an ungreased cookie sheet and sprinkle tops with sparkly sugar or use a fork and press a criss-cross pattern on top of each cookie. These don't spread much, so if you don't press the criss-cross, make sure you shape the cookies neatly.
Bake for 15 minutes. Let cool for 3 minute on sheet, then transfer to wire rack to cool.
Makes 8 cookies