I've made these vegan molasses cookies dozens of time since posting this recipe.  Generally, they are delicious and don't require much effort.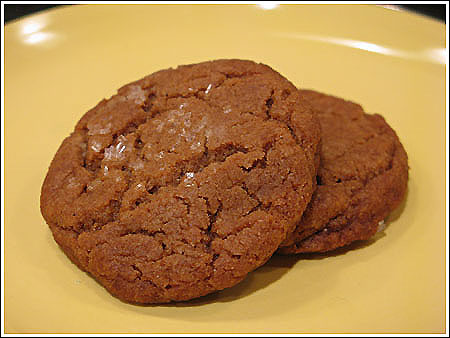 I added metric equivalents for those of you in other countries. Hopefully I got all the milliliters right. I know I got the grams right because I weighed each ingredient on my new scale.
Omnivores will like these too.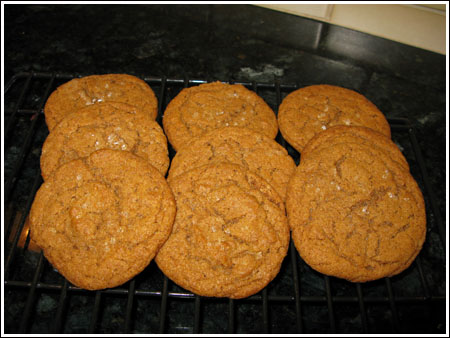 Small Batch Vegan Molasses Cookies (metric included)
1 cup plus 2 tablespoons flour (145 grams)
1 teaspoon baking soda (5 ml)
1/2 teaspoon cinnamon (2.5 ml)
1/2 teaspoon ginger (2.5 ml)
1/4 teaspoon cloves (1.25 ml)
1/8 teaspoon salt (.6 ml)
1/2 cup packed brown sugar (99 grams)
6 tablespoons vegetable oil (90 ml)
2 tablespoons molasses (30 ml)
1/2 teaspoon vanilla extract (2.5 ml)
2 tablespoons unsweetened apple sauce (30 ml) – drain on a paper towel, then measure
Sparkly sugar for flair
Preheat oven to 325 degrees F or 165 degrees C.
In a mixing bowl, stir together flour, baking soda, cinnamon, ginger, cloves and salt.
In a second bowl, mix brown sugar, vegetable oil, molasses, vanilla and apple sauce.
Add flour mixture to brown sugar mixture and stir until mixed. Using a tablespoon measure, scoop up dough and form nice mounds. Place the mounds about 2 ½ inches apart on an ungreased cookie sheet (Silpat is okay) and sprinkle tops with sparkly sugar. Bake for 13-16 minutes. Let cool for 2 minute on sheet, then transfer to wire rack to cool.
Makes about 14 cookies
Note:  I used 6 tablespoons of oil,  but I think the cookies would be great with as little as 4 tablesoons (1/4 cup) — 60 ml