Small Batch Oatmeal Raisin Cookies or Small Batch Jumbo Oatmeal Cookies are easy, chewy, oatmeal cookies made with a recipe that yields about 14 cookies. I actually forgot about this recipe, but found it on Bakespace where someone had posted it and given it good reviews. Since it's my recipe I figured I'd better promote it a little more, so here it is! Promoting!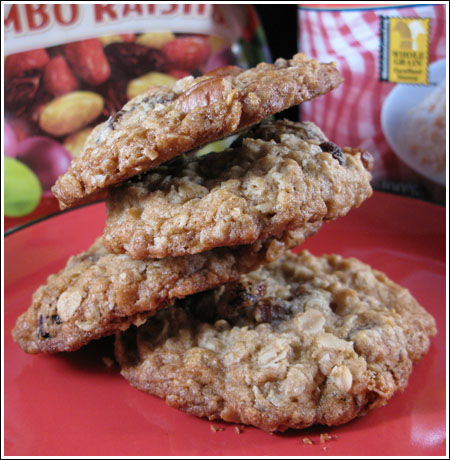 I used to call these Small Batch Jumbo Oatmeal Raisin Cookies, but the cookies can also be made medium size or small, so jumbo size is just an option.
Small Batch Oatmeal Raisin Cookies
¾ cup all-purpose flour (94 grams)
½ teaspoon baking soda (2.5 ml)
½ teaspoon cinnamon (2.5 ml)
¼ teaspoon salt (1.25 ml)
10 tablespoons unsalted butter, softened (142 grams)
6 tablespoons brown sugar (70 grams)
¼ cup granulated sugar (50 grams)
1 egg white
½ teaspoon vanilla (2.5 ml)
1 ½ cups oats old fashioned oats (120 grams)
½ cup jumbo size raisins (80 grams)
½ cup toasted walnuts or pecans, chopped (optional) – (80 grams)
Preheat oven to 350 degrees F (180 C).
In a medium bowl, thoroughly stir together flour, baking soda, cinnamon and salt.
In a mixing bowl, cream butter and both sugars until light and fluffy. Beat in egg white and vanilla.
Stir in the flour mixture. When flour is absorbed, stir in oats, raisins and nuts (if using). Drop dough by rounded tablespoonfuls (ping pong ball size), spacing 3 inches apart, onto ungreased cookie sheets.
Bake 11-13 minutes or until edges of cookies are golden. Cool 1 minute on cookie sheets; remove to wire rack. Cool completely.
Makes about 14 cookies