Muffin Top Pan S'mores Cookies are my take on some cookies I saw this weekend at Idle Hour Roasters, a coffee shop in here in Raleigh. Idle Hour is "Instagram famous" for their individual cheesecakes shaped like mushrooms (yes, you read that right), but the cookies that got my attention were some round ones that appeared to have been baked in a muffin top pan.  They were about 4 inches in diameter and filled with marshmallows and milk chocolate. 
Muffin Top Pan S'mores Cookies Method
The cookie in the photo above is my copycat.  It uses the dough from Small Batch S'mores Chocolate Chip Cookies, but sans chocolate chips.  Instead of just dropping the dough onto a baking sheet, you press it into a circle in the middle of a muffin top indentation, leaving a little gully between the dough and the edge of the ring.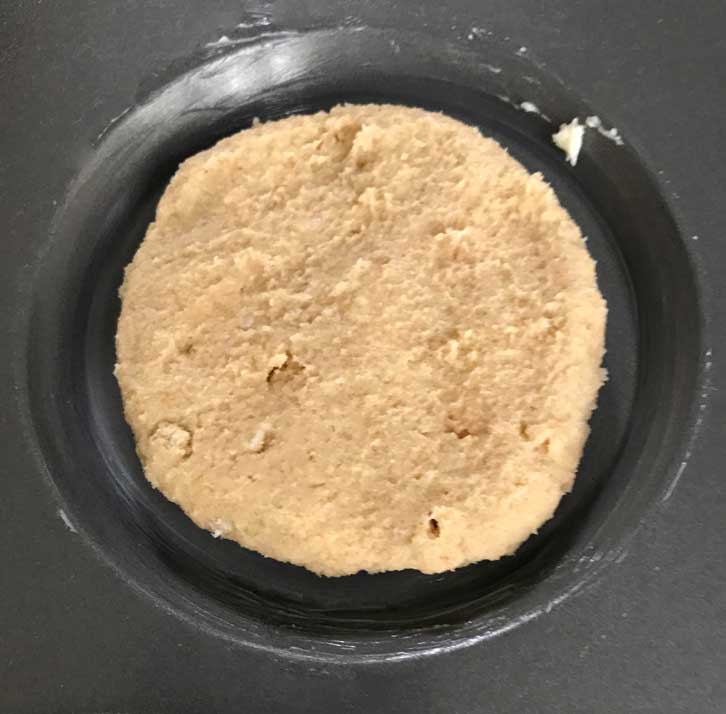 You than bake for 8 minutes, put marshmallows in the center and bake for 2 minutes to puff the marshmallows.  The milk chocolate and extra graham crackers (or Teddy Grahams!) go on last. Torching is optional.
Serving S'mores Cookies
I made these late in the day a few hours before dinner, so I couldn't do any taste testing right away and had to freeze the baked cookies. That worked out well. I just let them cool, slid them into a freezer bag and froze overnight. The next day I baked up another cookie so I could taste test frozen and thawed vs. hot and gooey (these things are important, you know), and both versions were good. I think the best way to serve them is room temperature but still gooey. If you like warm cookies, then serve them warm. But they were actually really good after being frozen and thawed, and you could always warm them a little to re-melt the chocolate. Or if you have a pastry torch, just torch it.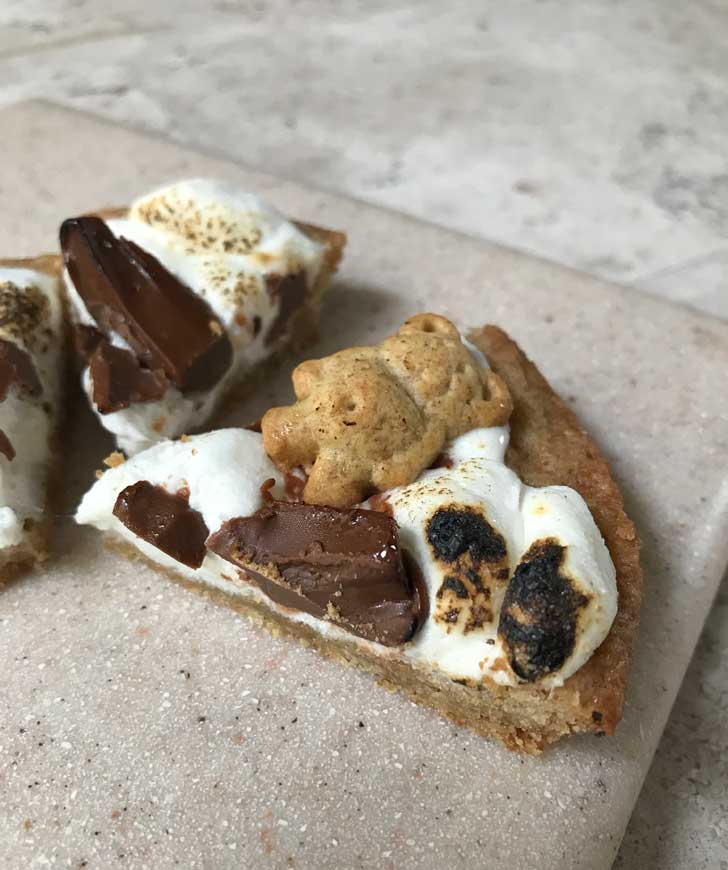 Recipe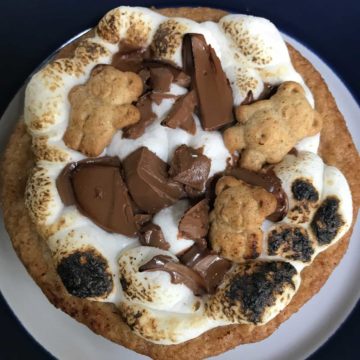 Muffin Top Pan S'mores Cookies
Baking the dough in a muffin top pan keeps the cookies nice and round.
Ingredients 
½

cup

plus 2 tablespoons all-purpose flour

(80 grams)

½

cup

graham cracker crumbs

¼

teaspoon

baking soda

¼

teaspoon

salt

6

tablespoons

unsalted butter, softened

(84 grams)

¼

cup

granulated sugar

(50 grams)

¼

cup

packed brown sugar

(50 grams)

½

teaspoon

vanilla extract

2

tablespoons

lightly beaten egg

(24 grams_

2

cups

marshmallows

3

oz

milk chocolate, Hershey's, Dove, any kind

cut into chunks
Instructions 
Preheat oven to 350 degrees F. Grease a muffin top pan. I use a Chicago Metallic brand nonstick one, so a little butter works just fine. If you are using a silicone pan you can skip it.

Stir flour, graham cracker crumbs, baking soda and salt together in a bowl.

Cream butter and both sugars in a mixing bowl using an electric mixer; add vanilla extract and egg and beat for another 30 seconds.

Using a mixing spoon, stir in flour/crumb mixture.

Divide dough into six balls, each a little less than 2 oz. Press each ball into a circle in each muffin top hole, leaving about ¼ inch perimeter. Bake for about 8 minutes. The cookies should appear almost fully baked at this point. Quickly spoon about ¼ cup or so marshmallows in the center of each cookie and return to the oven for about 1 ½ to 2 minutes or just long enough for the marshmallows to puff up. Pull from oven and sprinkle on the milk chocolate. Add the Teddy Grahams if you're in the mood, or just broken graham crackers.